Booklet
Zero To 25k Instagram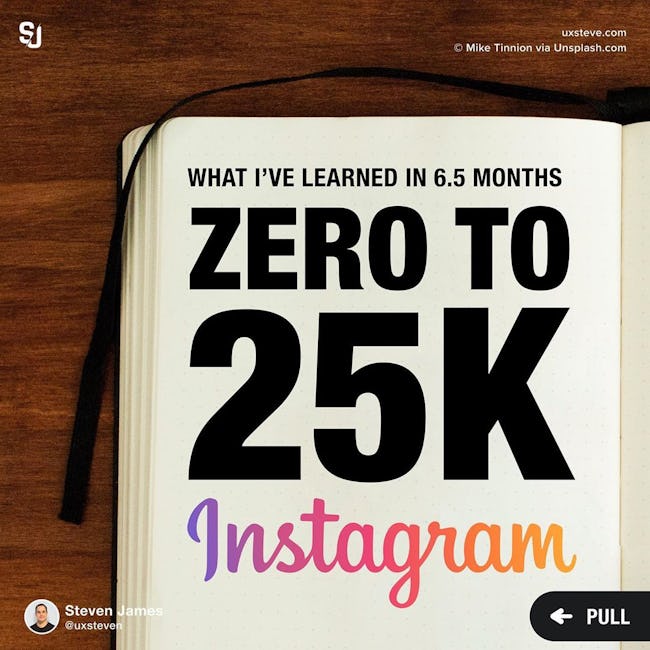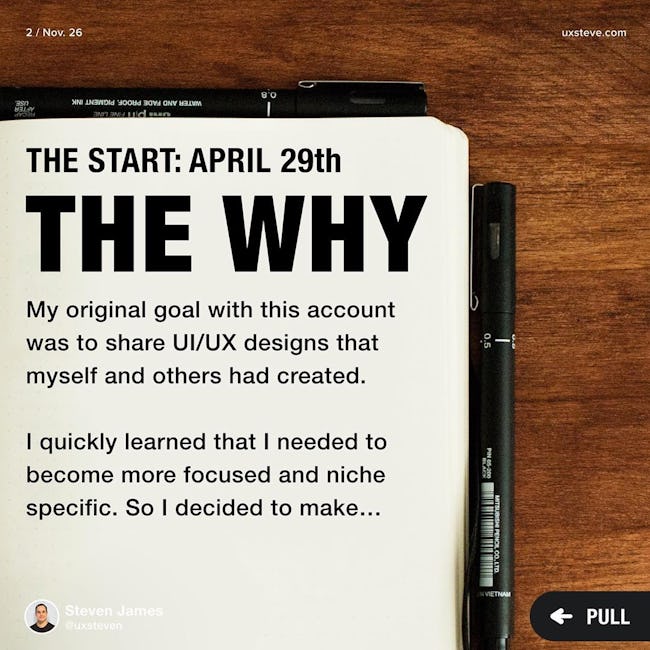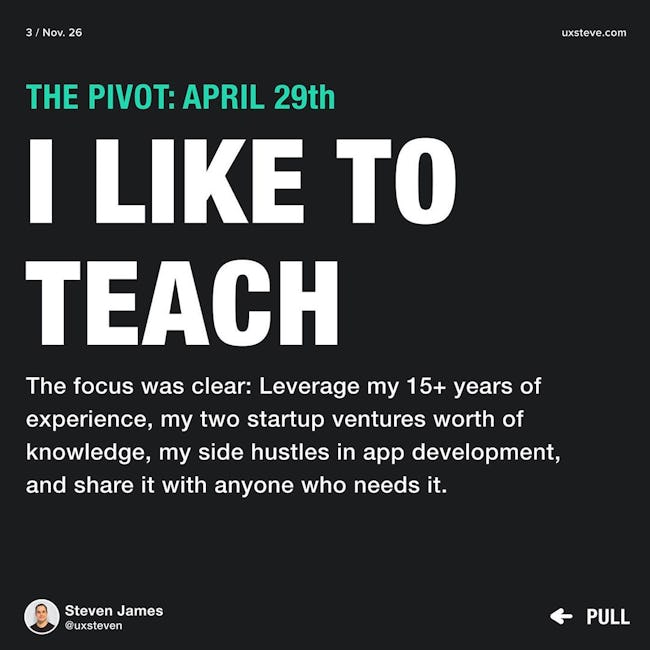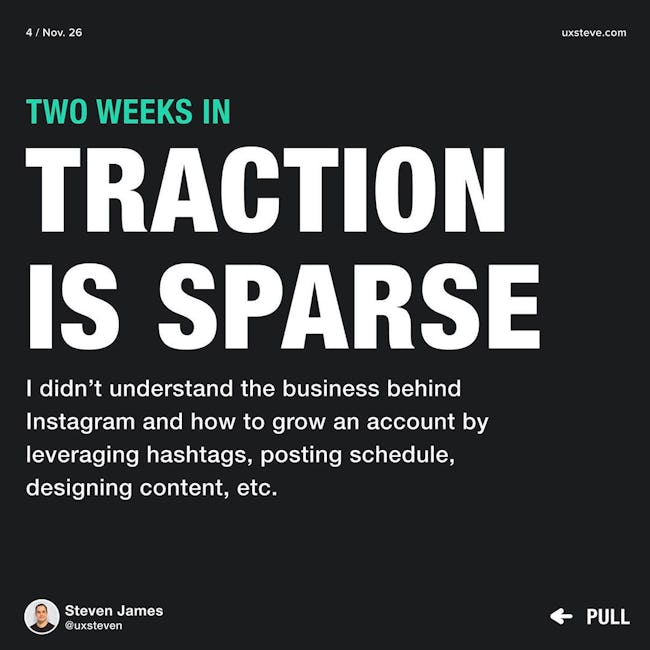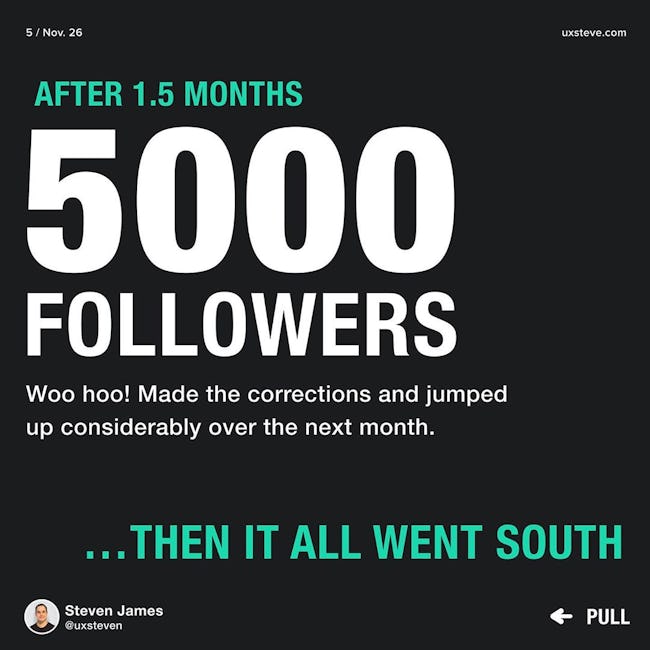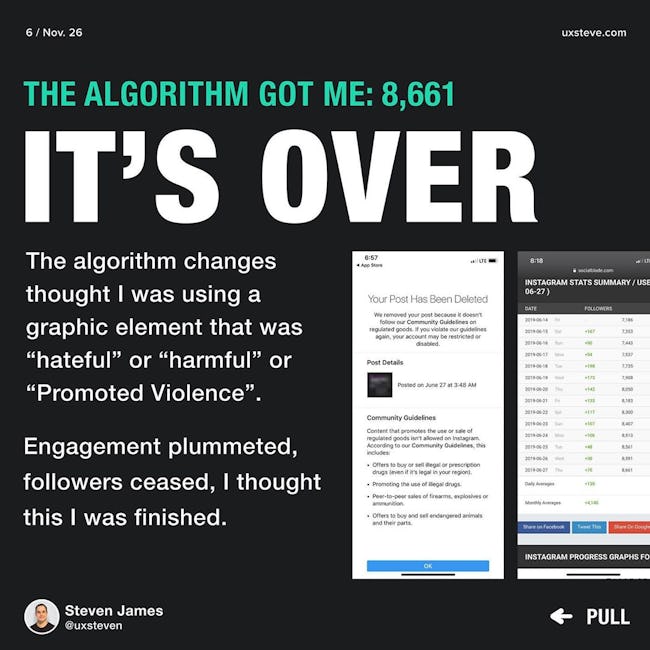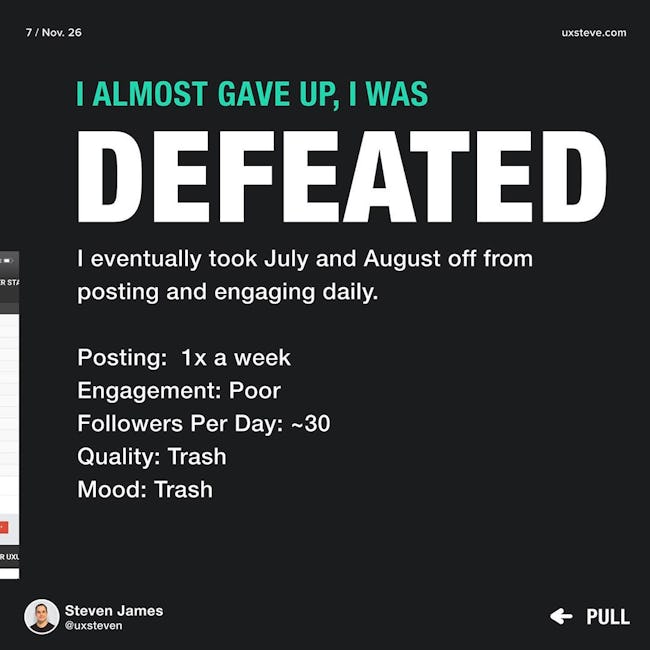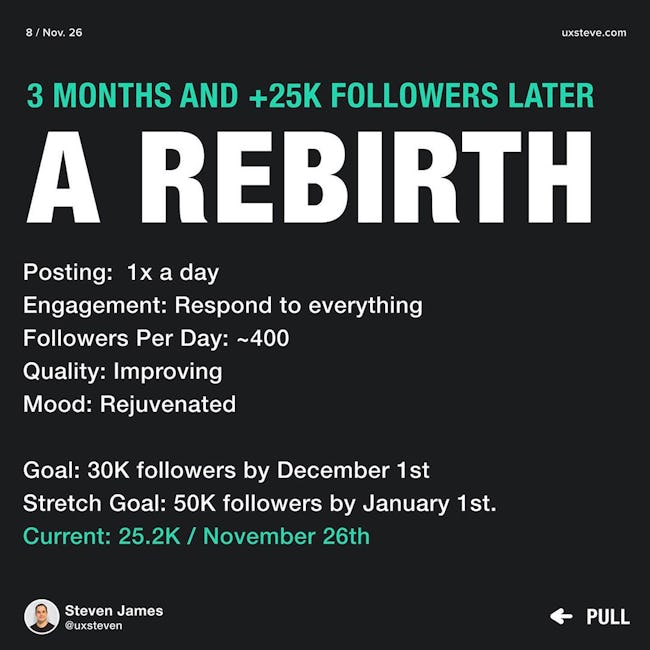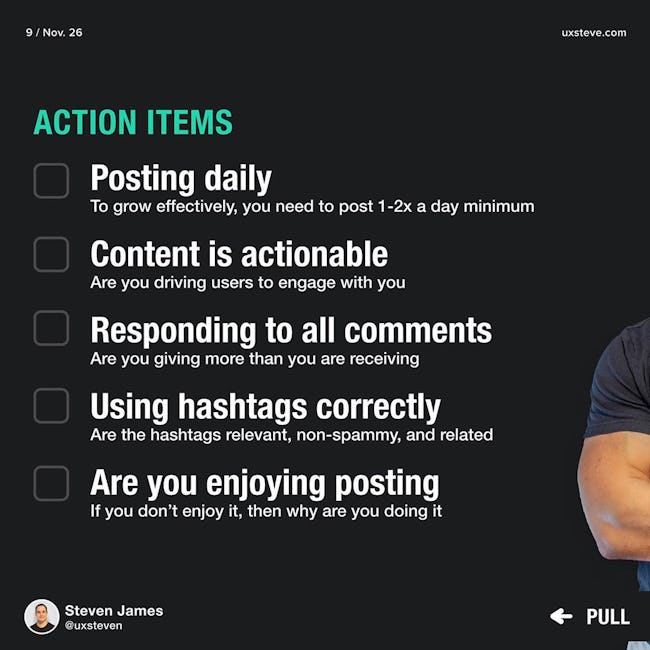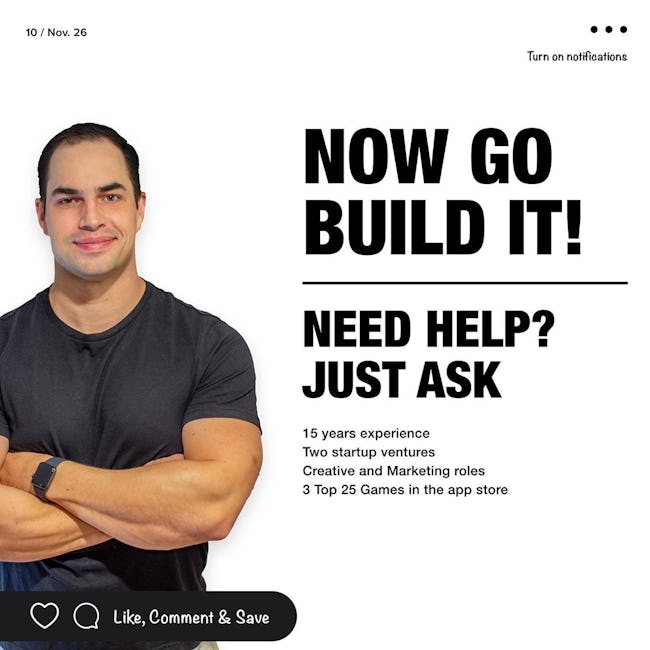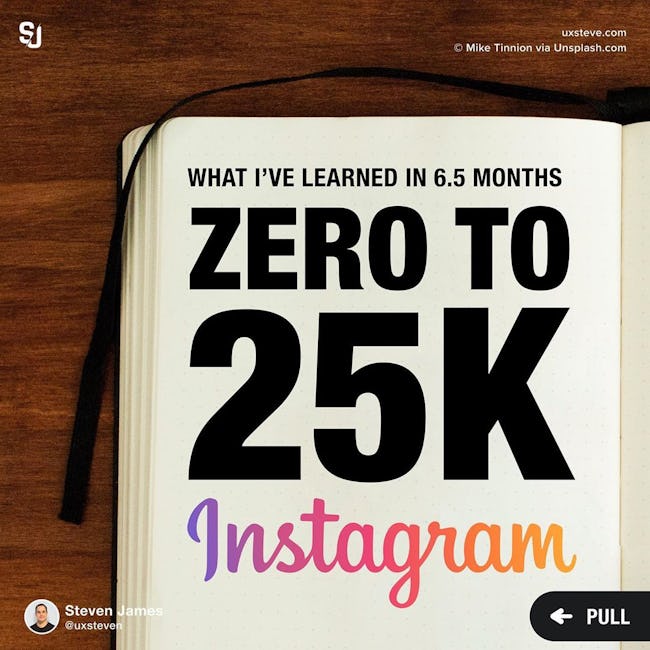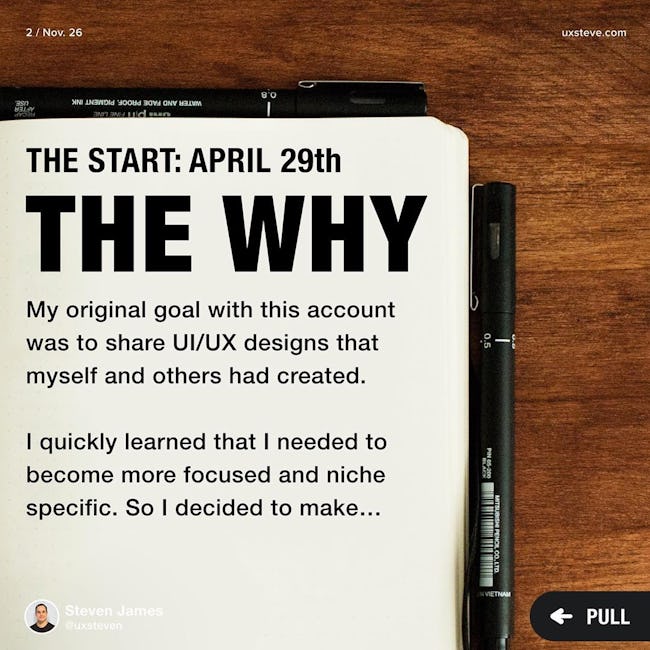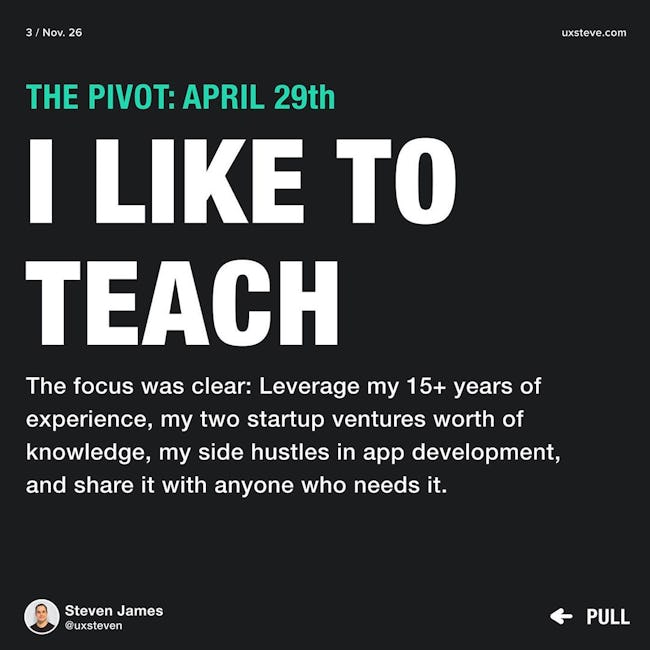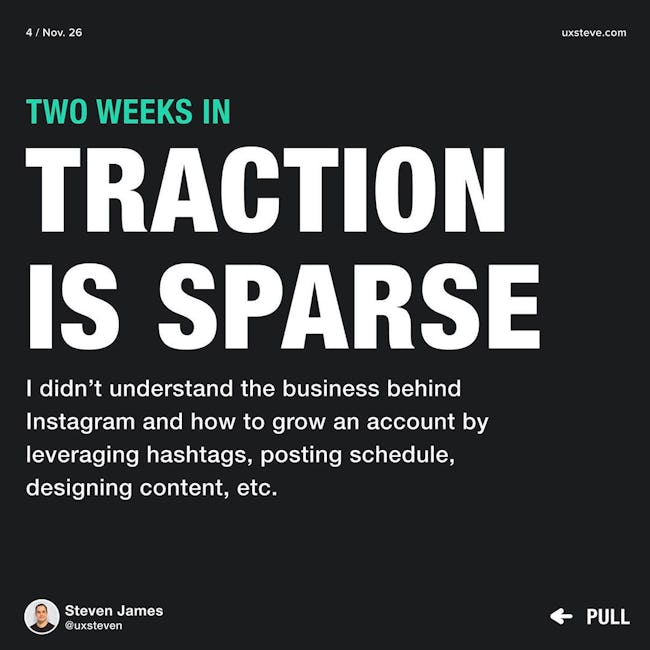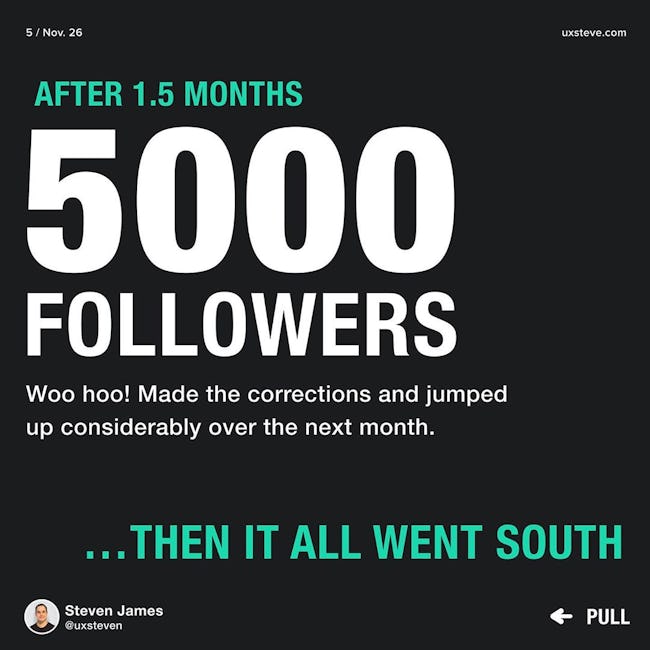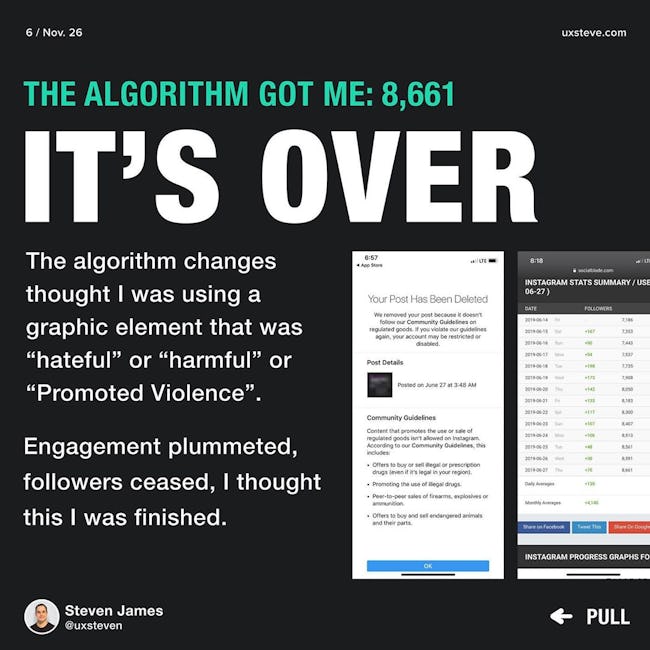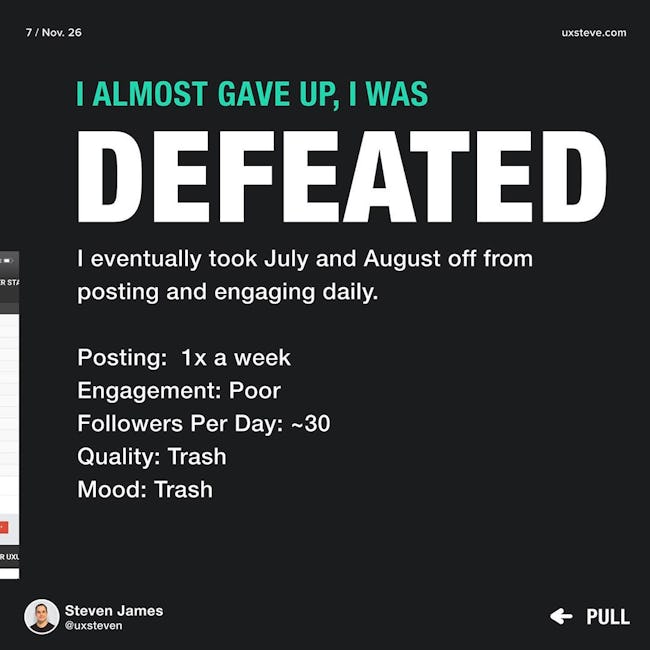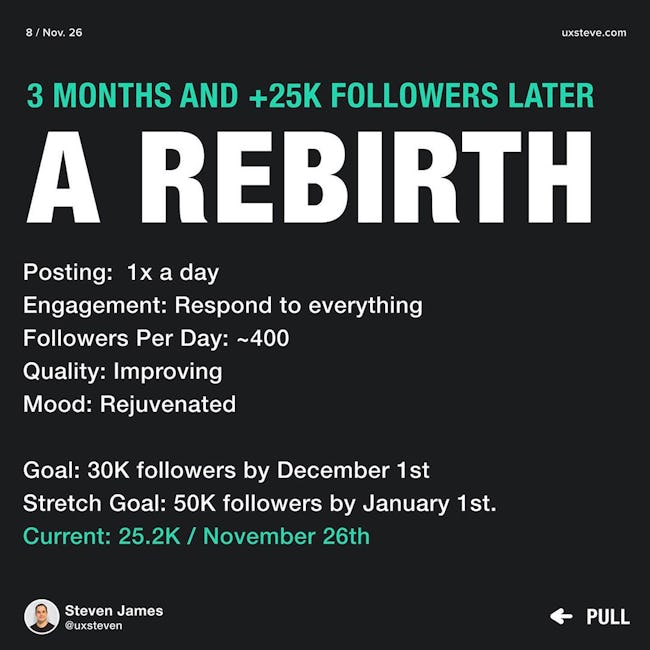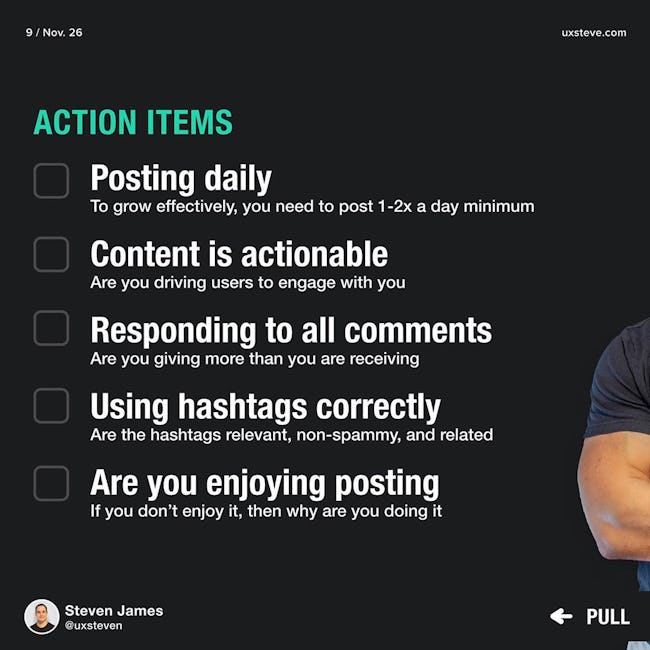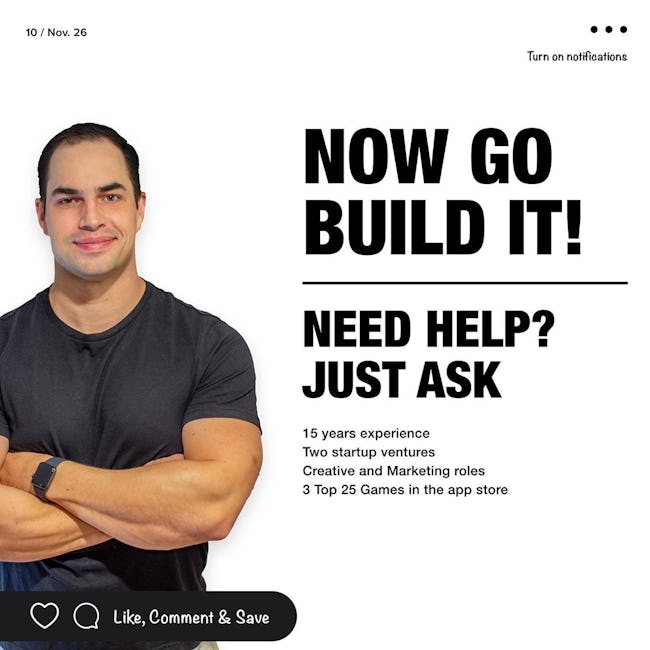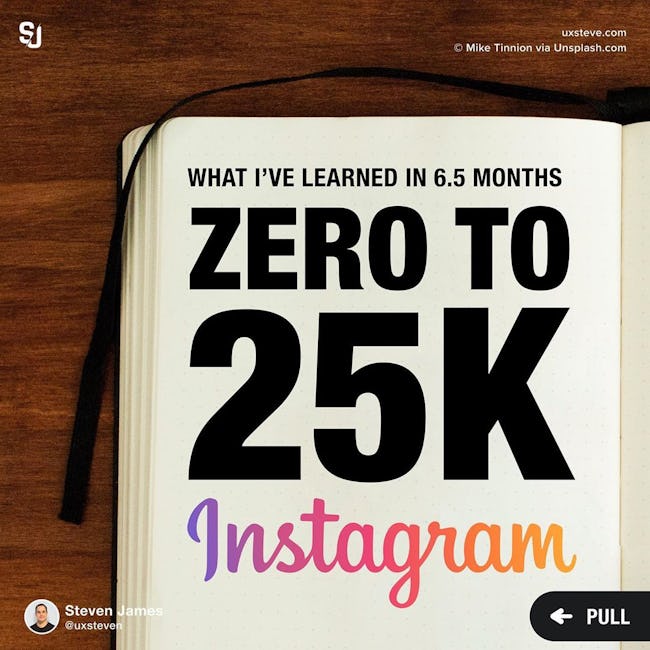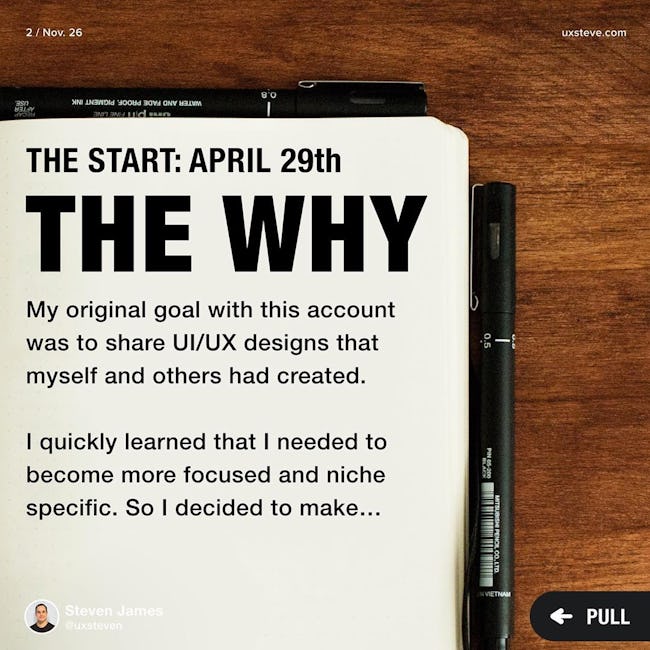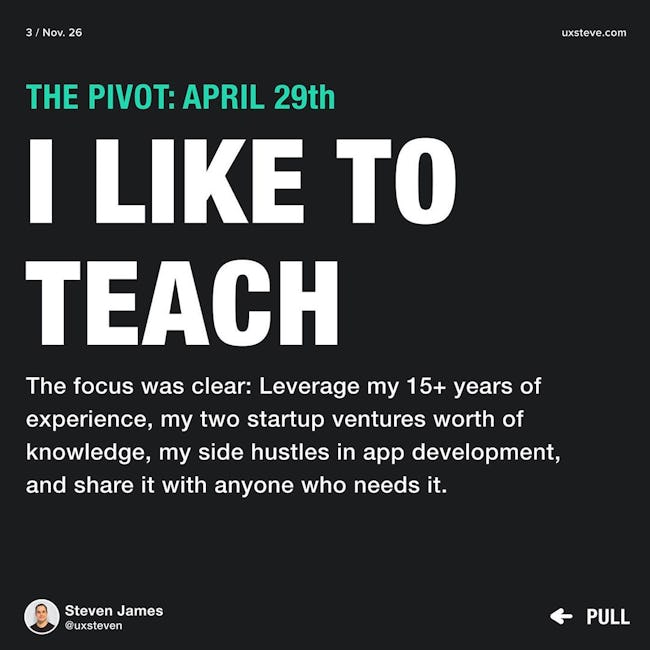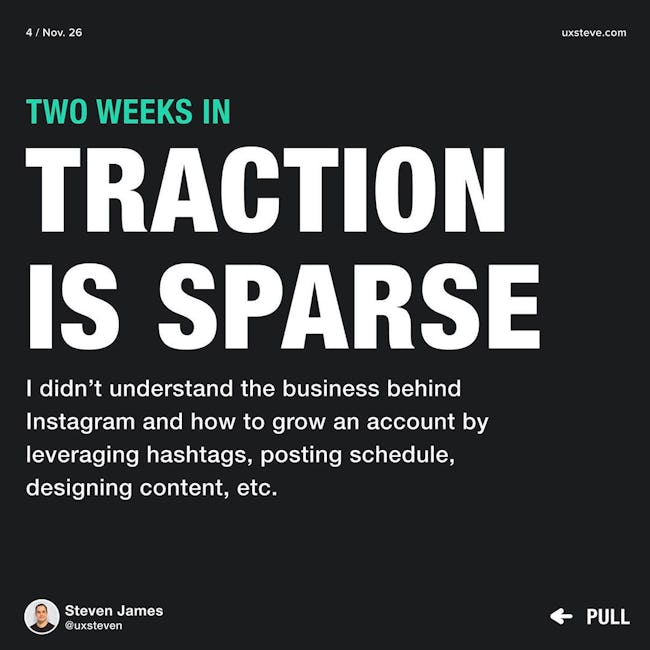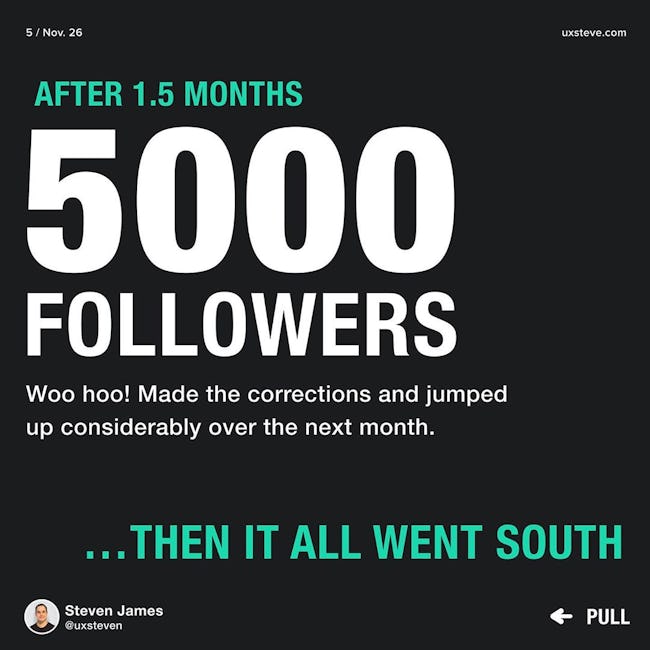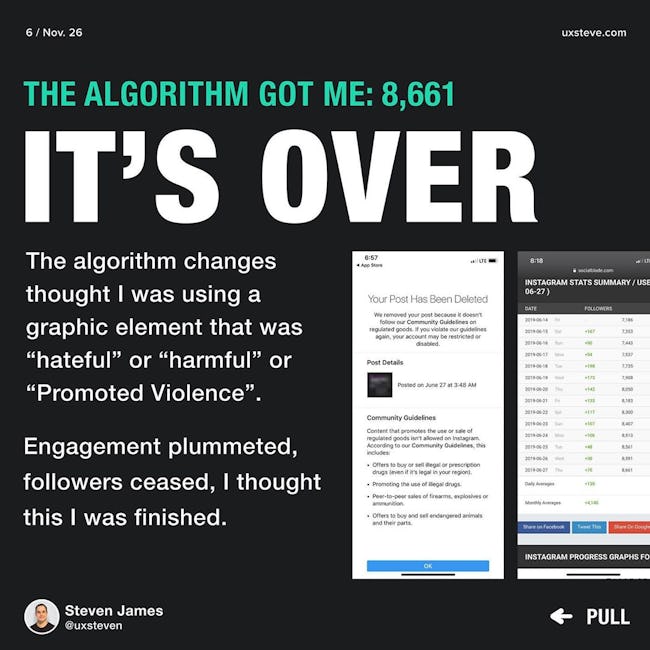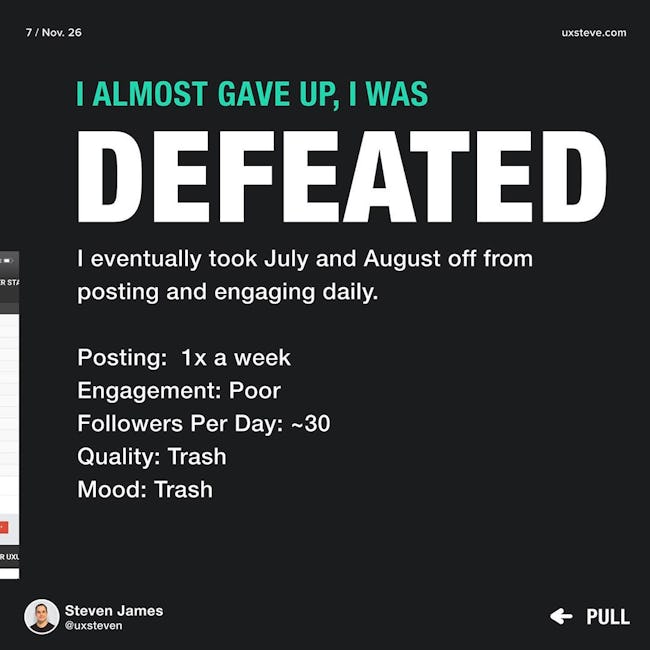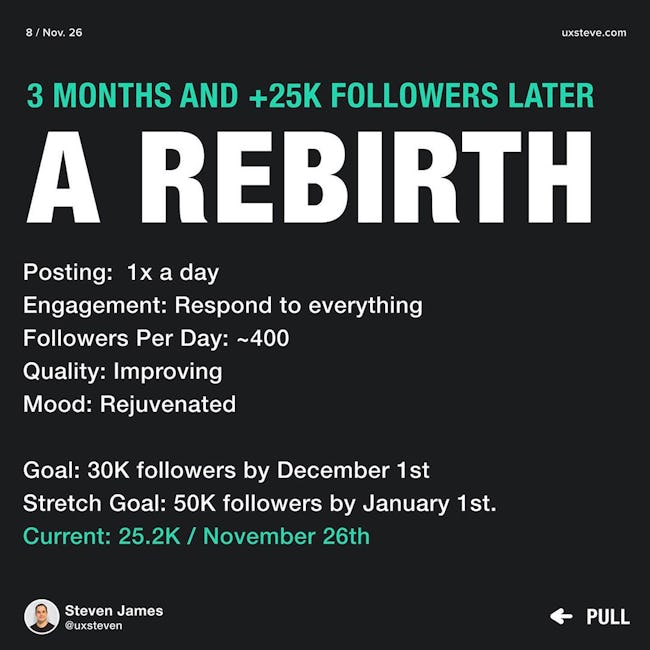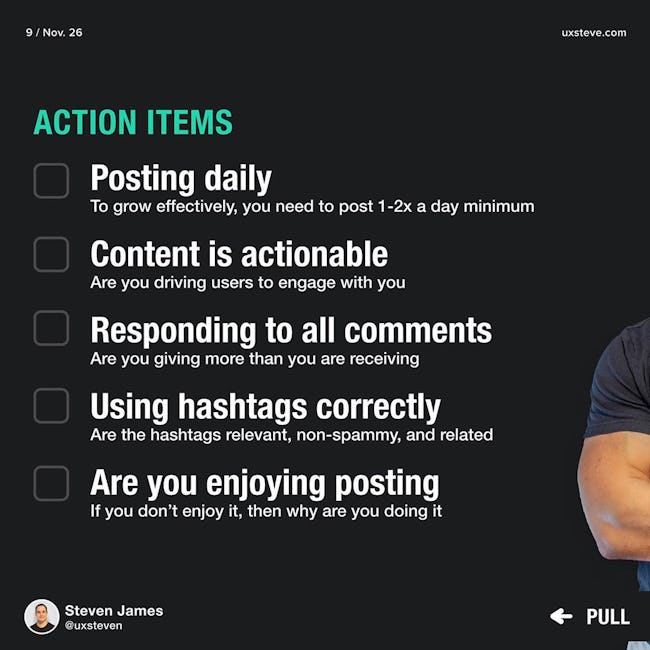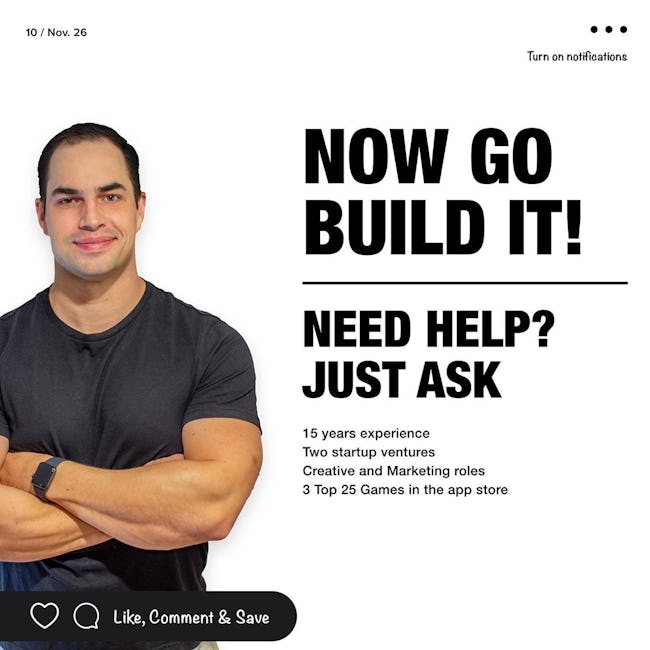 WHAT I'VE LEARNED IN 6.5 MONTHS
Zero To 25k Instagram
THE START: APRIL 29th
THE WHY
My original goal with this account was to share UI/UX designs that myself and others had created.
I quickly learned that I needed to become more focused and niche specific. So I decided to make...
THE PIVOT: APRIL 29th
I LIKE TO TEACH
The focus was clear: Leverage my 15+ years of experience, my two startup ventures worth of knowledge, my side hustles in app development, and share it with anyone who needs it.
TWO WEEKS IN
TRACTION IS SPARSE
I didn't understand the business behind Instagram and how to grow an account by leveraging hashtags, posting schedule, designing content, etc.
TRACTION IS SPARSE
AFTER 1.5 MONTHS 5000 FOLLOWERS
Woo hoo! Made the corrections and jumped up considerably over the next month.
THE ALGORITHM GOT ME: 8,661 IT'S OVER
The algorithm changes thought I was using a graphic element that was 'hateful' or 'harmful' or 'Promoted Violence'.
Engagement plummeted, followers ceased, I thought this I was finished.
I ALMOST GAVE UP, I WAS DEFEATED
I eventually took July and August off from posting and engaging daily.
Posting: 1x a week
Engagement: Poor
Followers Per Day: -30
Quality: Trash
Mood: Trash
I ALMOST GAVE UP, I WAS DEFEATED
3 MONTHS AND +25K FOLLOWERS LATER A REBIRTH
Posting: 1x a day
Engagement: Respond to everything
Followers Per Day: -400
Quality: Improving
Mood: Rejuvenated
Goal: 30K followers by December 1 st
Stretch Goal: 50K followers by January 1st.
Current: 25.2K / November 26th
ACTION ITEMS
Posting daily
To grow effectively, you need to post 1-2x a day minimum
Content is actionable
Are you driving users to engage with you
Responding to all comments
Are you giving more than you are receiving
Using hashtags correctly
Are the hashtags relevant, non-spammy, and related
Are you enjoying posting
If you don't enjoy it, then why are you doing it
NOW GO BUILD IT!
NEED HELP? JUST ASK
15 years experience Two startup ventures Creative and Marketing roles 3 Top 25 Games in the app store
More booklets by Steve Mellor
More Marketing booklets
Your recently viewed booklets
See all booklets