Booklet
Seo for Web Developers 2020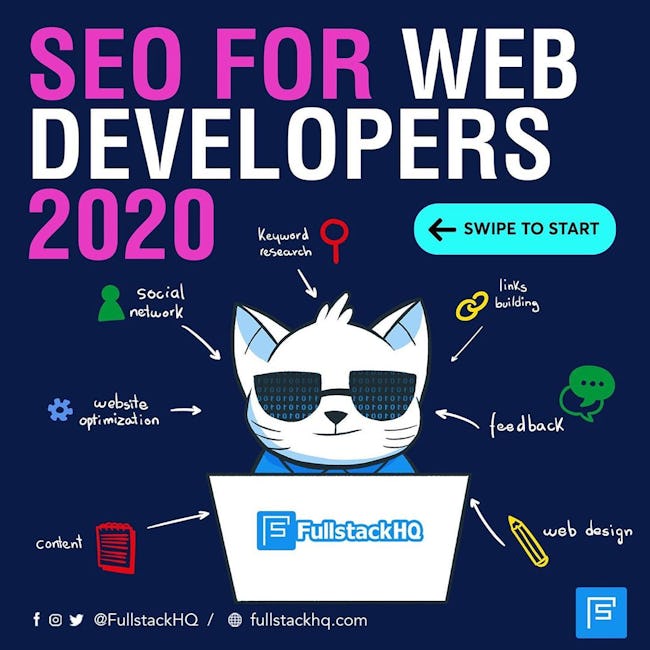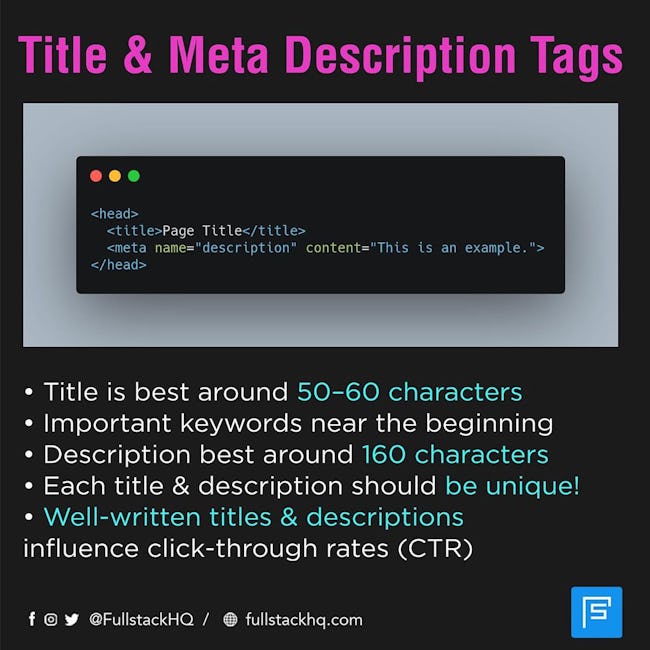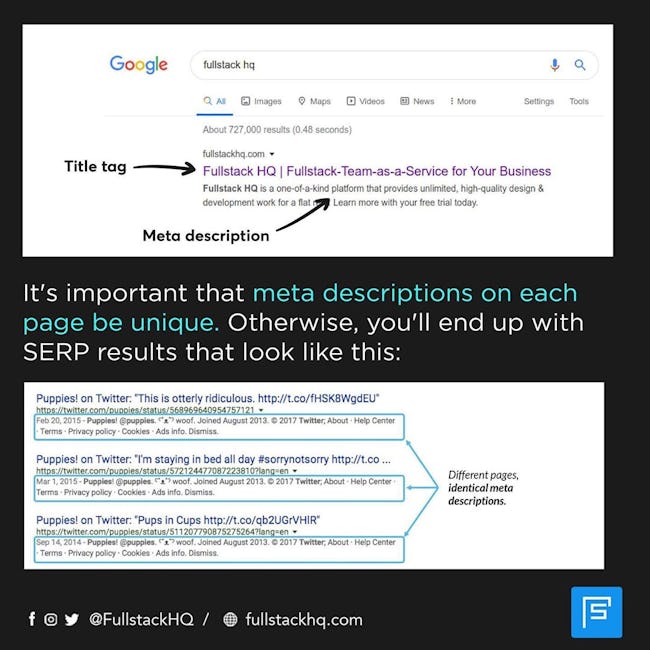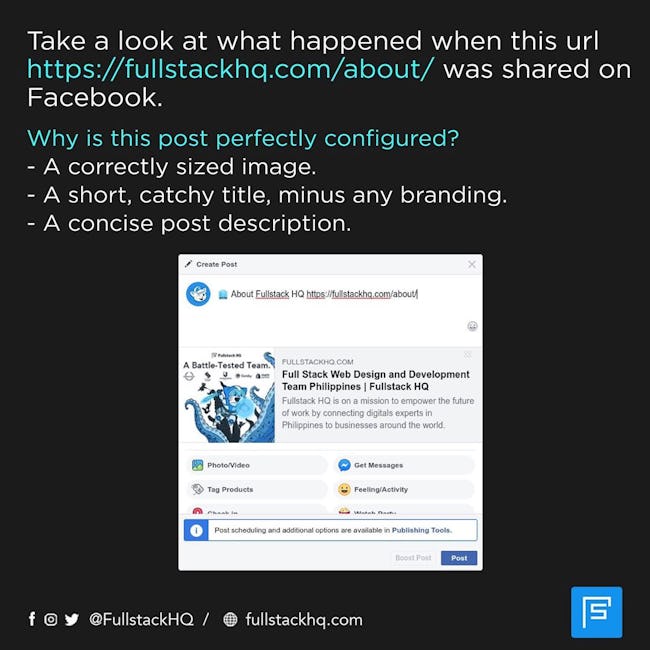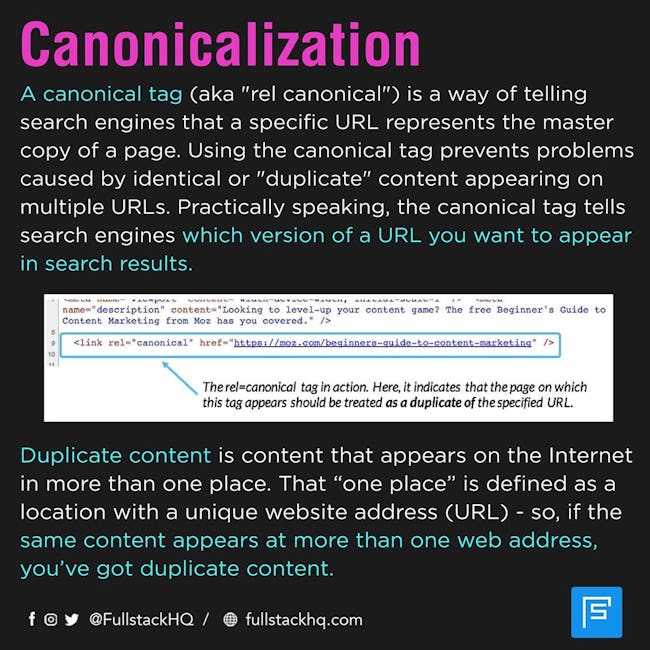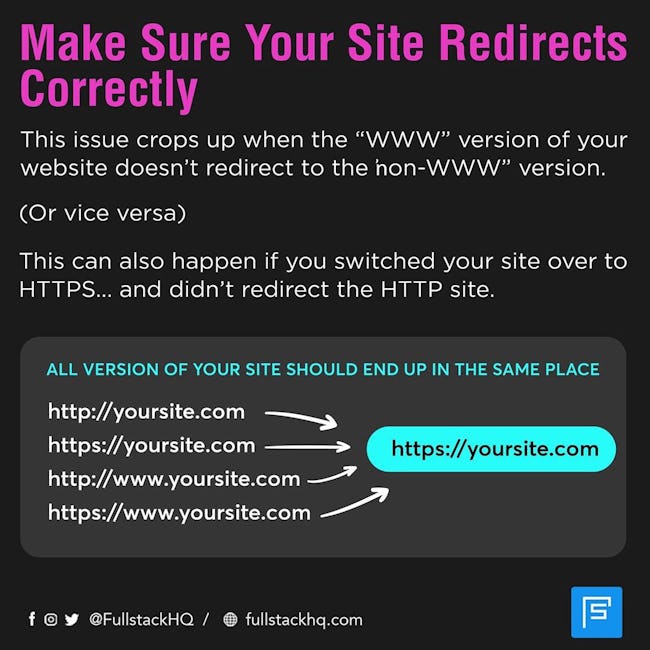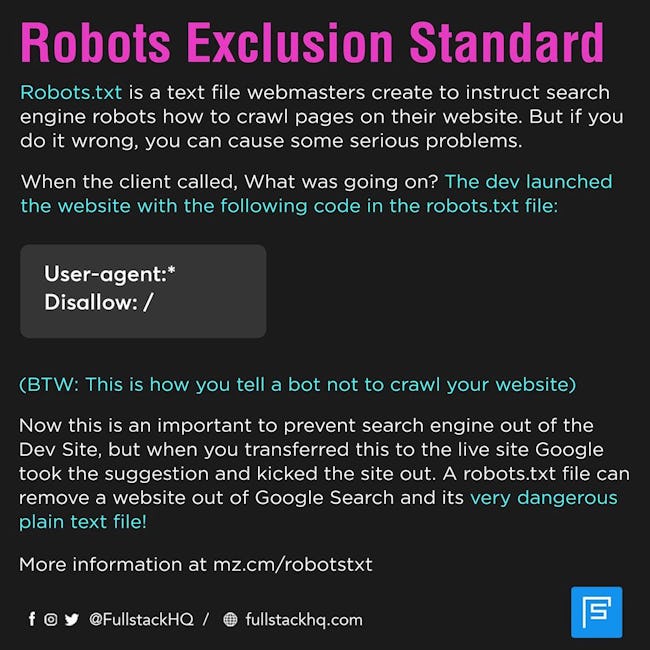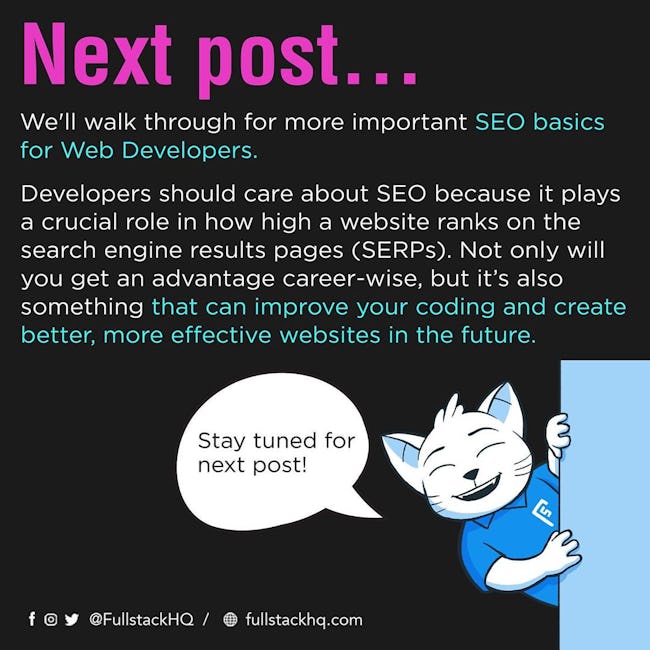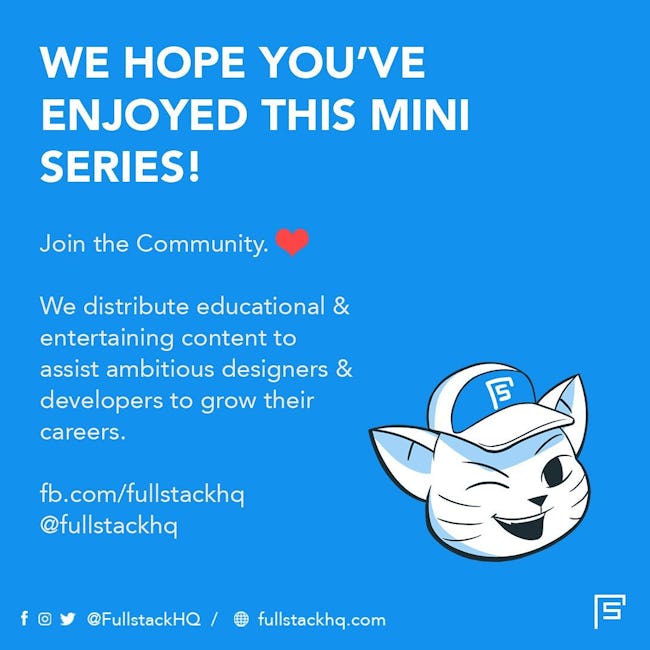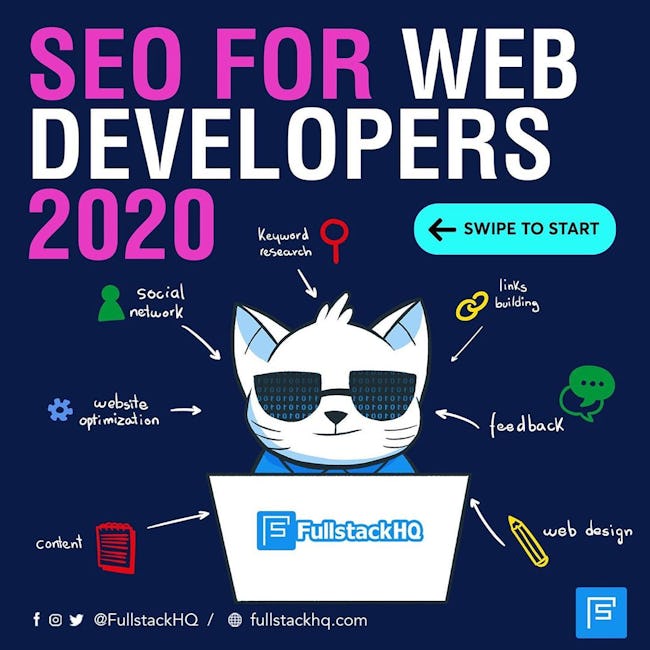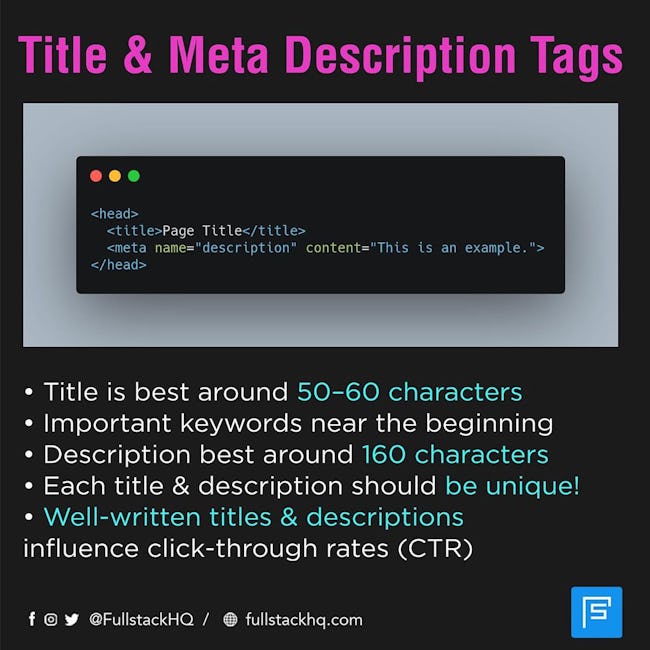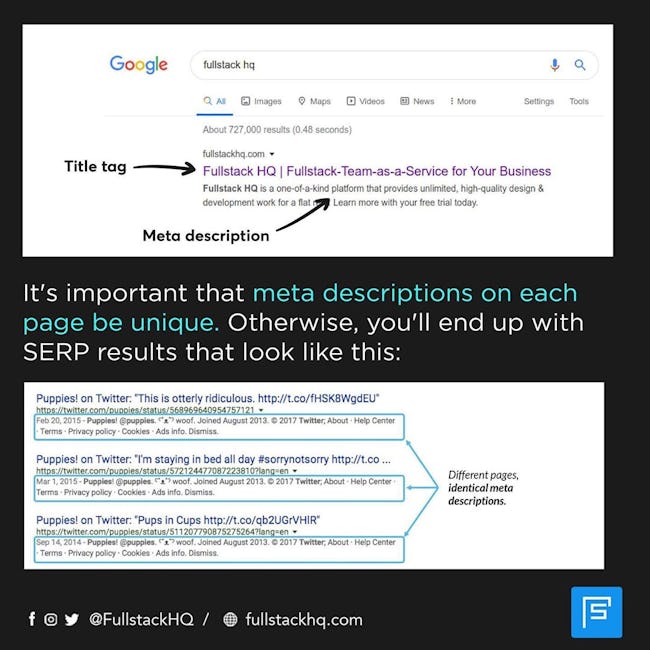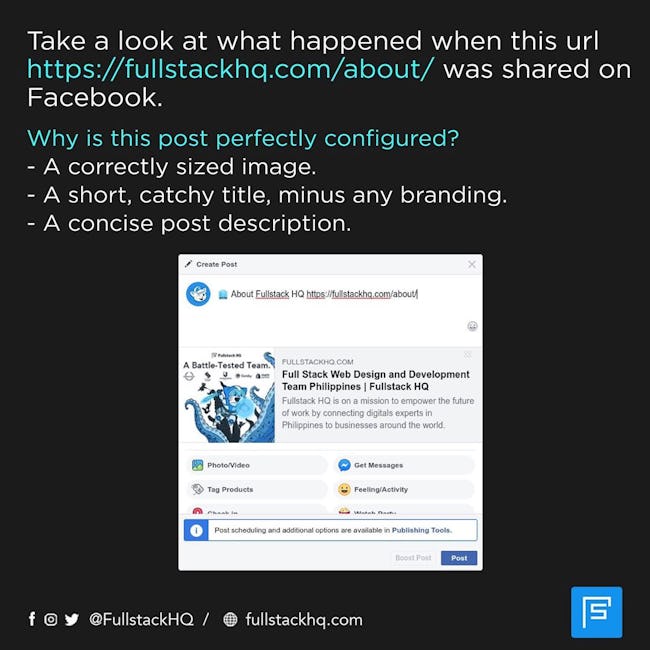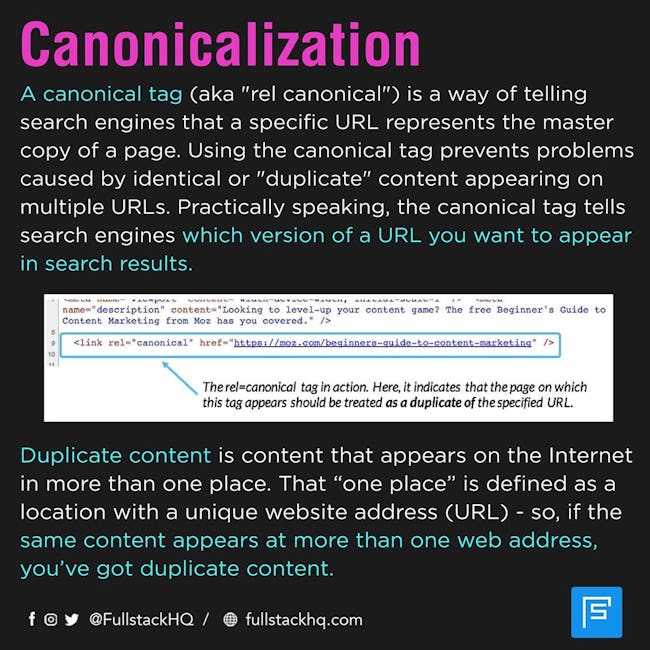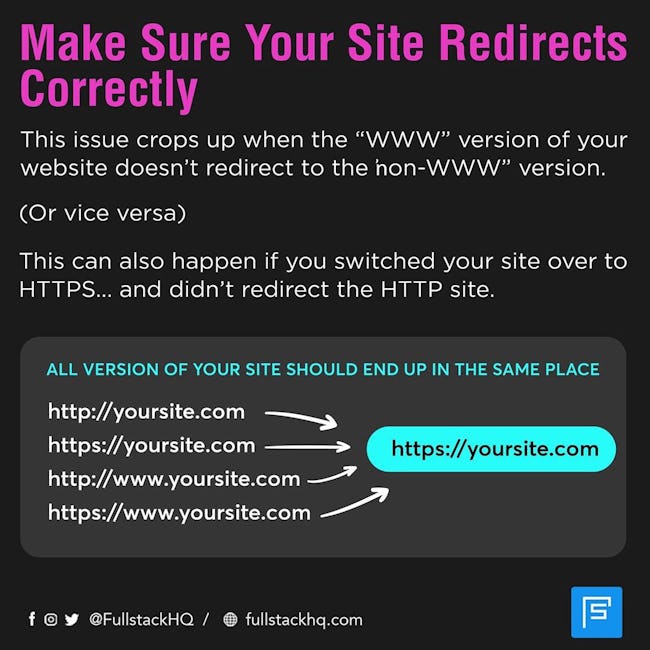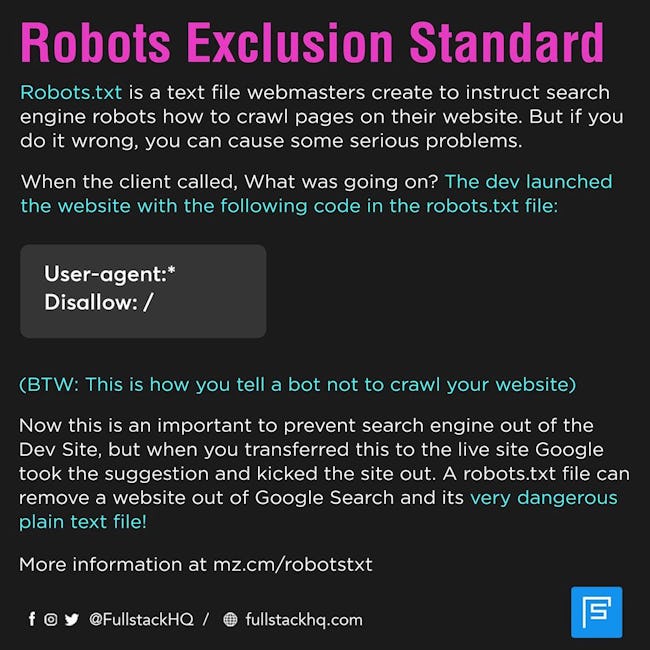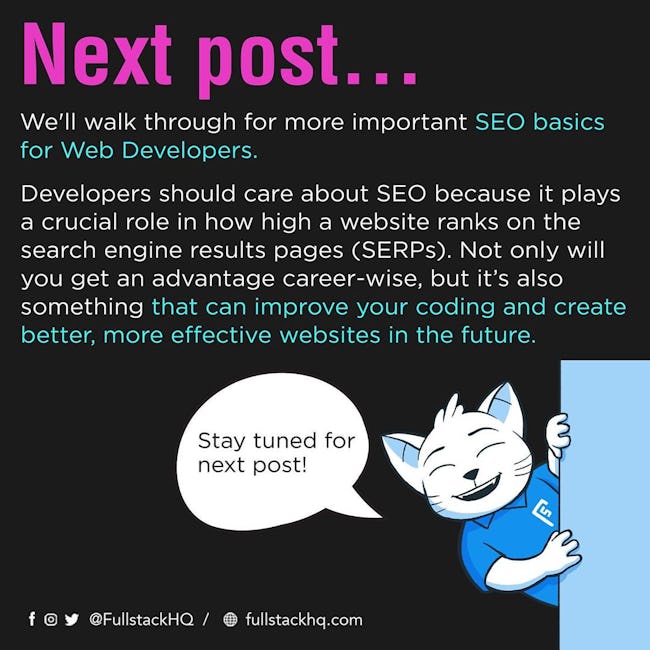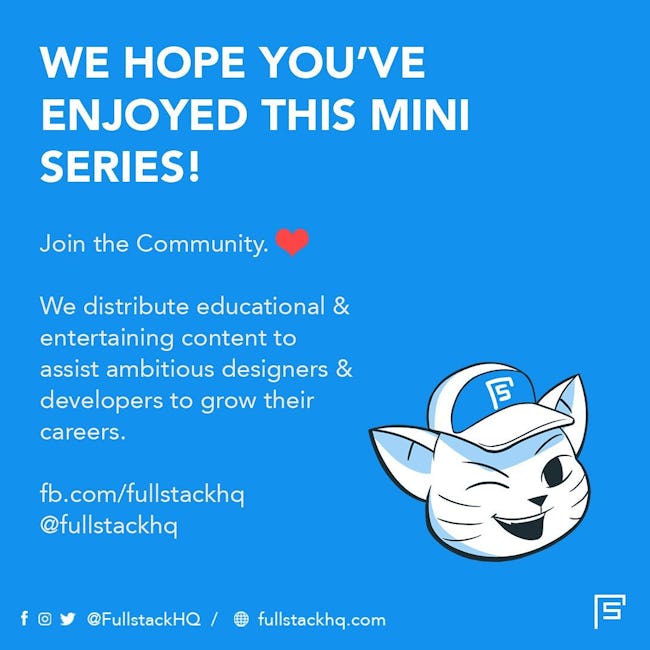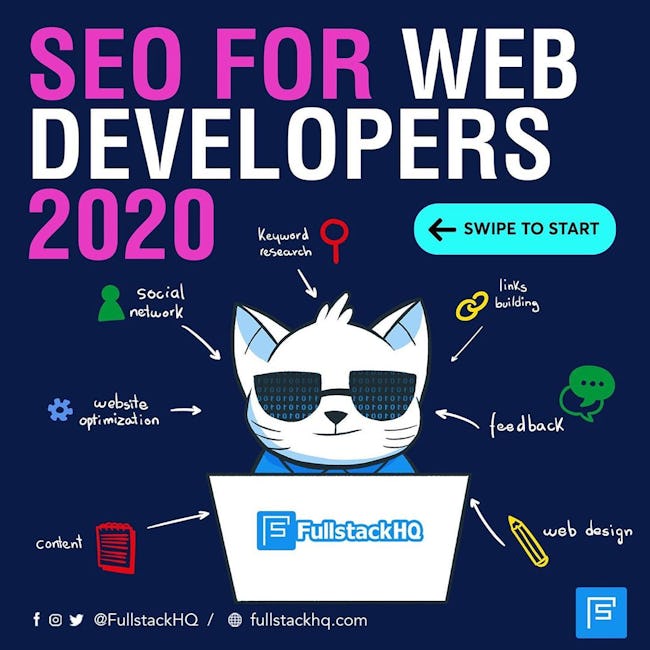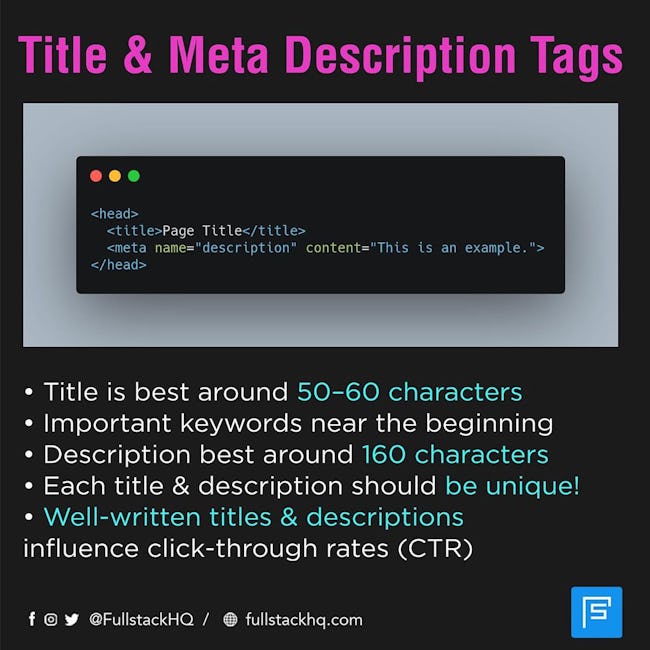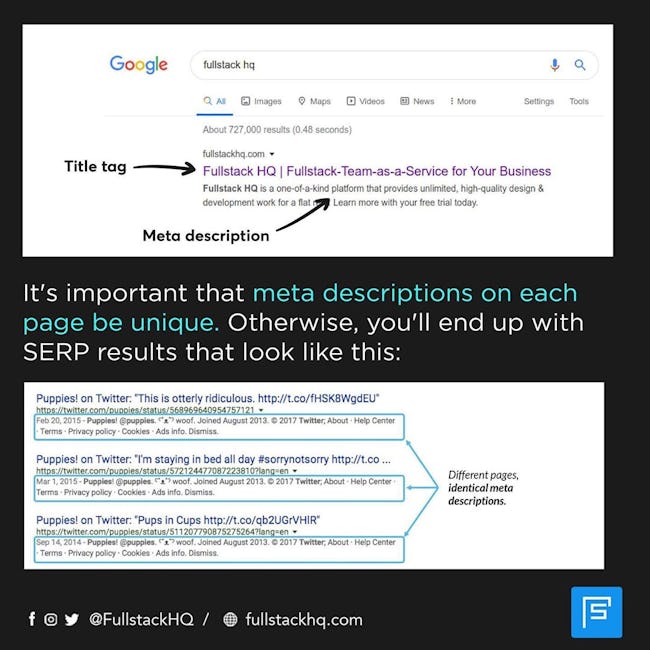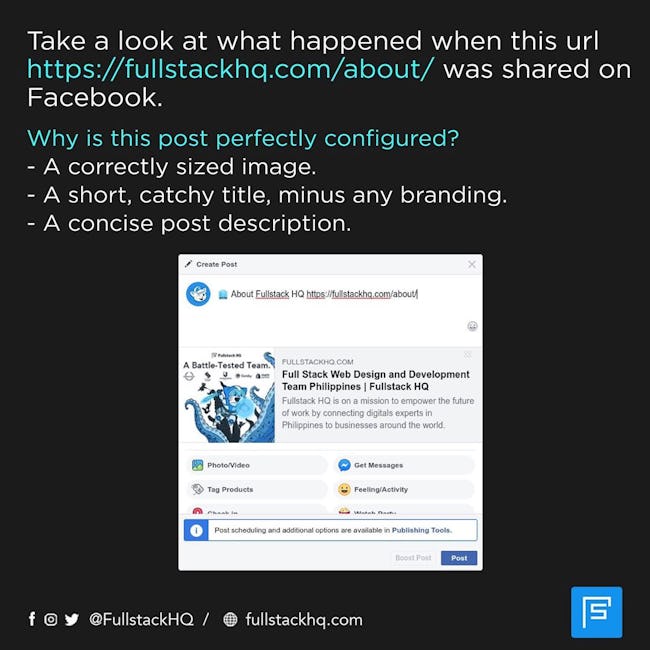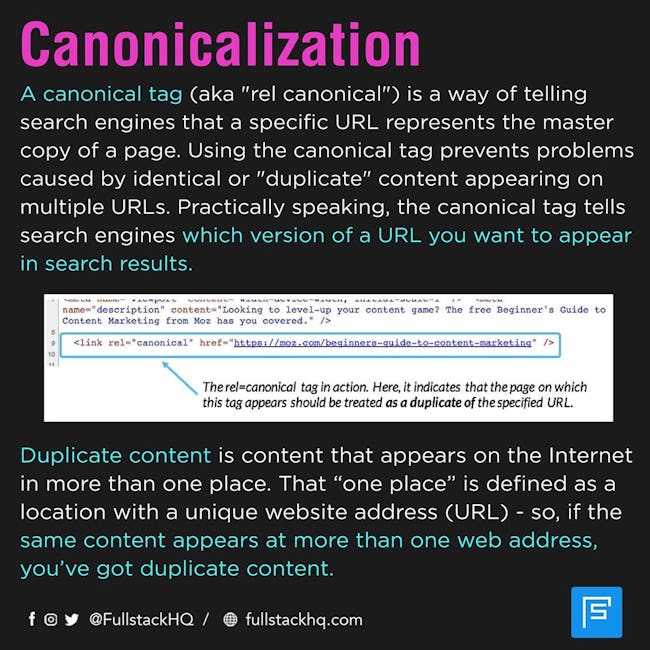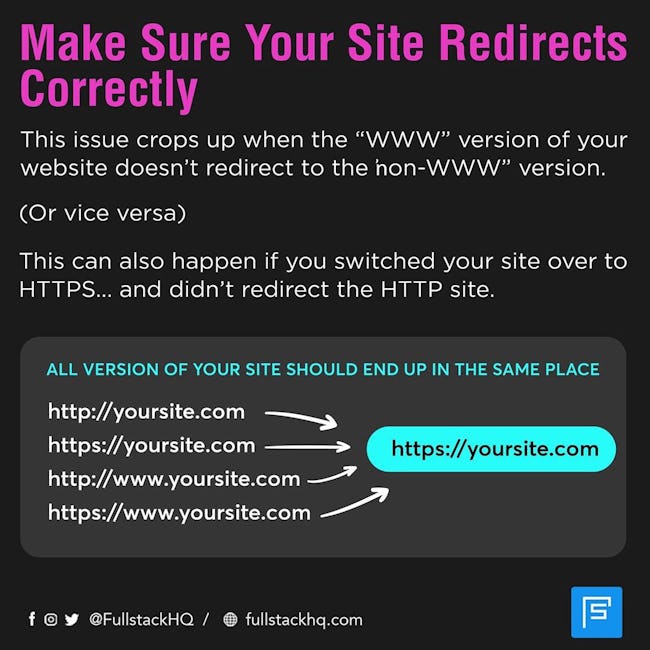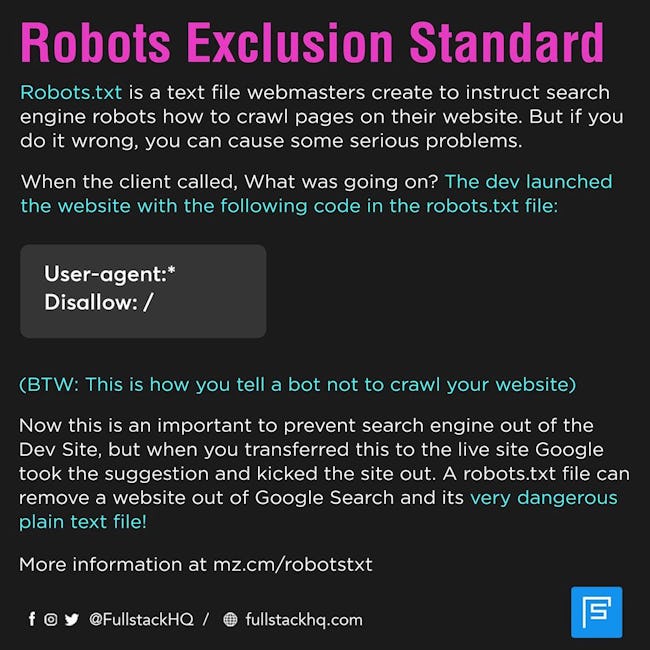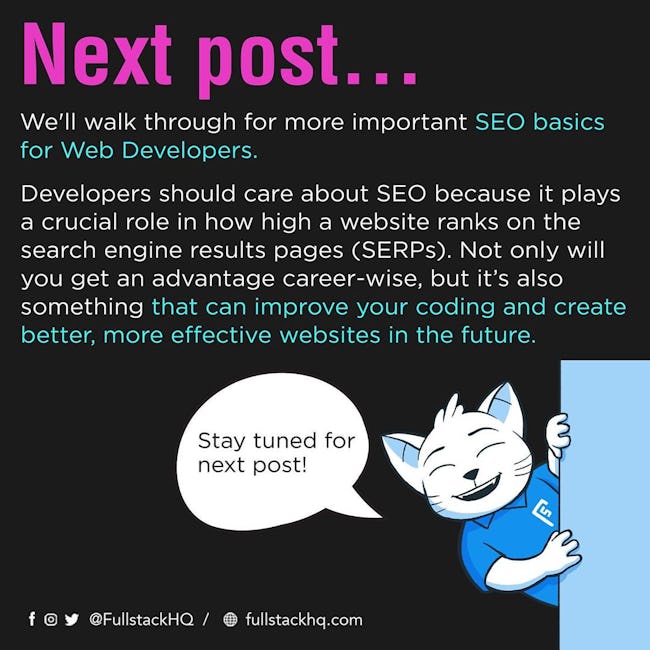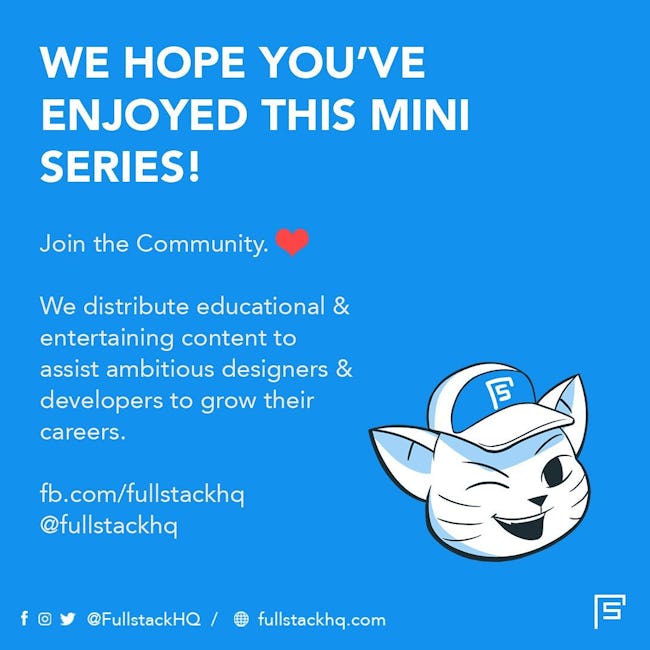 Seo for Web Developers 2020
Title & Meta Description Tags
Title is best around 50-60 characters
Important keywords near the beginning
Description best around 160 characters
Each title & description should be unique!
Well-written titles & descriptions influence click-through rates (CTR)
It's important that meta description on each page be unique. Otherwise, you'll end up with SERP results that look like this:
Social Metadata
It enables your content to be presented in the best possible light when shared on social media. Instead of relying on Facebook, Twitter and the other social platforms to guess how your content should be displayed in their social feeds, you can tell them exactly what you want.
Facebook, Twitter, LinkedIn, and Pinterest use a standard called Open Graph to determine what your page is about. These tags are embedded within the code (i.e., HTML) of our blog post.
Take a look at what happened when this url https://fullstackhq.com/about/ was shared on Facebook.
Why is this post perfectly configured?
-A correctly sized image.
- A short, catchy title, minus any branding.
- A concise post description.
Canonicalization
A canonical tag (aka rel canonical) is a way of telling search engines that a specific URL represents the master copy of a page. Using the canonical tag prevents problems caused by identical or duplicate content appearing on multiple URLs. Practically speaking, the canonical tag tells search engines which version of a URL you want to appear in search results.
Duplicate content is content that appears on the Internet in more than one place. That one place is defined as a location with a unique website address (URL) - so, if the same content appears at more than one web address, you've got duplicate content.
Make Sure Your Site Redirects Correctly
This issue crops up when the WWW version of your website doesn't redirect to the hon-WWW version. (Or vice versa) This can also happen if you switched your site over to HTTPS... and didn't redirect the HTTP site.
Robots Exclusion Standard
Robots.txt is a text file webmasters create to instruct search engine robots how to crawl pages on their website. But if you do it wrong, you can cause some serious problems. When the client called, What was going on? The dev launched the website with the following code in the robots.txt file:
(BTW: This is how you tell a bot not to crawl your website) Now this is an important to prevent search engine out of the Dev Site, but when you transferred this to the live site Google took the suggestion and kicked the site out. A robots.txt file can remove a website out of Google Search and its very dangerous plain text file!
Next post... We'll walk through for more important SEO basics for Web Developers.
Developers should care about SEO because it plays a crucial role in how high a website ranks on the search engine results pages (SERPs). Not only will you get an advantage career-wise, but it's also something that can improve your coding and creat better, more effective websites in the future.
More booklets by Fullstack HQ
More Development booklets
Your recently viewed booklets
See all booklets