Booklet
New Client Discovery Meetings 101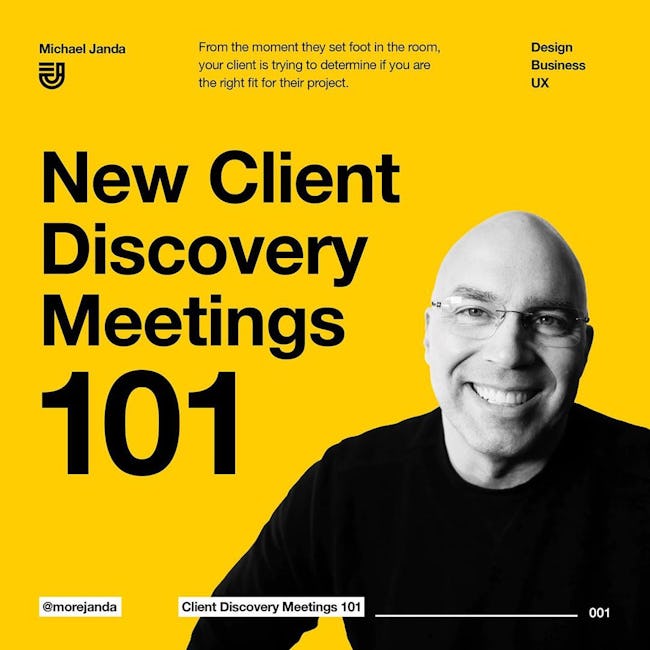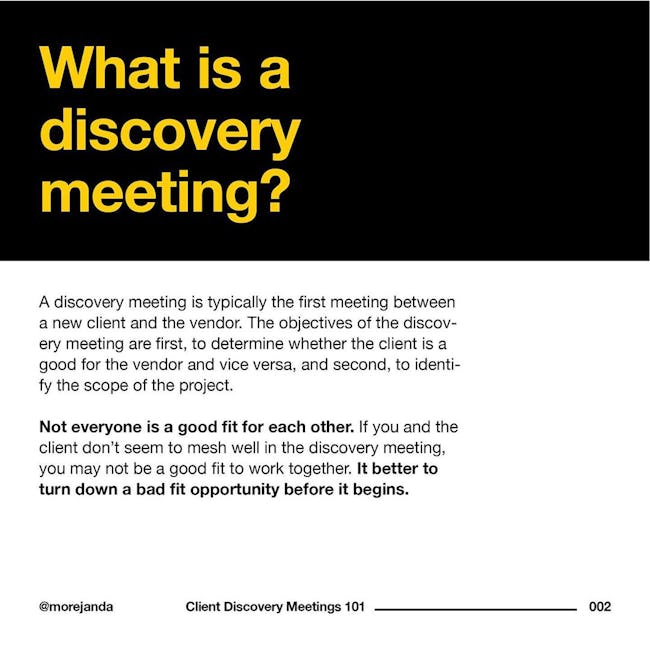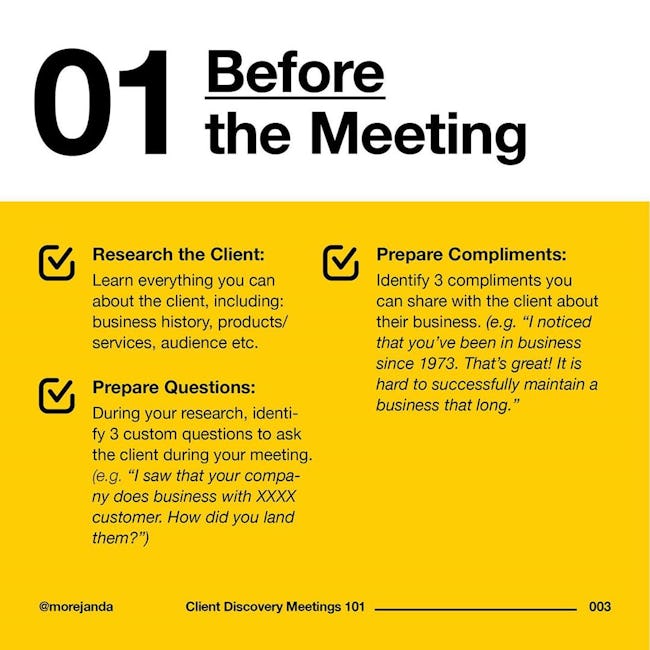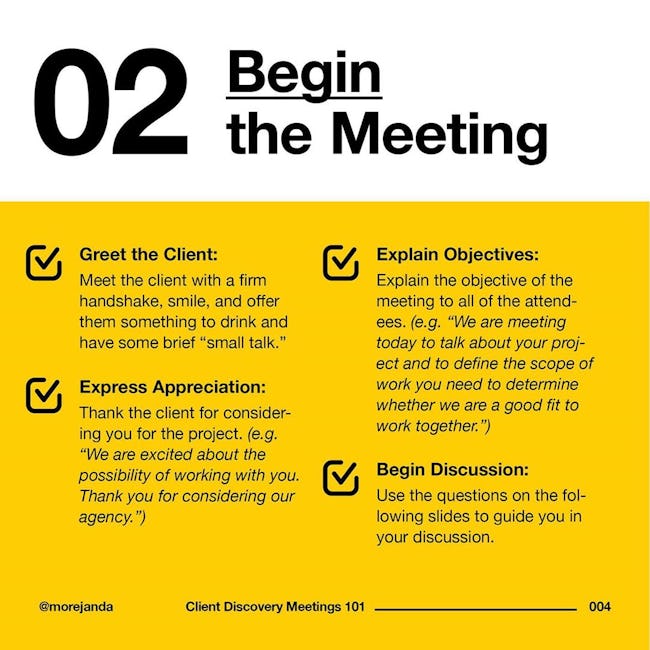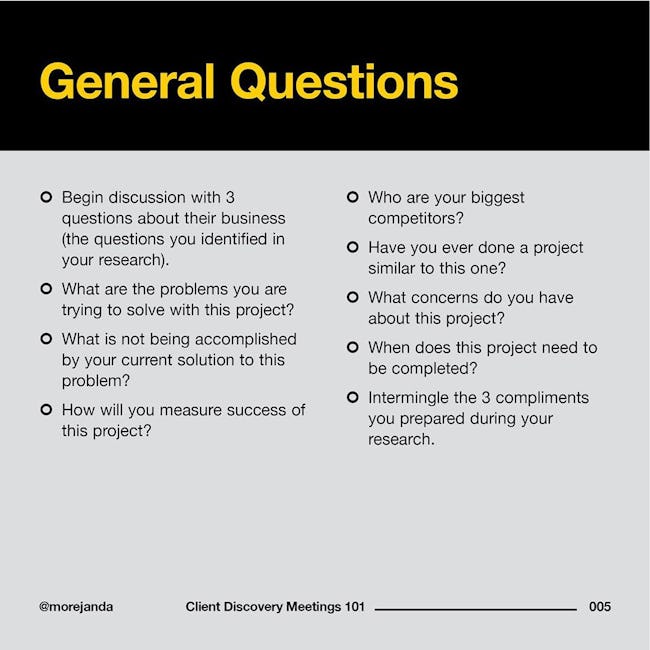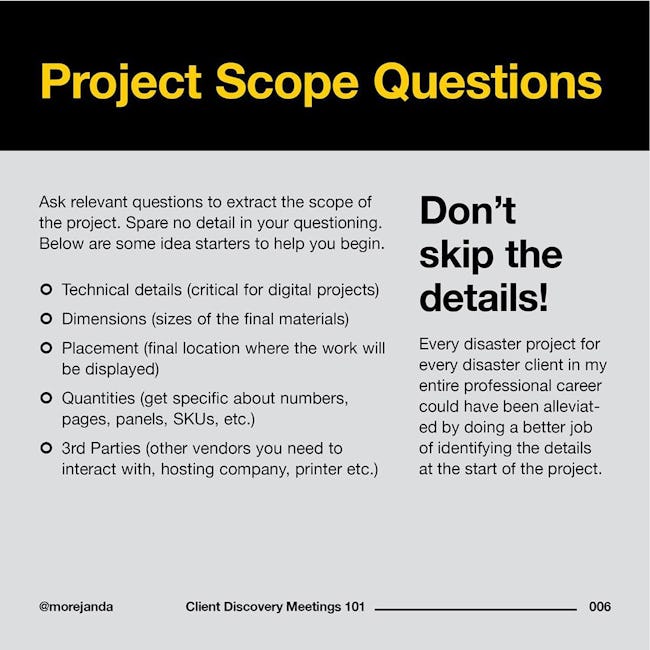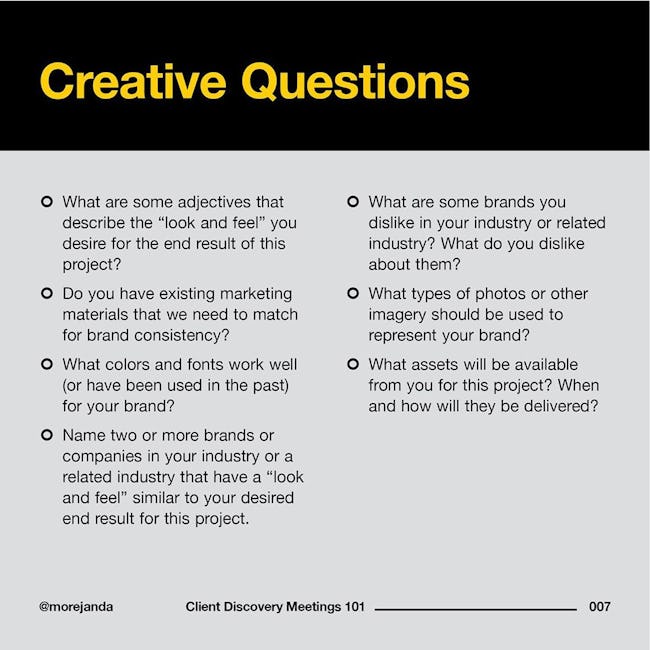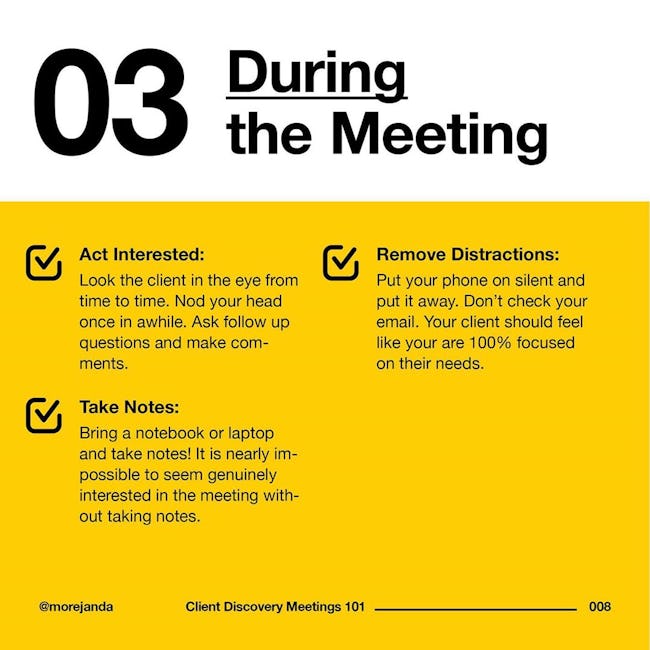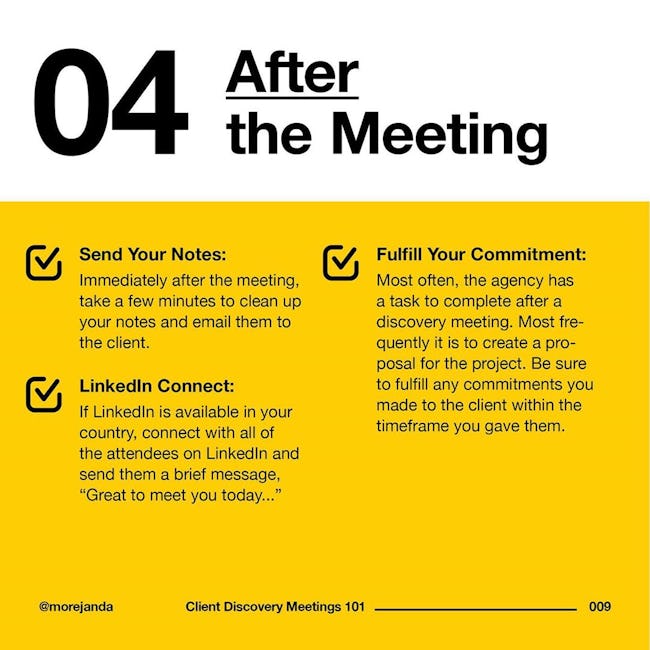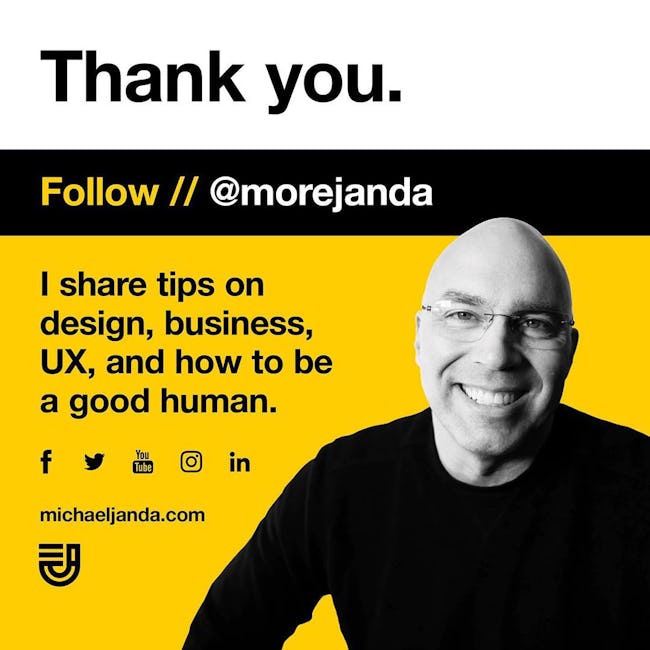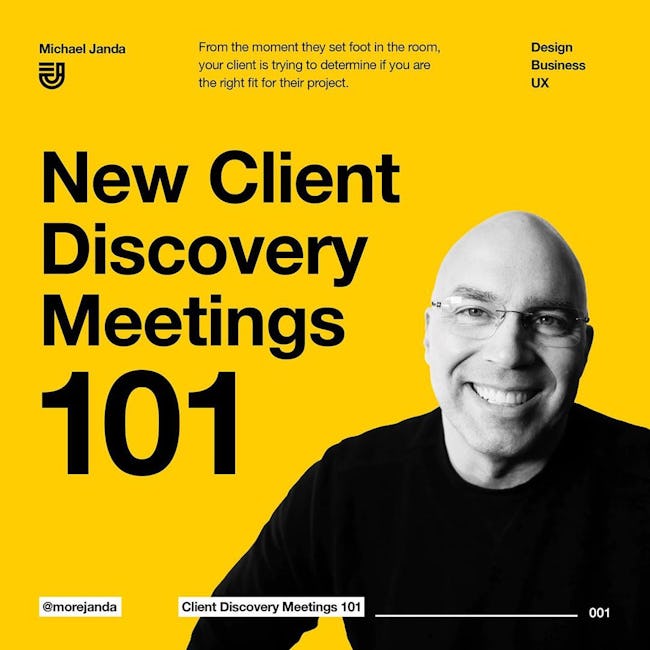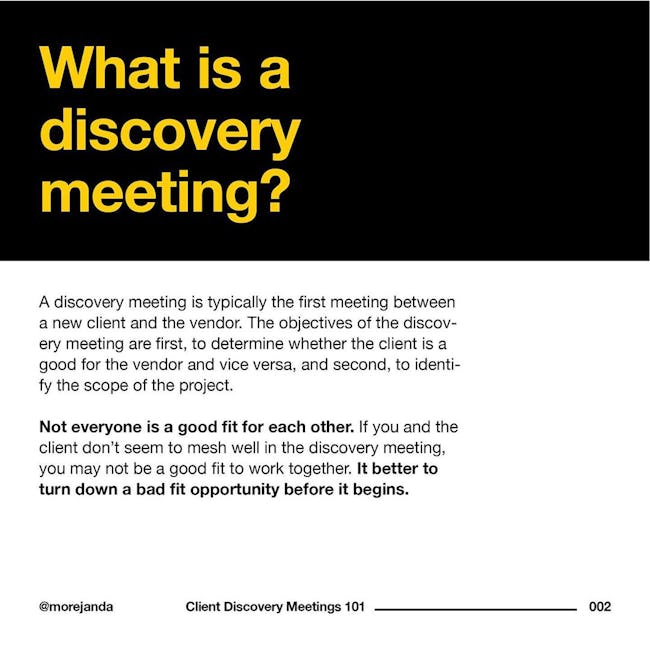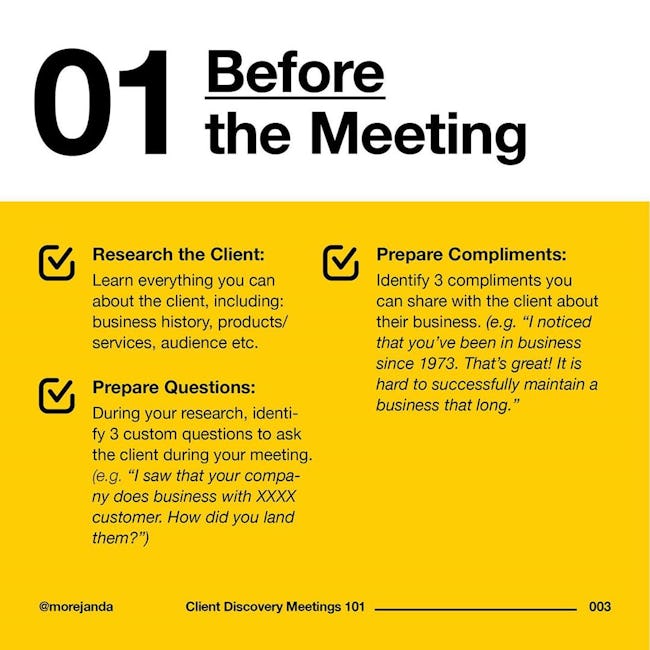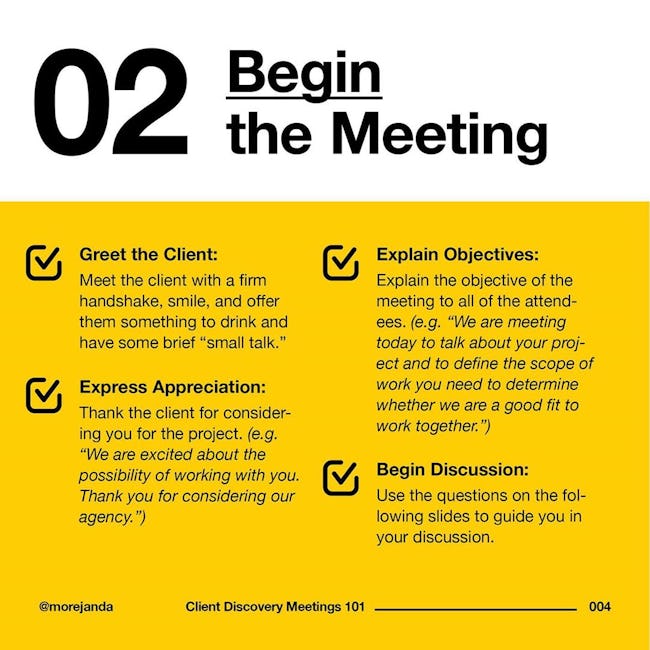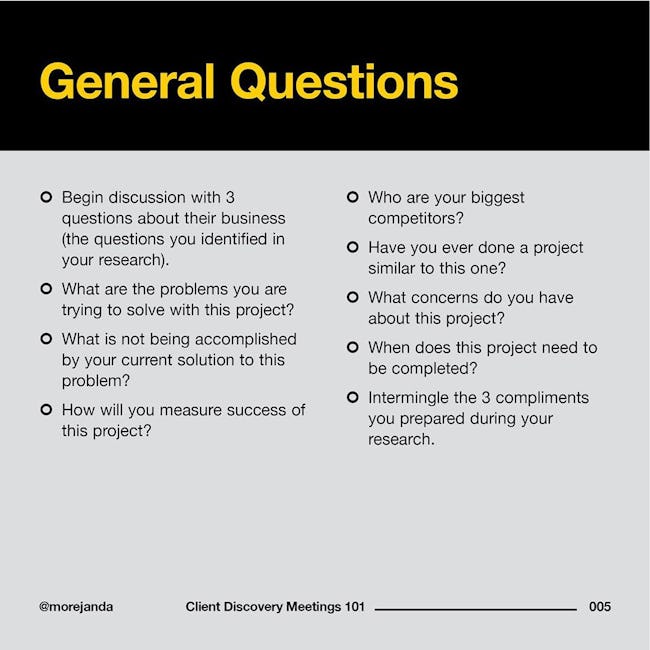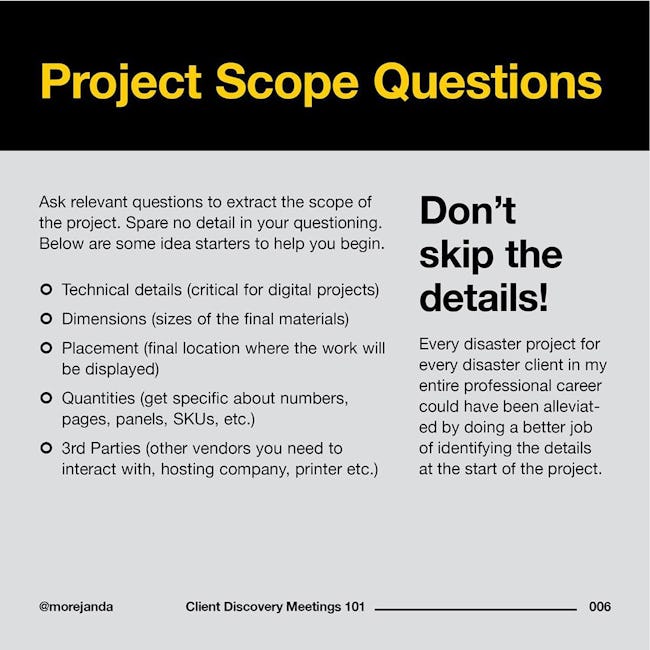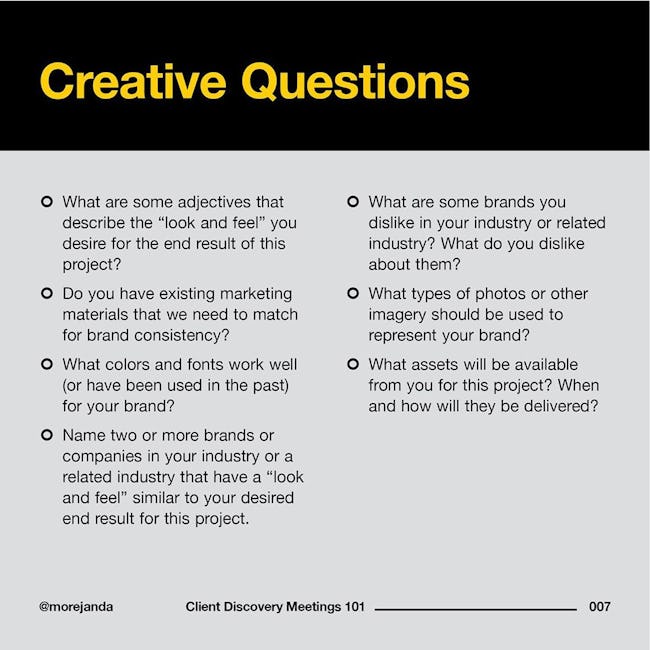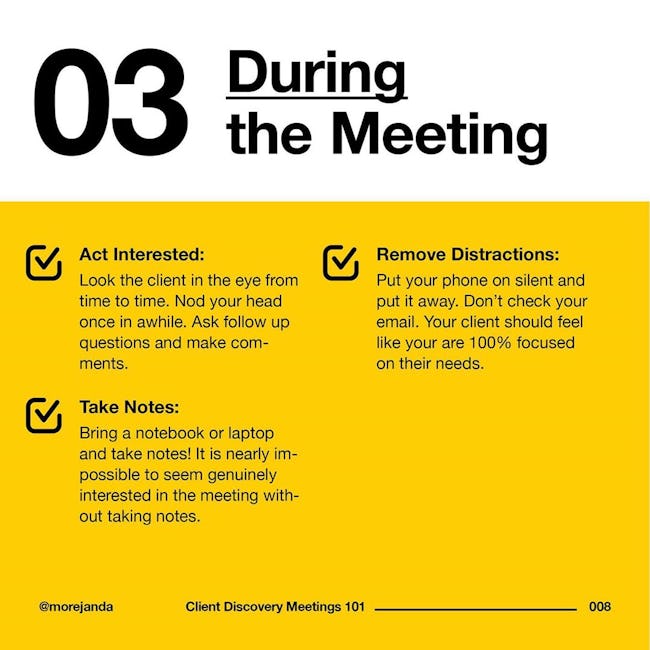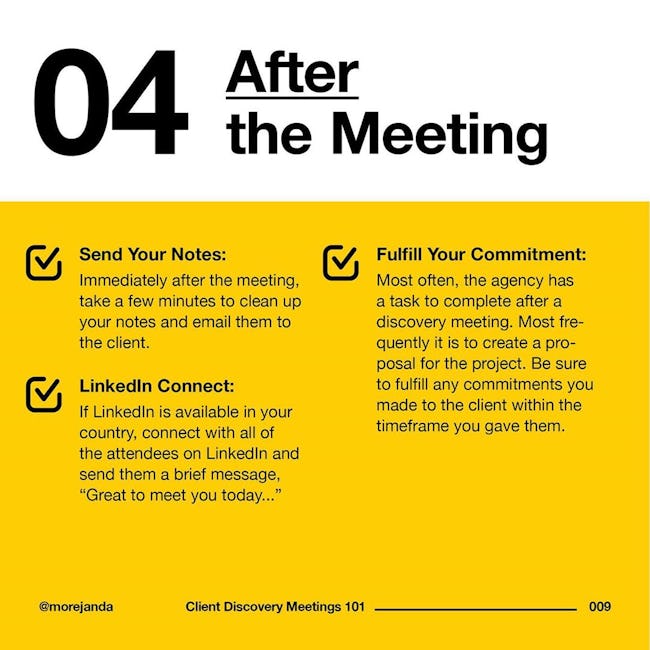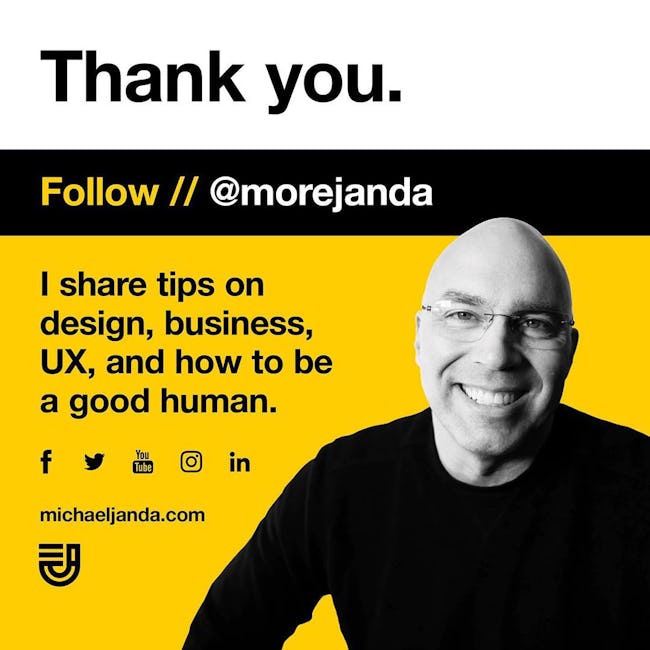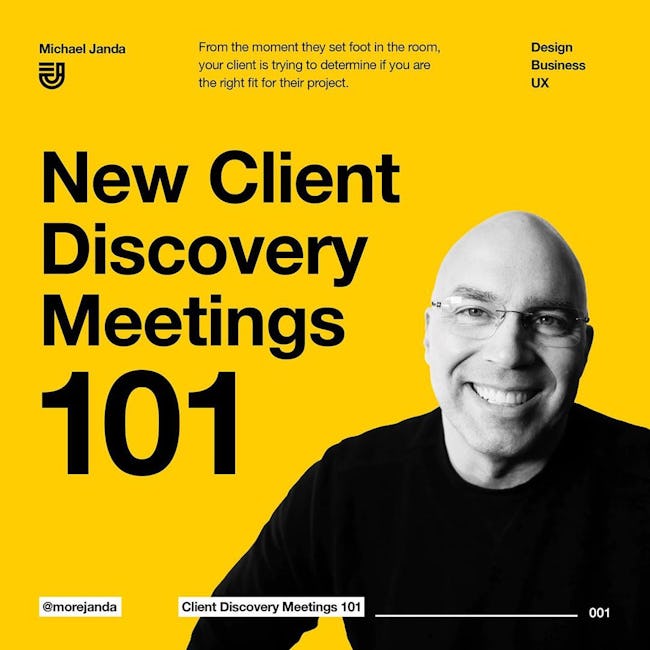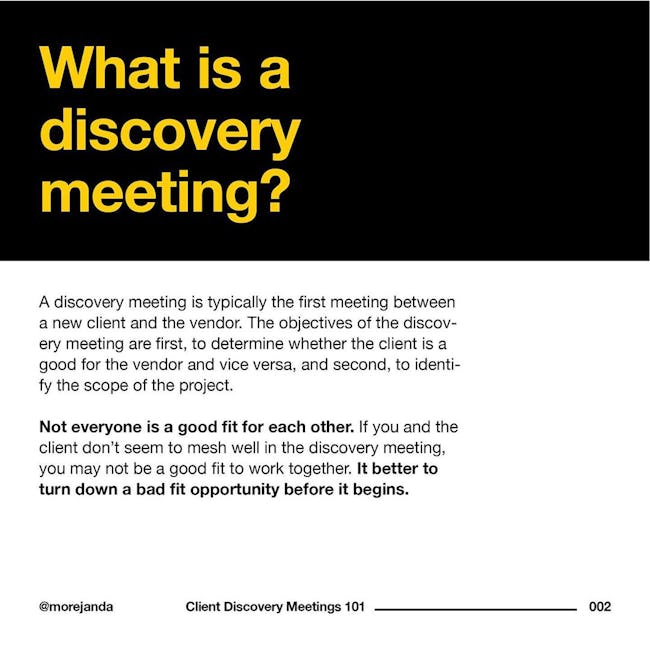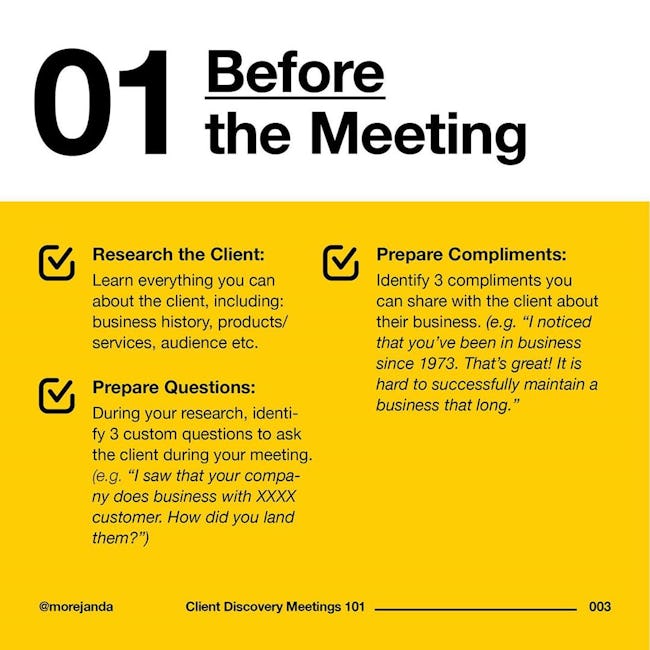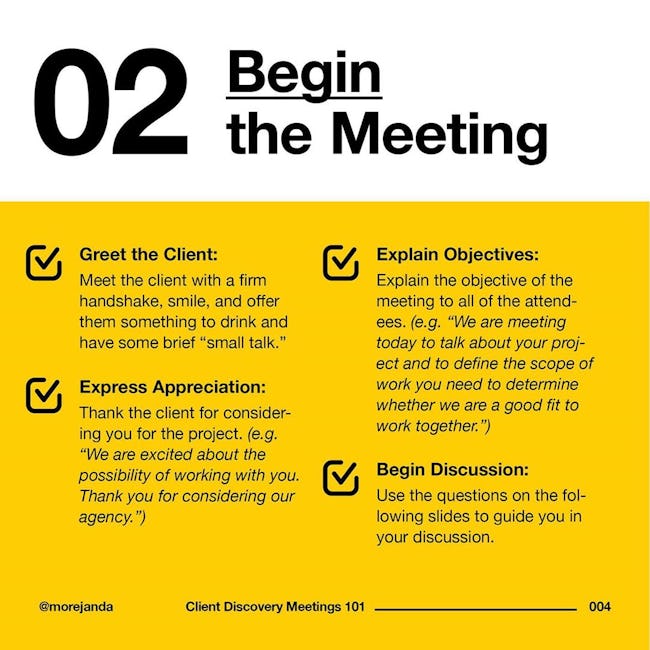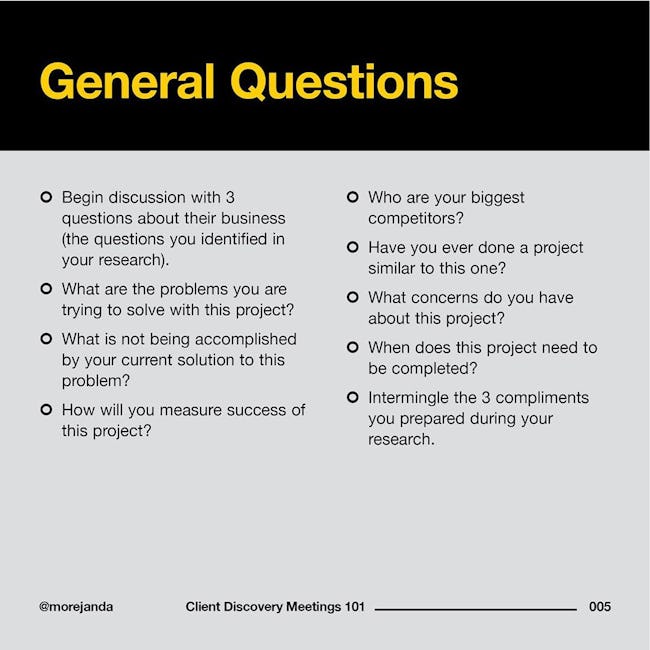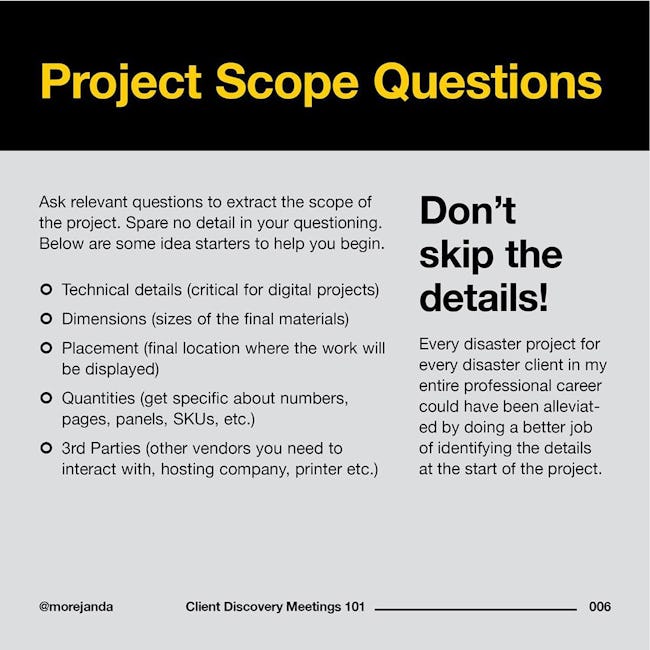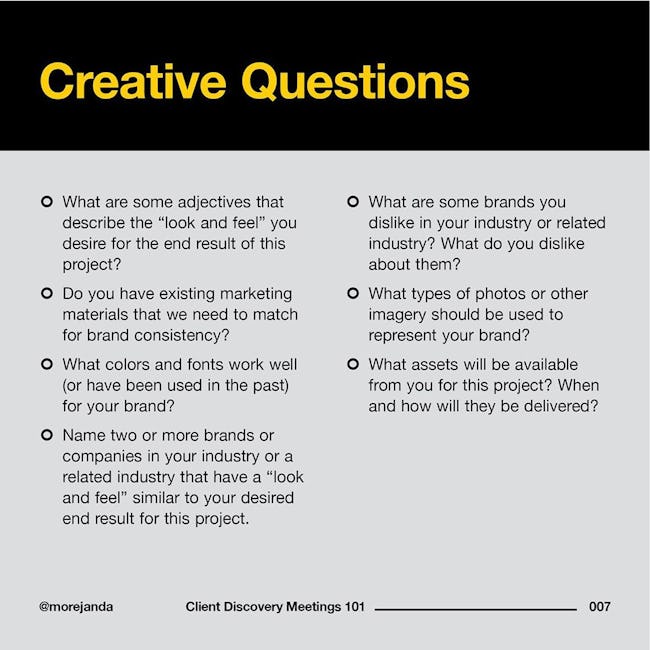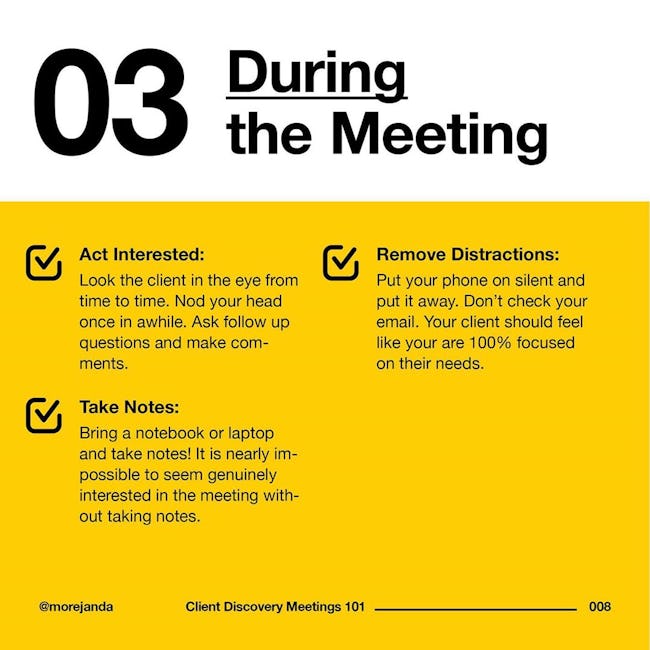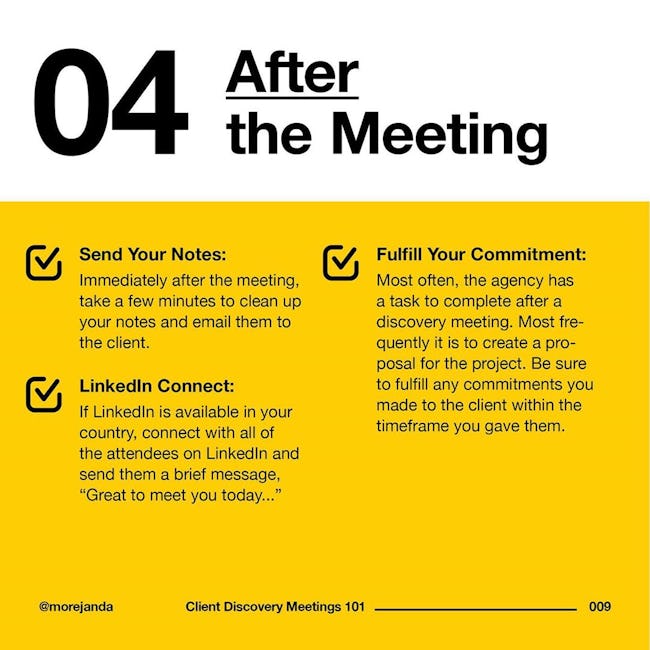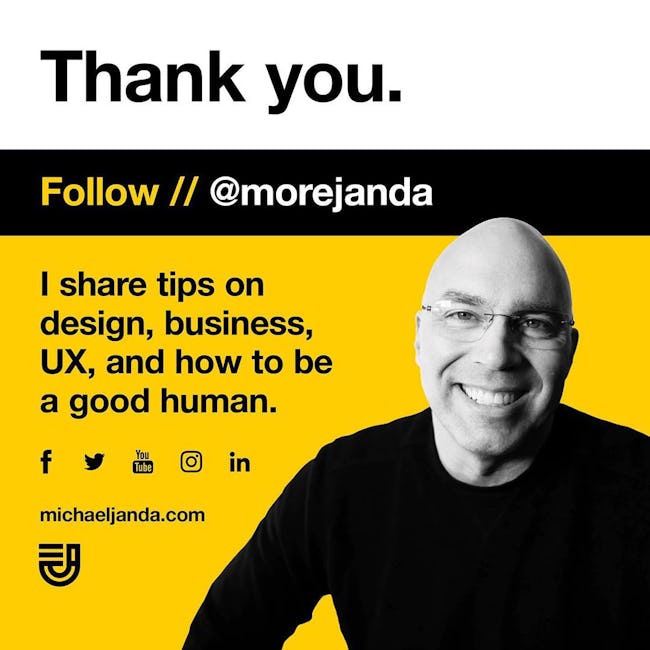 New Client Discovery Meetings 101
What is a discovery meeting?
A discovery meeting is typically the first meeting between a new client and the vendor. The objectives of the discovery meeting are first, to determine whether the client is a good for the vendor and vice versa, and second, to identify the scope of the project.
Not everyone is a good fit for each other. If you and the client don't seem to mesh well in the discovery meeting, you may not be a good fit to work together. It better to turn down a bad fit opportunity before it begins.
01 Before the Meeting
Research the Client:Learn everything you can about the client, including: business history, products/ services, audience etc.
Prepare Questions: During your research, identify 3 custom questions to ask the client during your meeting. (e.g. l saw that your company does business with XXXX customer. How did you land them?
Prepare Compliments: Identify 3 compliments you can share with the client about their business. (e.g. I noticed that you've been in business since 1973. That's great! It is hard to successfully maintain a business that long.
02 Begin the Meeting
Greet the Client: Meet the client with a firm handshake, smile, and offer them something to drink and have some brief small talk.
Express Appreciation: Thank the client for considering you for the project. (e.g. We are excited about the possibility of working with you. Thank you for considering our agency.)
Explain Objectives: Explain the objective of the meeting to all of the attendees. (e.g. We are meeting today to talk about your project and to define the scope of work you need to determine whether we are a good fit to work together.)
Begin Discussion: Use the questions on the following slides to guide you in your discussion.
03 During the Meeting
Act Interested: Remove Distractions: Look the client in the eye from time to time. Nod your head once in awhile. Ask follow up questions and make comments
Take Notes: Bring a notebook or laptop and take notes! It is nearly impossible to seem genuinely interested in the meeting with- out taking notes.
Put your phone on silent and put it away. Don't check your email. Your client should feel like your are 100% focused on their needs.
04 After the Meeting
Send Your Notes: Immediately after the meeting, take a few minutes to clean up your notes and email them to the client.
LinkedIn Connect: If LinkedIn is available in your country, connect with all of the attendees on LinkedIn and send them a brief message, Great to meet you today...
Fulfill Your Commitment: Most often, the agency has a task to complete after a discovery meeting. Most fre- quently it is to create a proposal for the project. Be sure to fulfill any commitments you made to the client within the timeframe you gave them.
More booklets by Michael Janda
More Business booklets
Your recently viewed booklets
See all booklets