Booklet
My Instagram Tools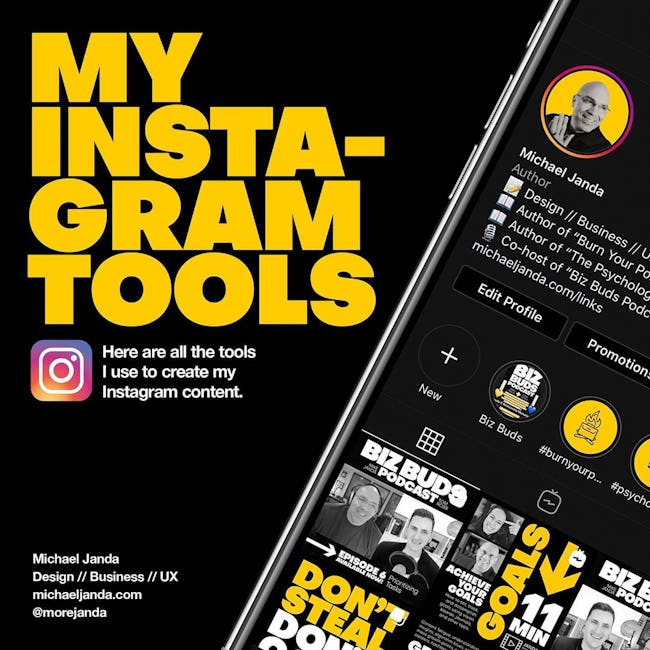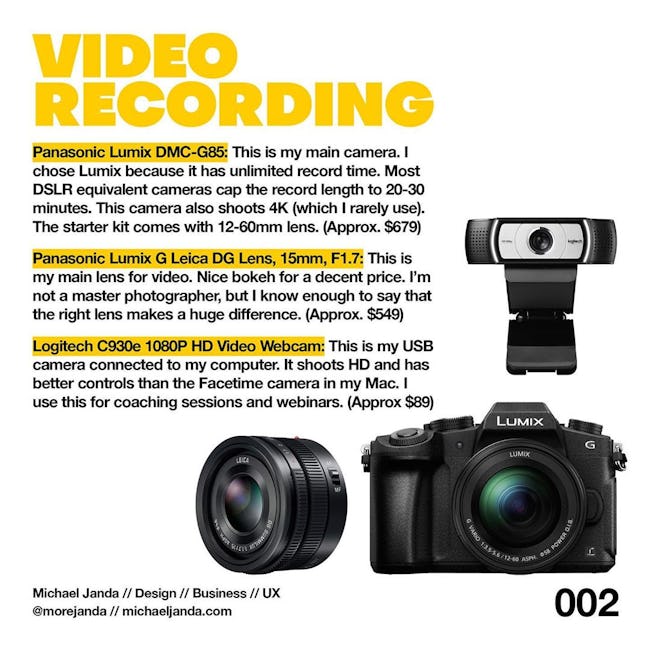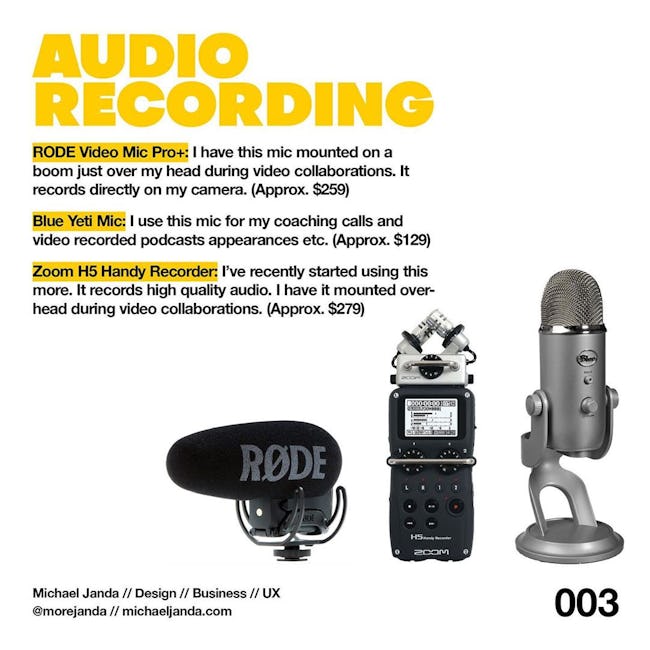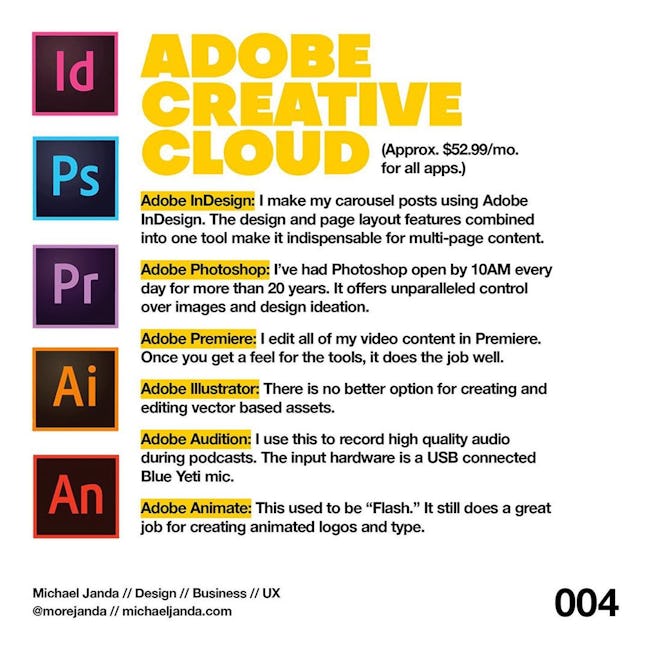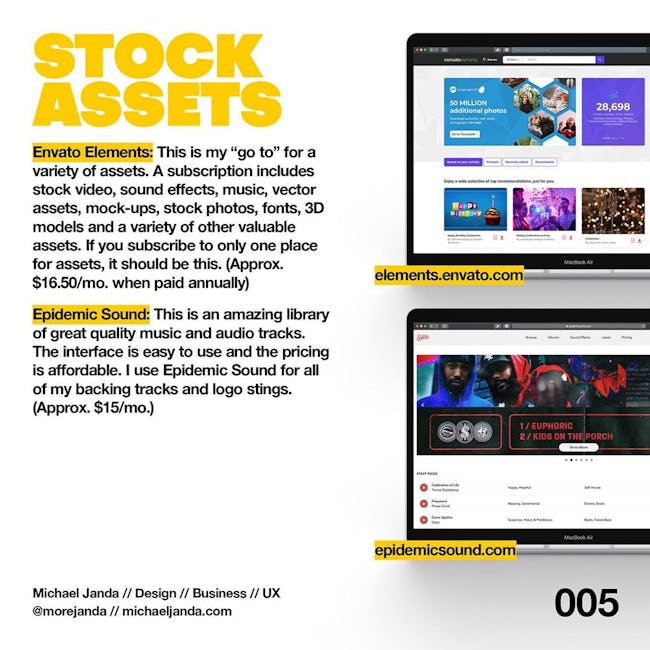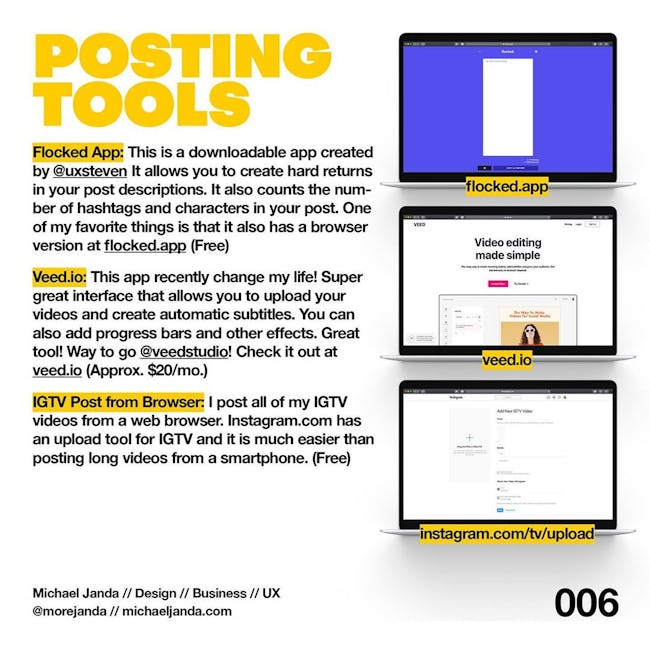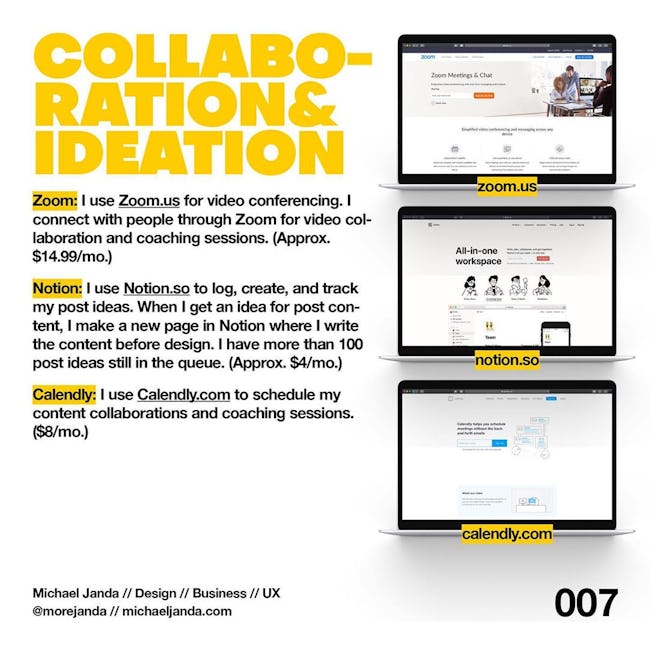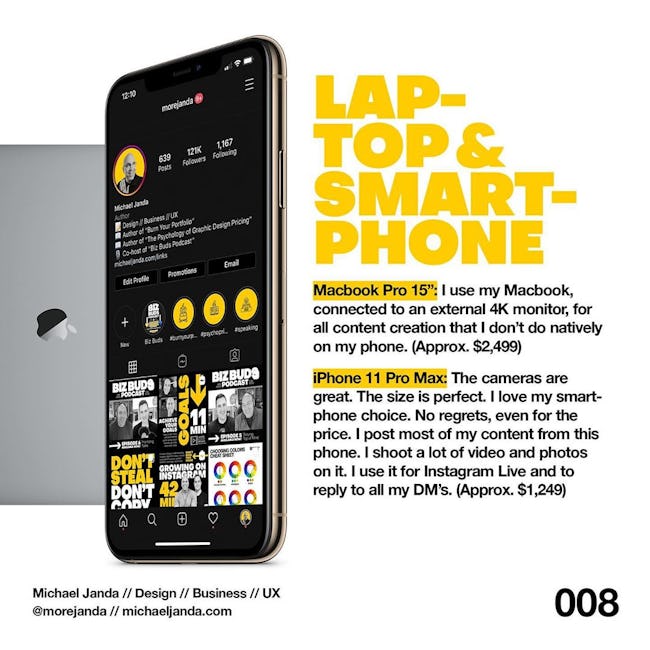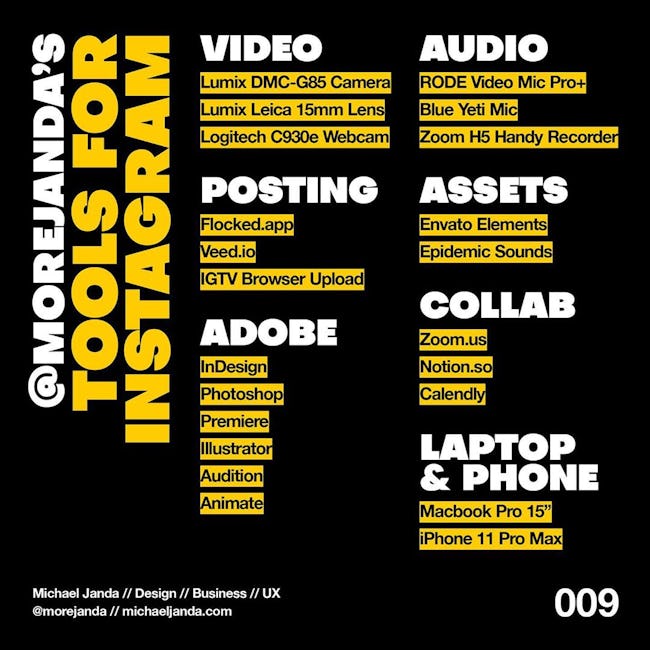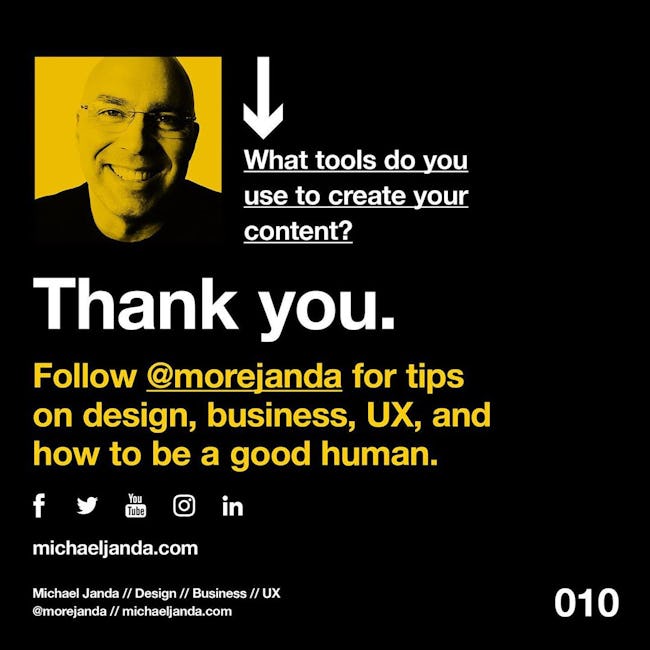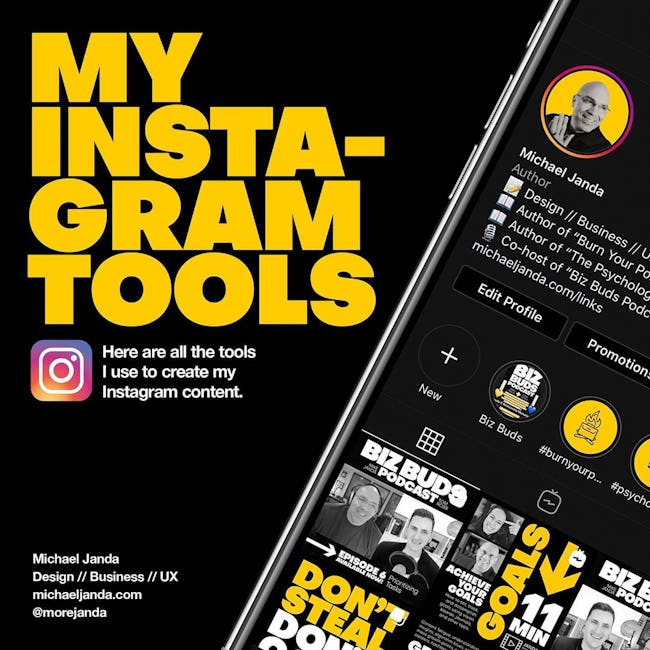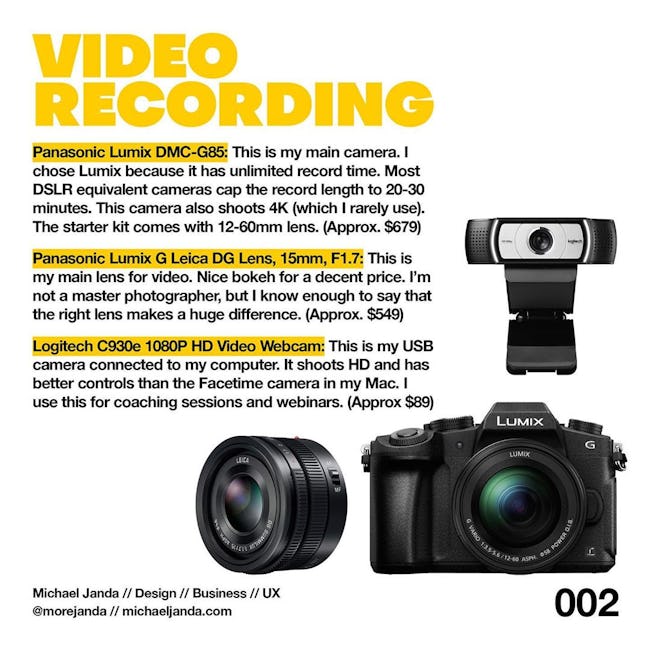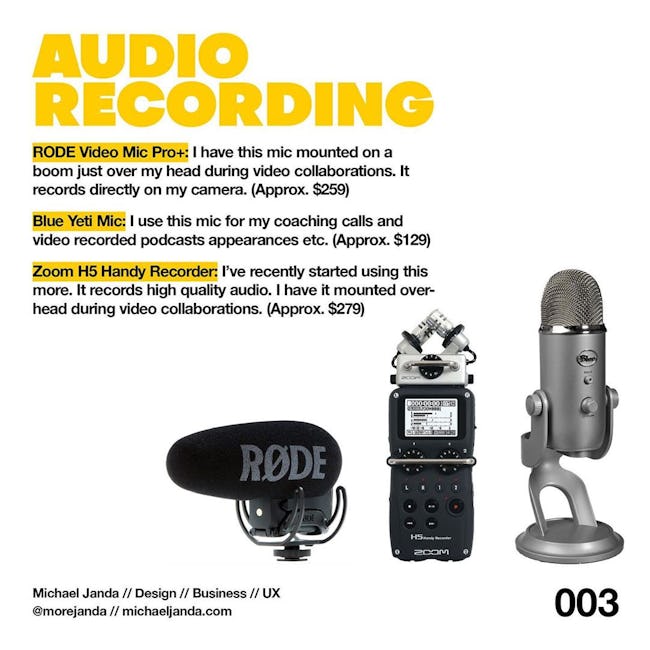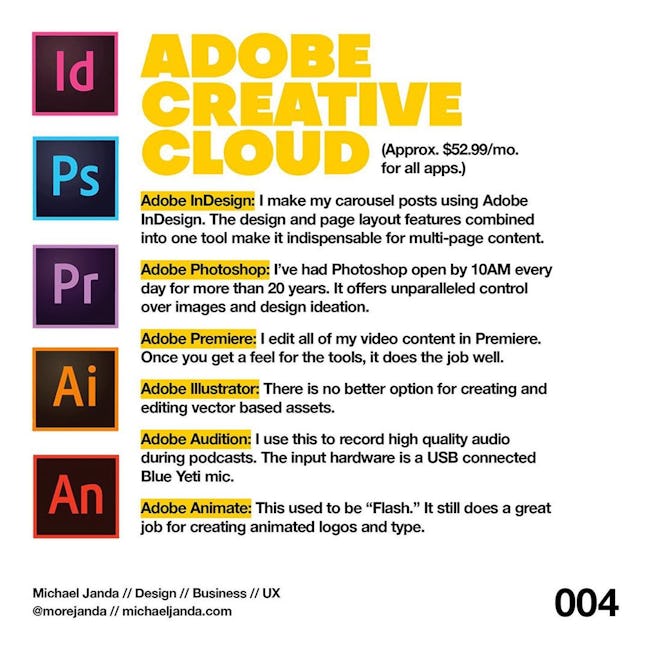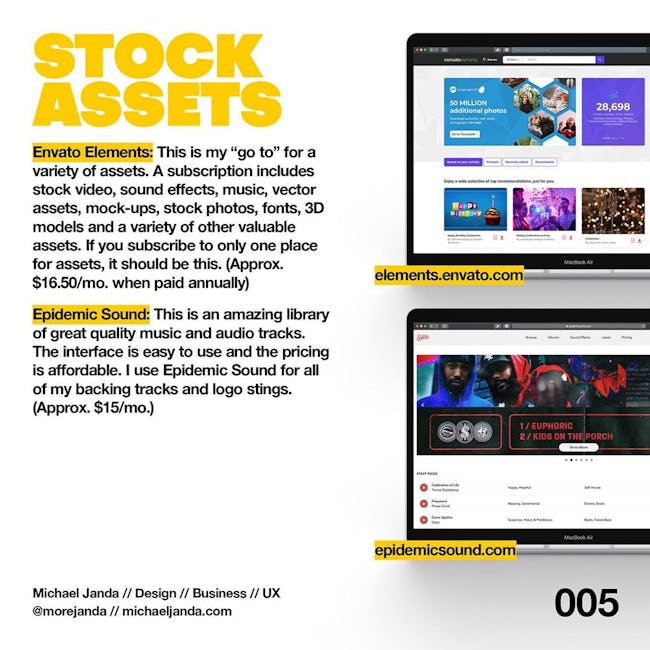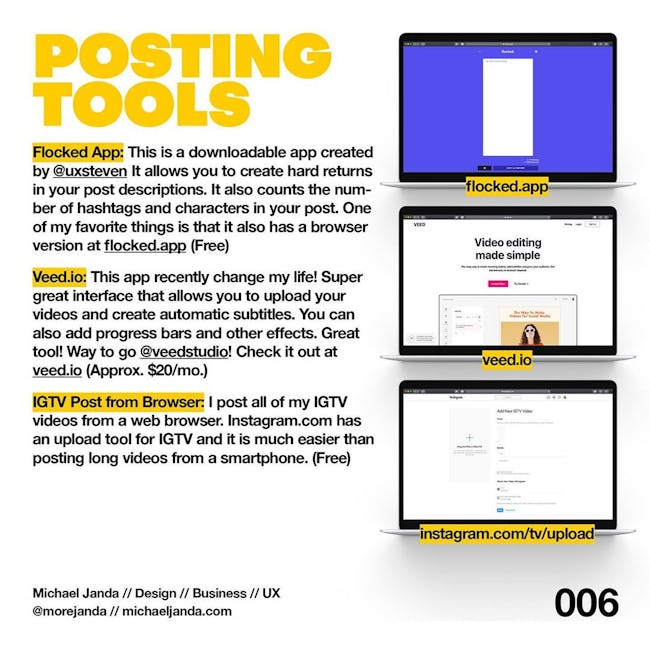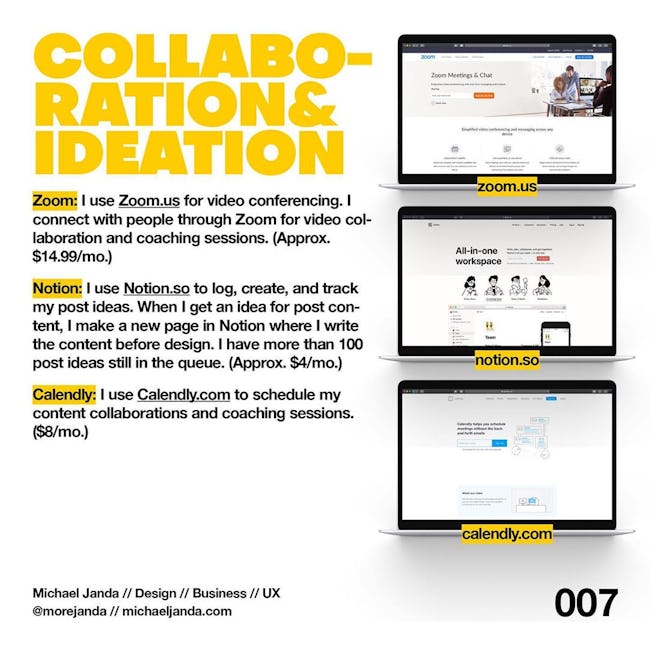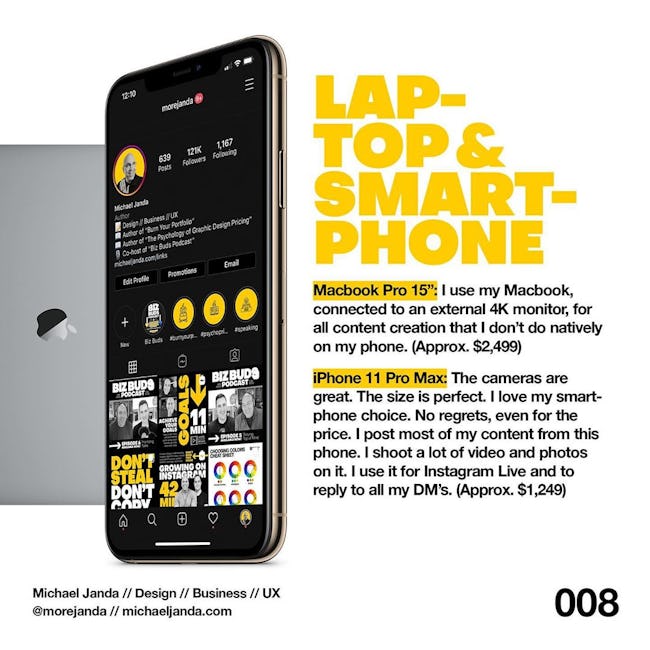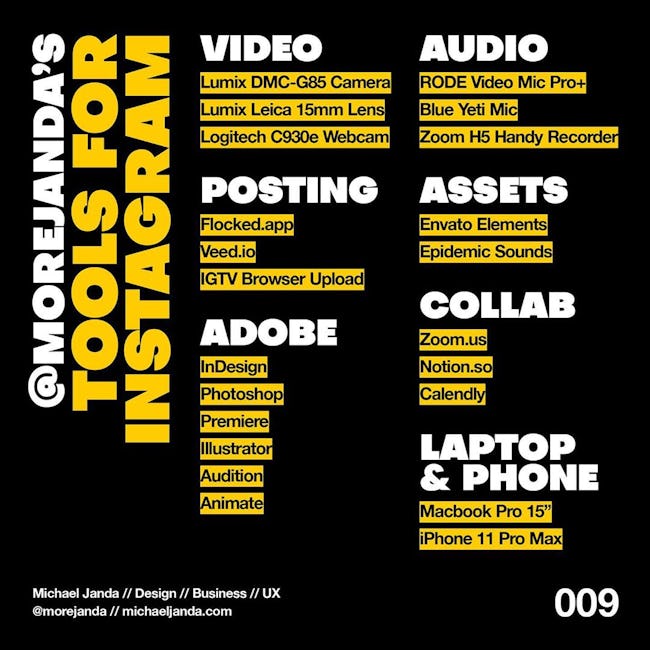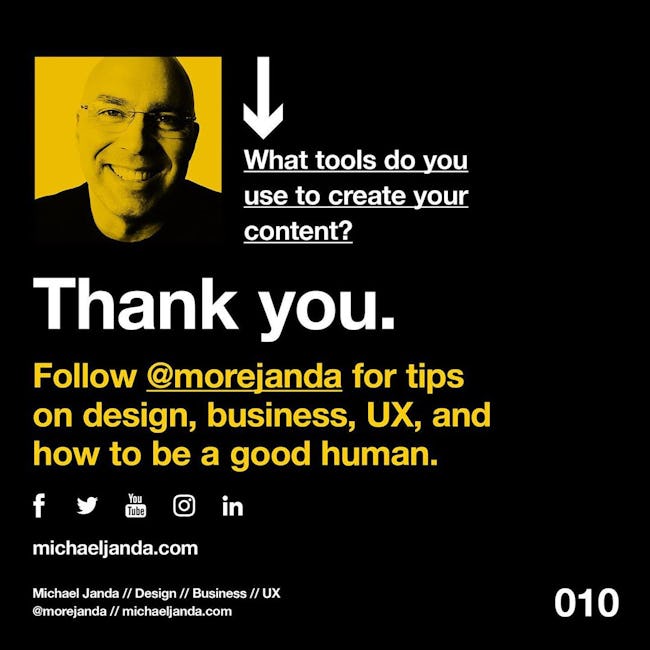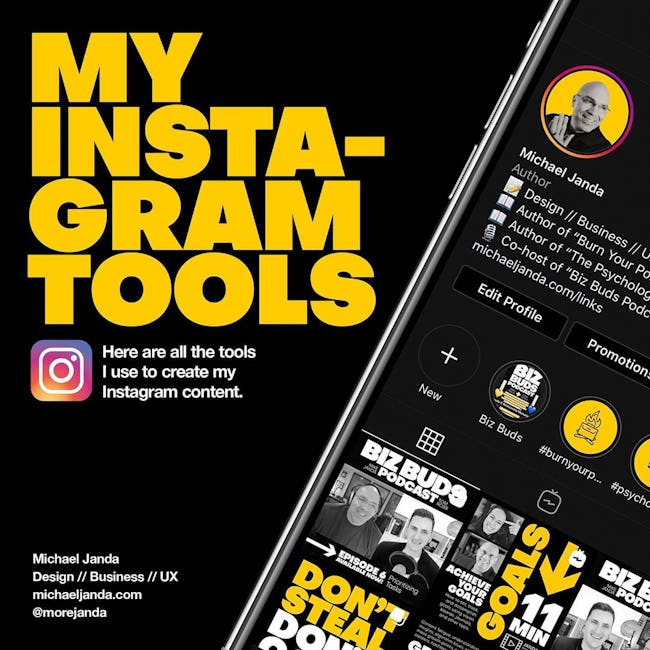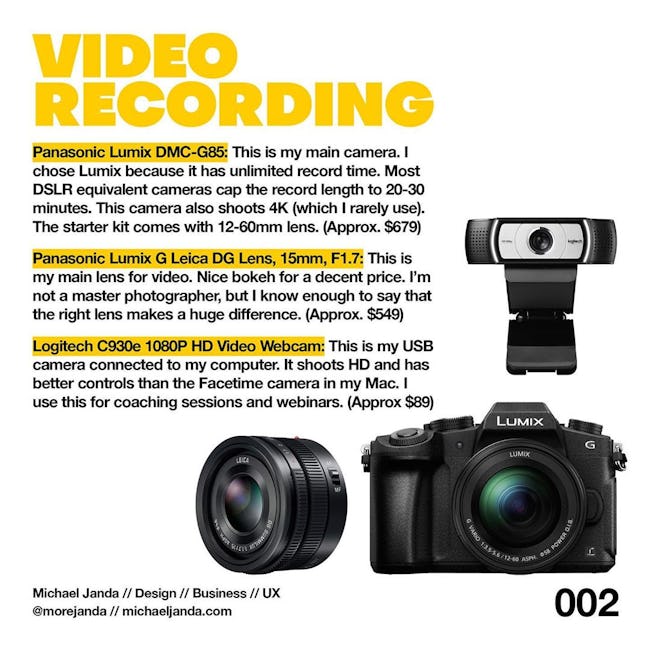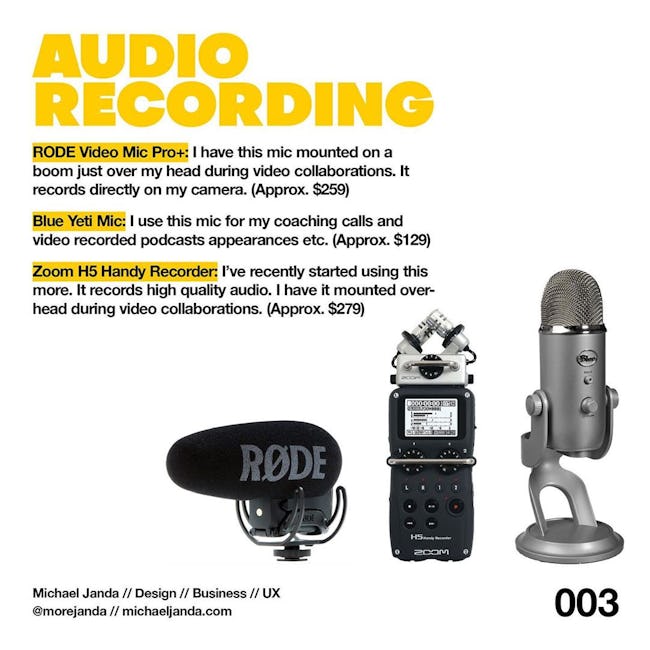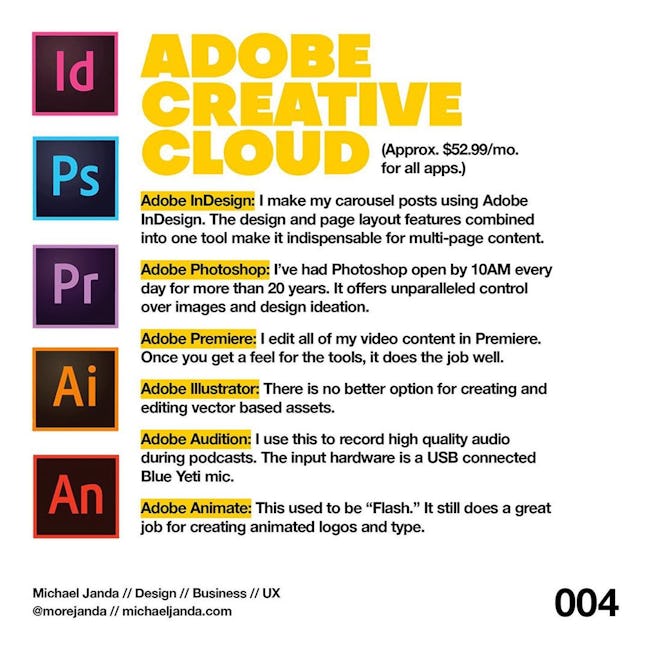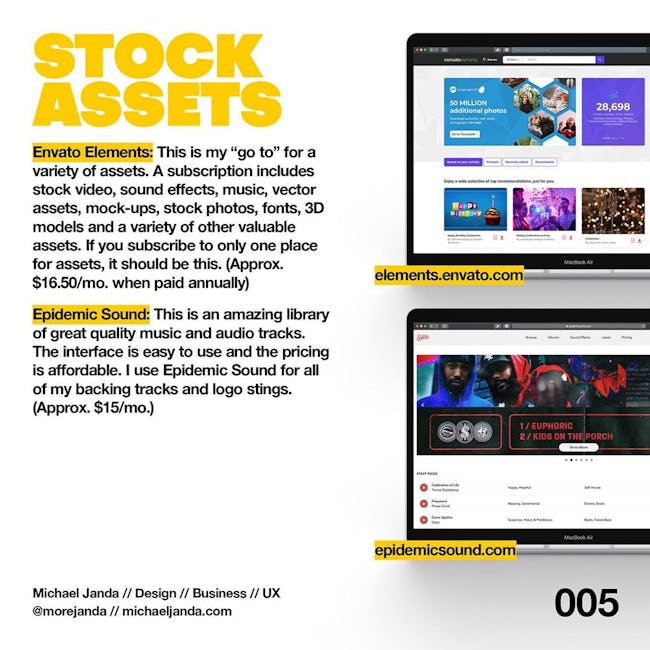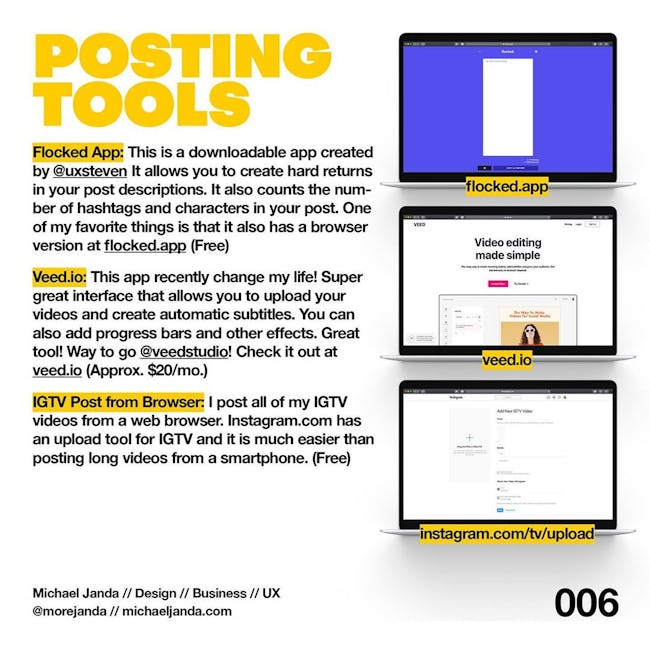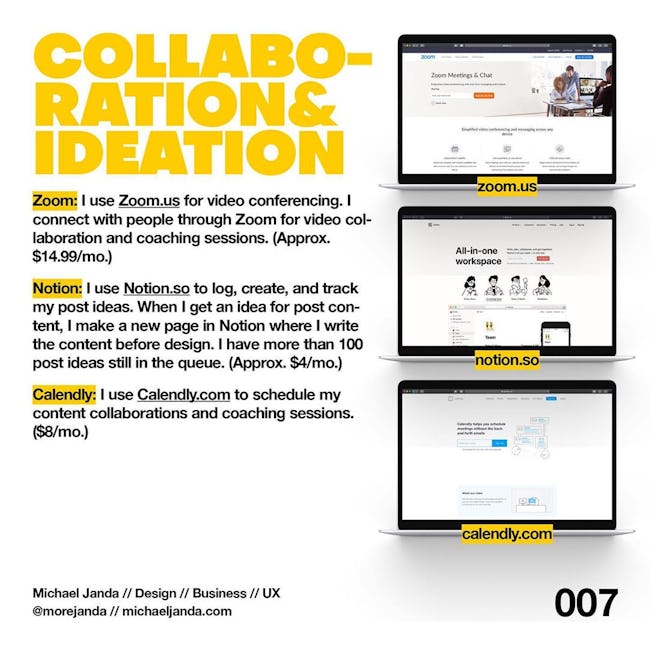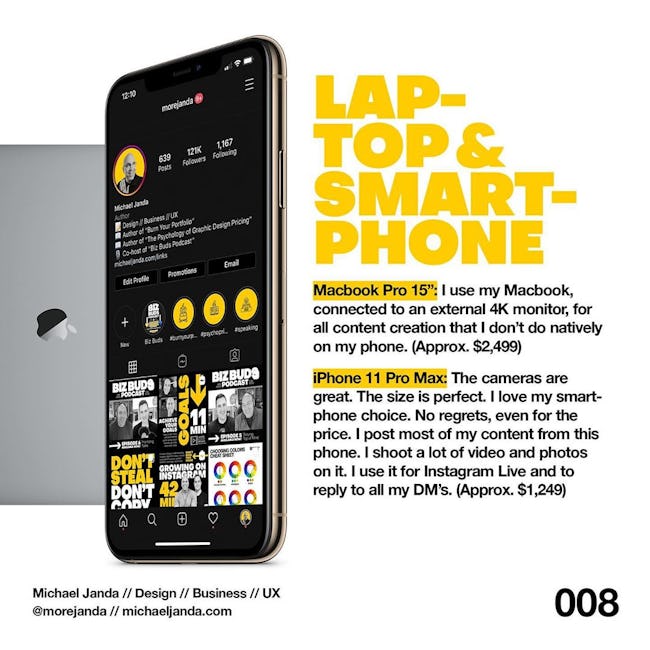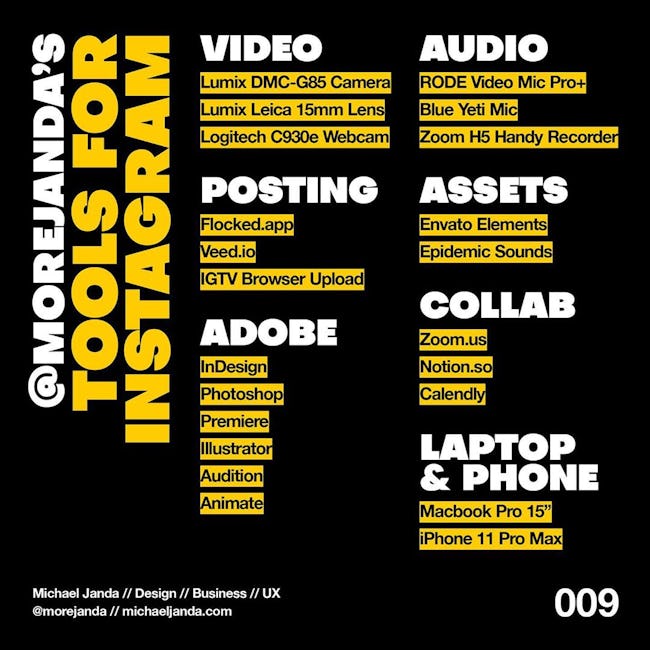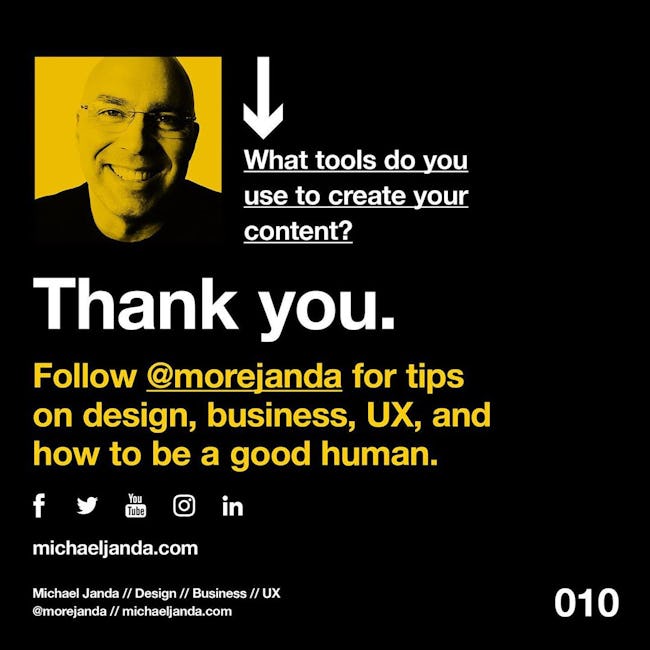 MY TOOLS FOR INSTAGRAM
VIDEO RECORDING
Panasonic Lumix DMC-G85: This is my main camera. I chose Lumix because it has unlimited record time. Most DSLR equivalent cameras cap the record length to 20-30 minutes. This camera also Shoots 4K (which I rarely use). The starter kit comes with 12-60mm lens. (Approx. $679)
Panasonic Lumix G Leica DG Lens, H5mm, This is my main lens for video. Nice bokeh for a decent price. I'm not a master photographer, but I know enough to say that the right lens makes a huge difference. (Approx. $549)
Logitech C930e 1080P HD Video Webcam: This is my USB camera connected to my computer. It shoots HD and has better controls than the Facetime camera in my Mac. I use this for coaching sessions and webinars. (Approx $89)
AUDIO RECORDING
HODE Video Mic Pr04: I have this mic mounted on a boom just over my head during video collaborations. It records directly on my camera. (Approx. $259)
Blue Yeti Mic: I use this mic for my coaching calls video recorded podcasts appearances etc. (Approx. $129)
Zoom H5 Handy Recorder: I've recently started using this more. It records high quality audio. I have it mounted over- head during video collaborations. (Approx. $279)
ADOBE CREATIVE CLOUD
AdobeinDesign: I make my carousel posts using Adobe InDesign. The design and page layout features combined into one tool make it indispensable for mufti-page content.
Adobe Photoshop: I've had Photoshop open by IOAM every day for more than 20 years. It offers unparalleled control over images and design ideation.
Adobe Premiere: I edit all of my video content in Premiere. Once you get a feel for the tools, it does the job well.
Adobe Illustrator. There is no better option for creating andediting vector based assets.
Adobe Aucfition: I use this to record high qualiW audio during podcasts. The input hardware is a USB connected Blue Yeti mic.
Adobe Anirnate: This used to be Flash. It still does a great job for creating anirnated logos md Wpe.
STOCK ASSETS
Énvato Elements: This is my go to for a variety of assets. A Subscription includes stock video, sound effects, music, vector assets, mock-ups, stock photos, fonts, 3D models and a variety of other valuable assets. If you subscribe to only one place for assets, it should be this. (Approx. $16.50/mo. when paid annually)
Epidemic Sound: This is an amazing library of great quality music and audo tracks. The interface is easy to use and the pricing is affordable. I use Epidermic Sound for all of my backing tracks and logo stings. (Approx. $15/mo)
POSTING TOOLS
Flocked App: This is a downloadable app created by@uxsteven It allows you to create hard returns in your post descriptions. It also counts the number Of hashtags and characters in your post. One of my favorite things is that it also has a browser version at fJqgKed,app (Free)
Veed.io: This app recently change my life! Super great interface that allows you to upload your videos and create automatic subtitles. You can also add progress bars and other effects. Great tool! Way to go Check it out at veed.io(Approx. $2mo.)
iGTV Post from Browser: I post all of my IGTV videos from a web browser. Instagram.com has an upload tool for IGTV and it is much easier than posting long videos from a Smartphone. (Free)
COLLABORATION AND IDEATION
Zoom: I use for video conferencing. I connect with people through Zoom for video collaboration and coaching sessions. (Approx.$14S9/mo.)
Notion: I use Notion.so to log, create, and track my post ideas. When I get an idea for post content, I make a new page in Notion where I write the content before design. I have more than 100 post ideas still in the queue. (Approx. $4/mo.)
Calendly: I use Calendly.com to schedule my content collaborations and coaching sessions. ($8/mo.)
Macbook Pro 15: I use my Macbook, connected to an external 4K monitor, for all content creation that I don't do natively on my phone. (Approx. $2,499)
iPhone Pro Max: The cameras are great. The size is perfect. I love my smart- phone choice. No regrets, even for the price. I post most of my content from this phone. I shoot a lot of video and photos on it. I use it for Instagram Live and to reply to all my DM's. (Approx. $1 ,249)
More booklets by Michael Janda
More Marketing booklets
Your recently viewed booklets
See all booklets