Booklet
My Evening Routine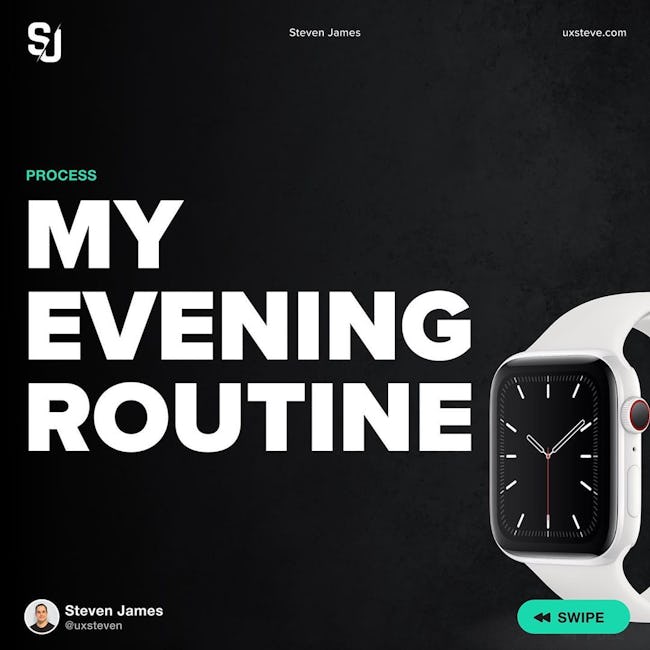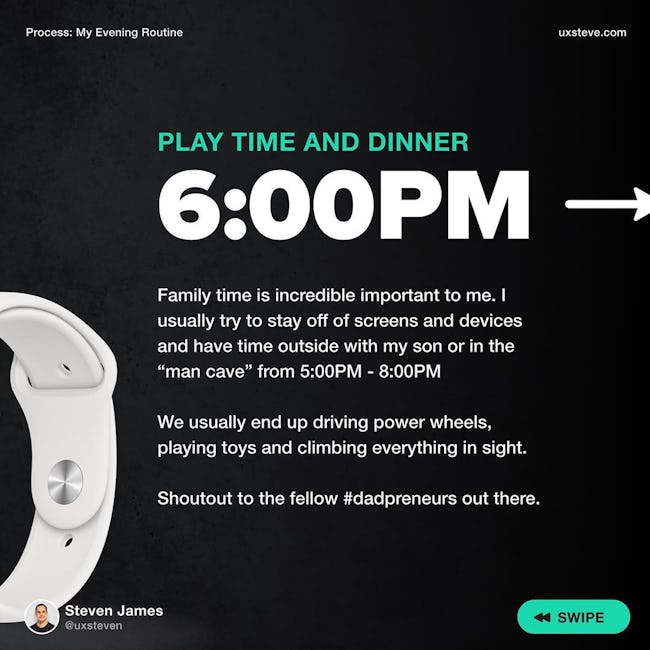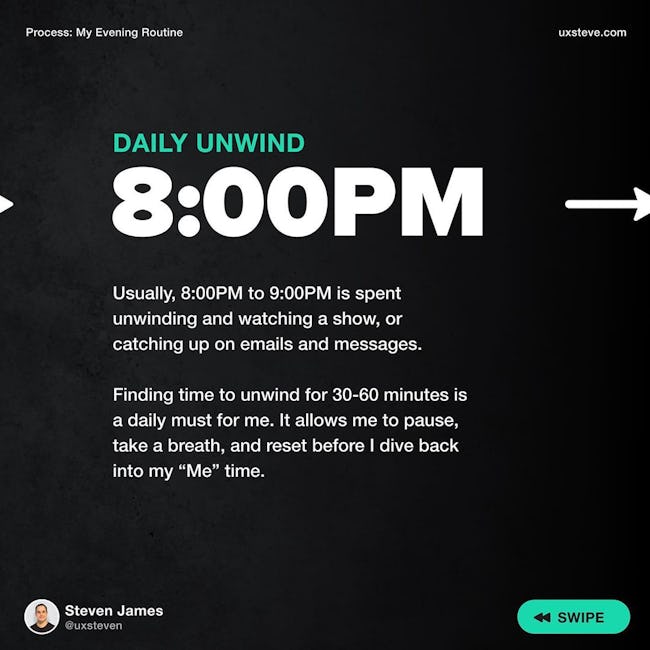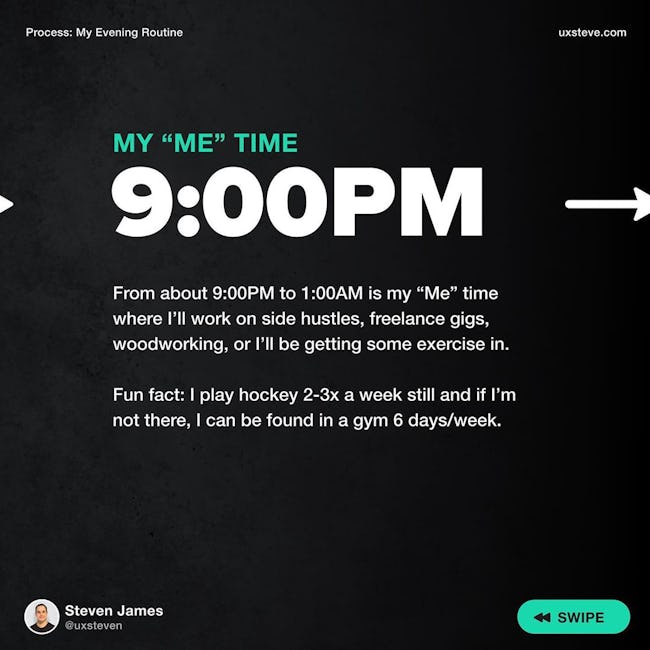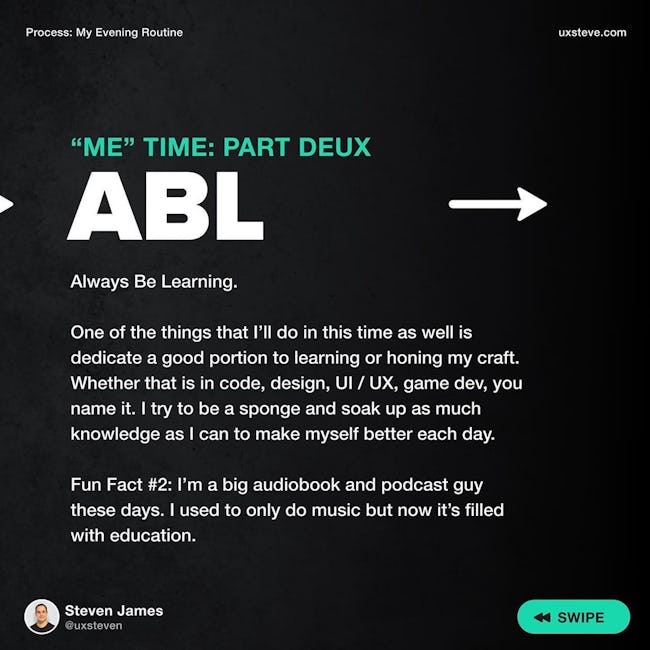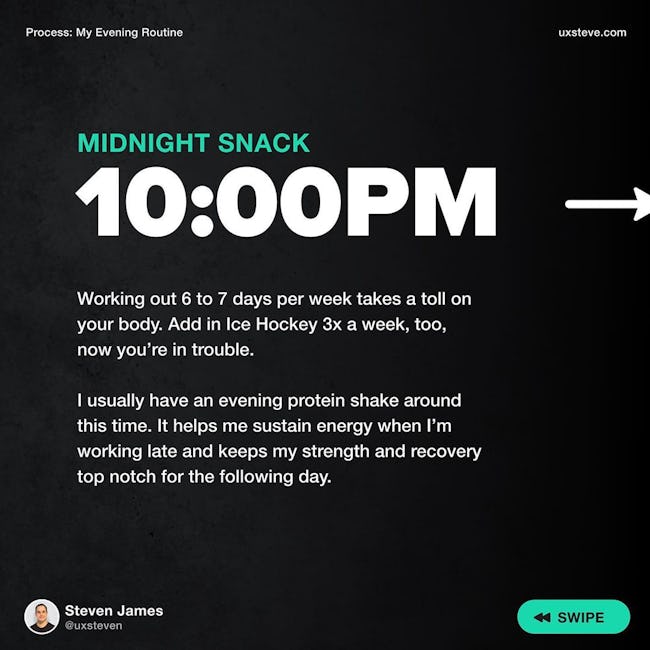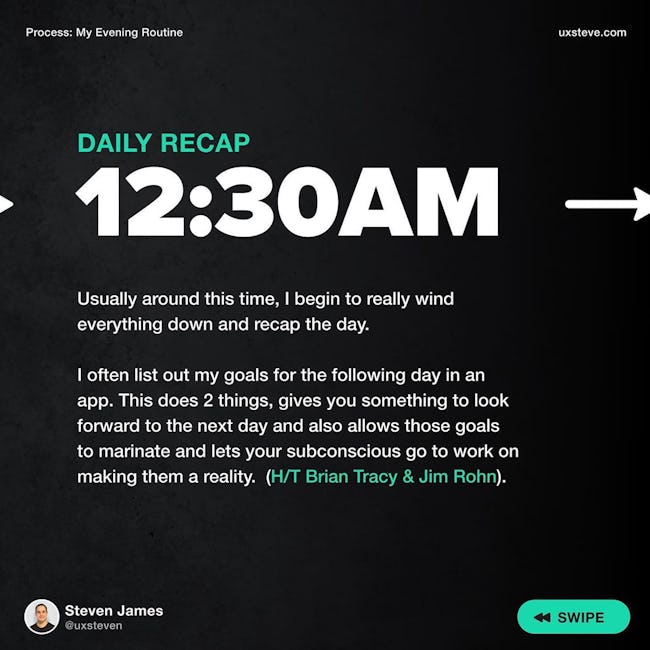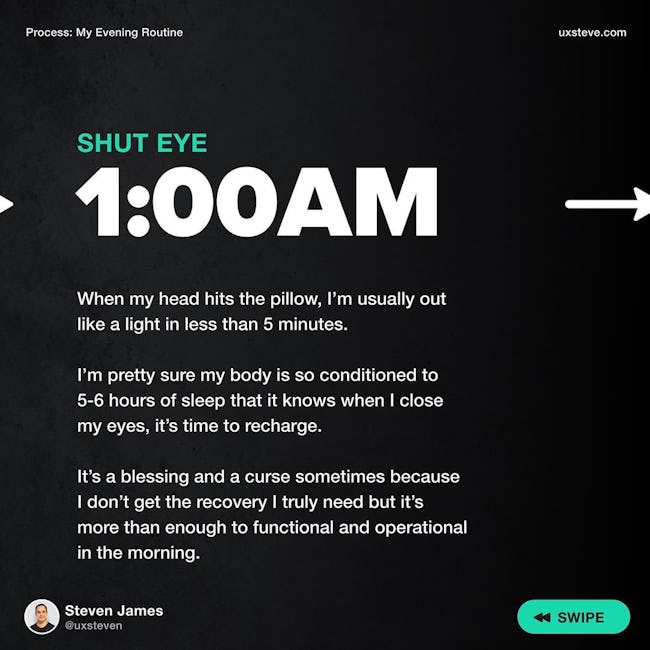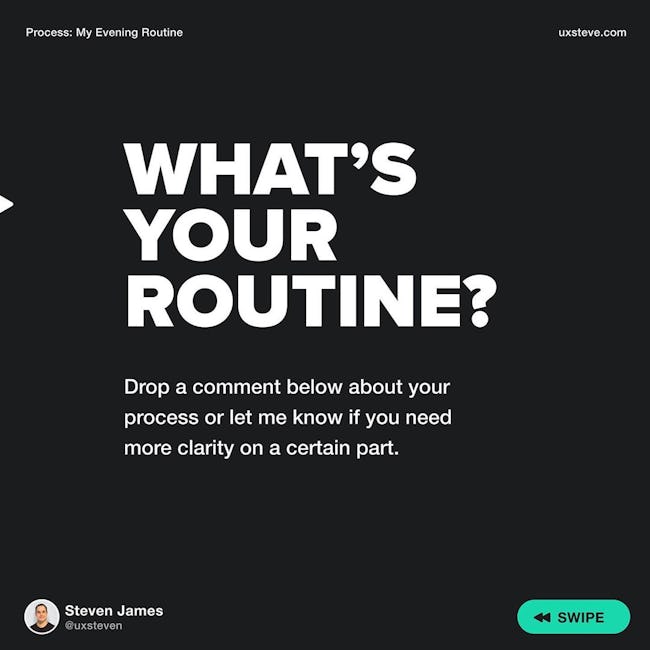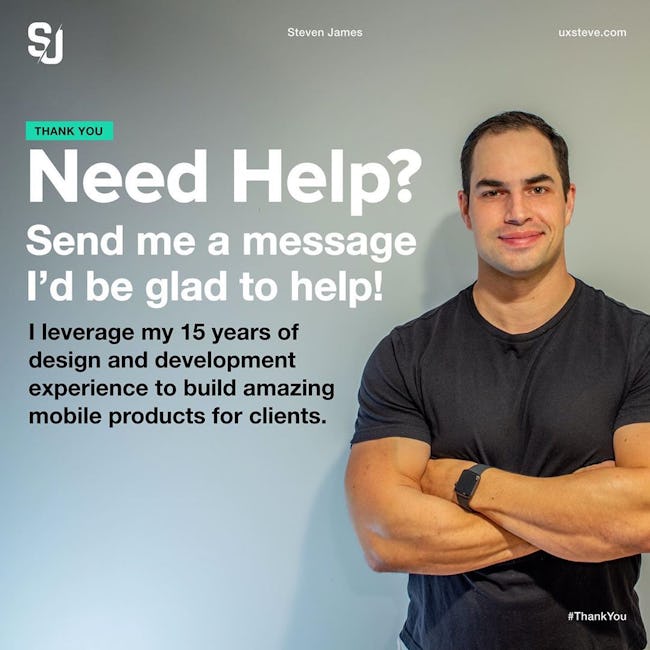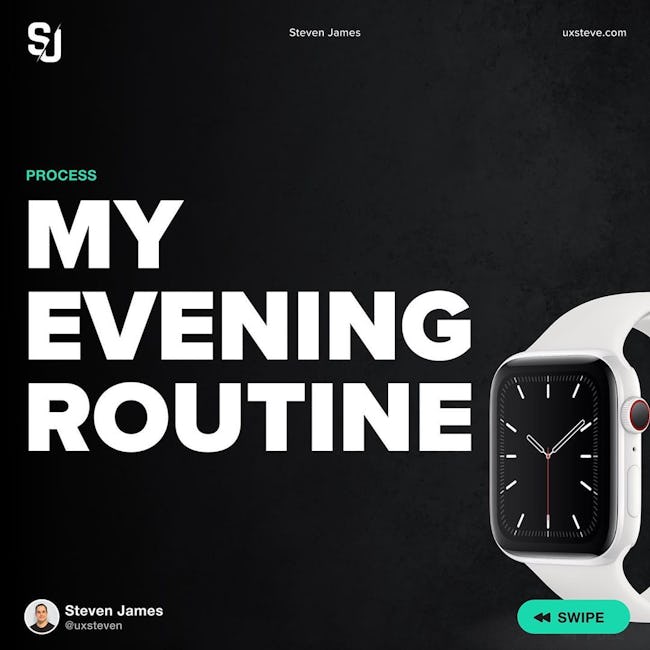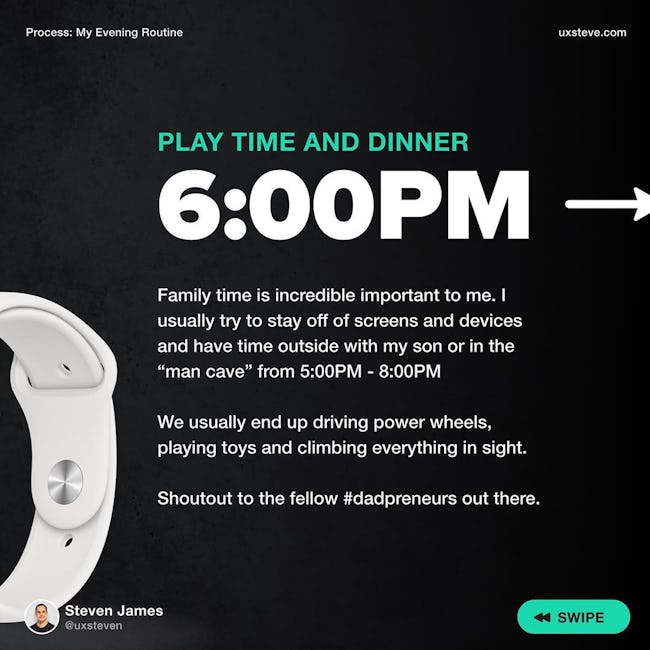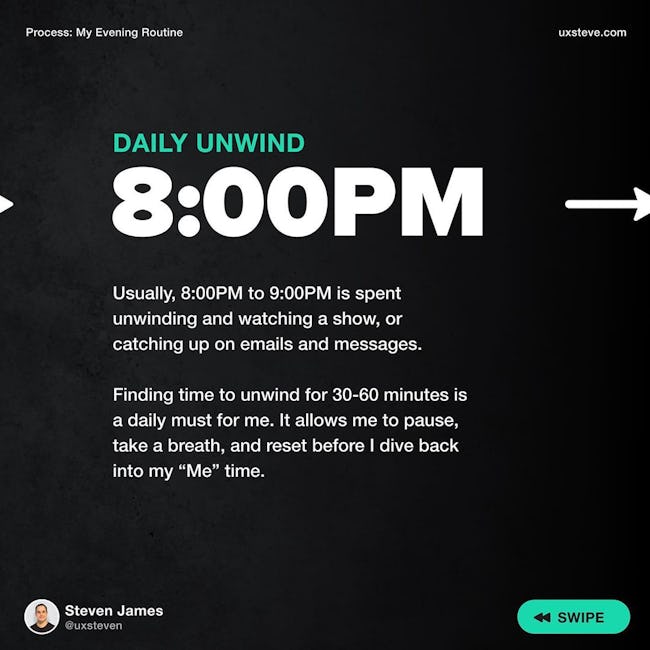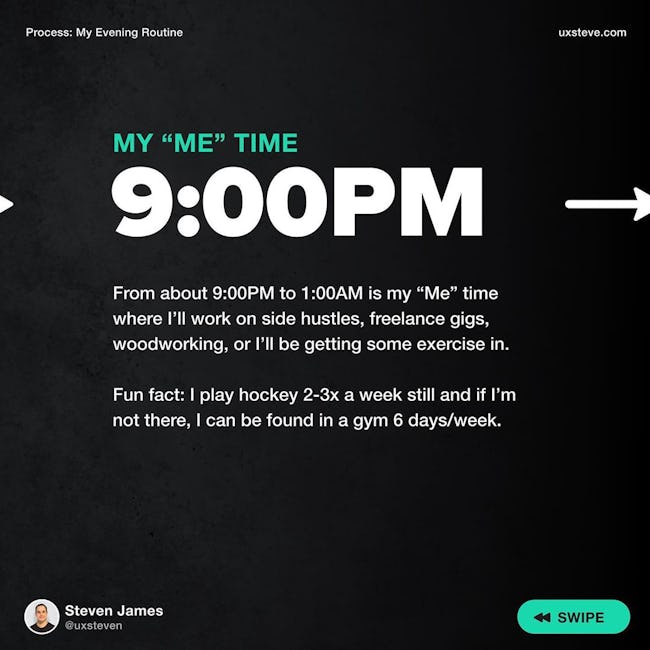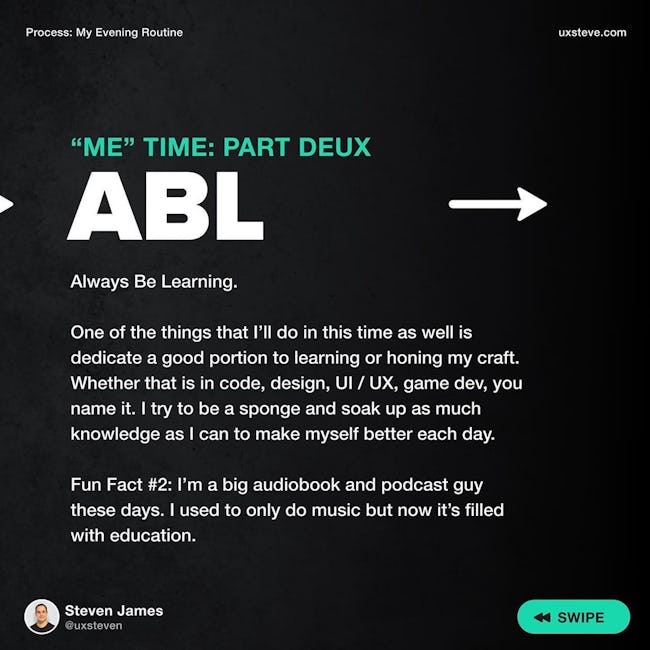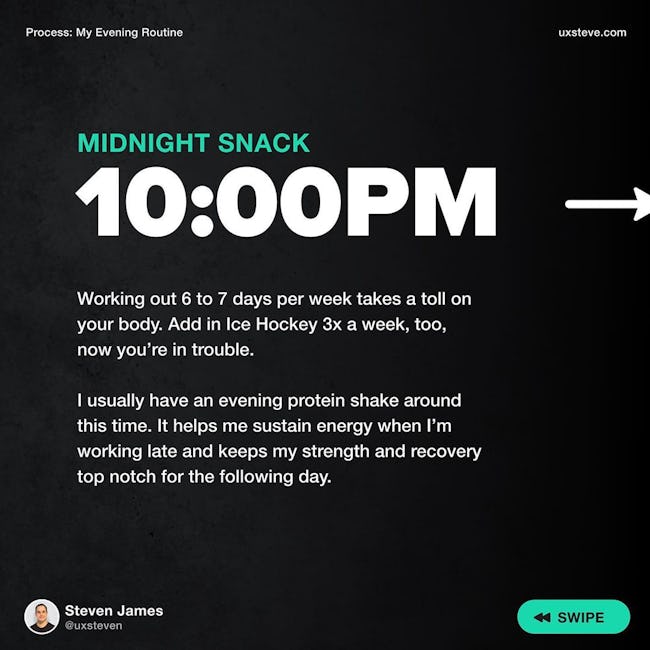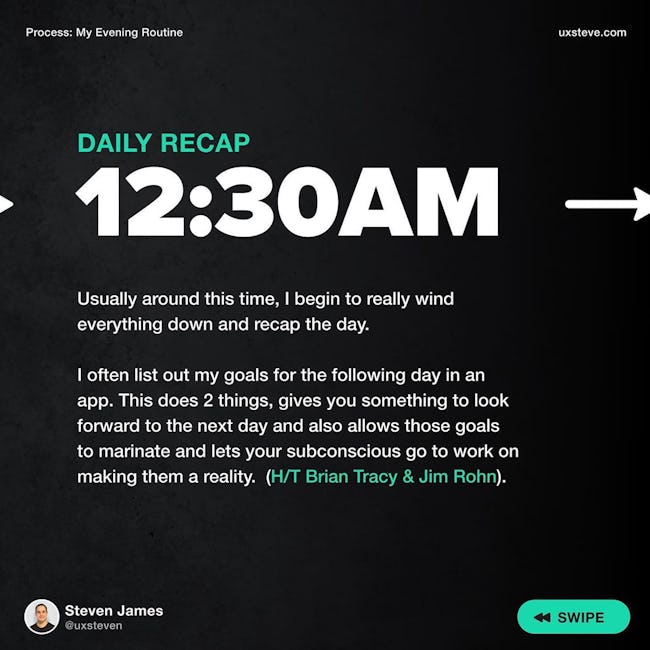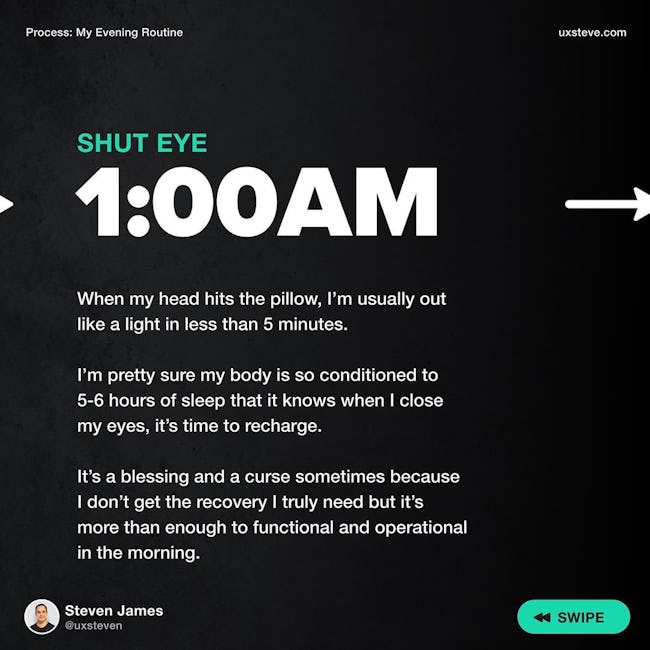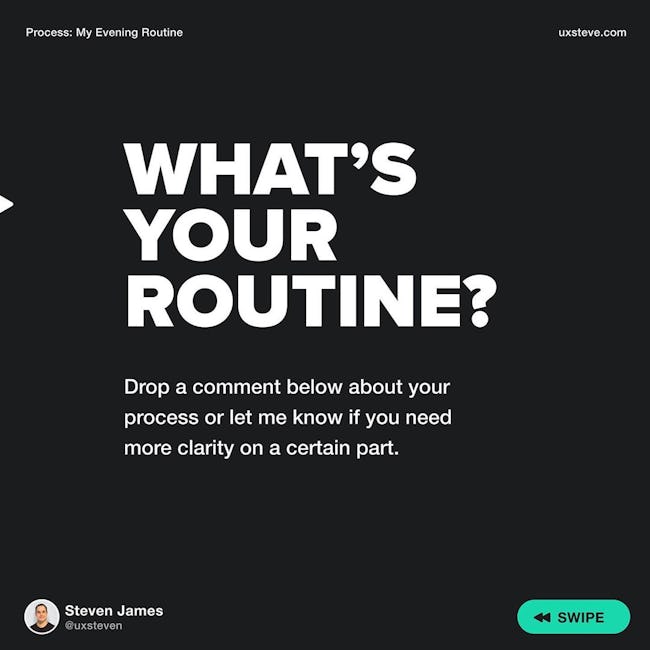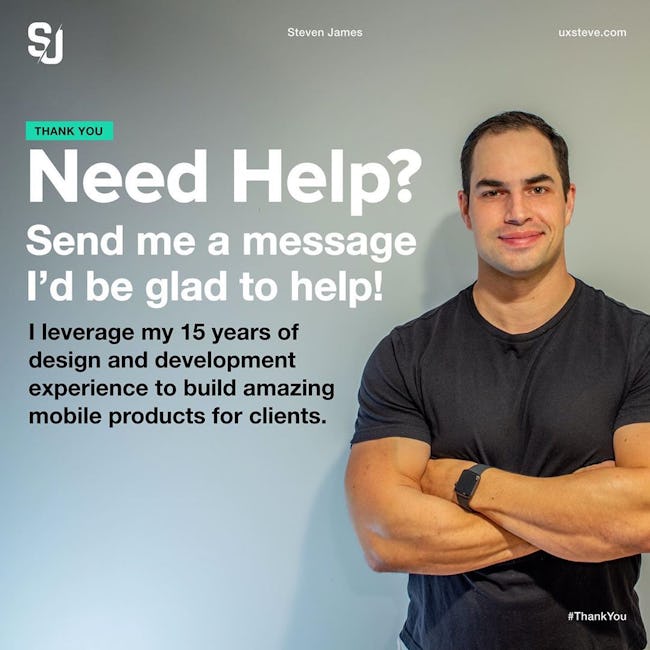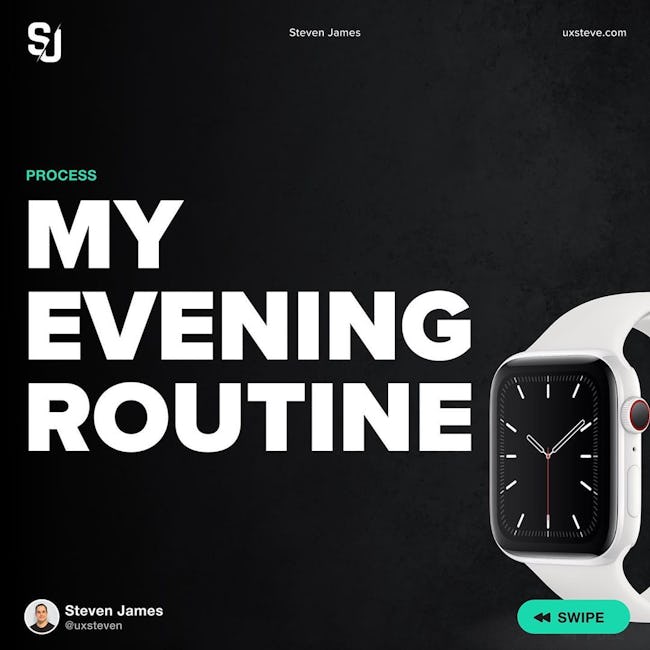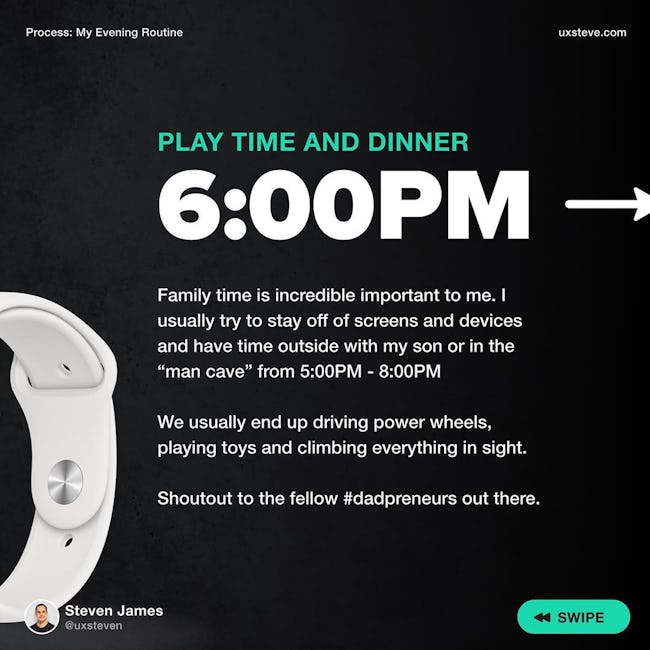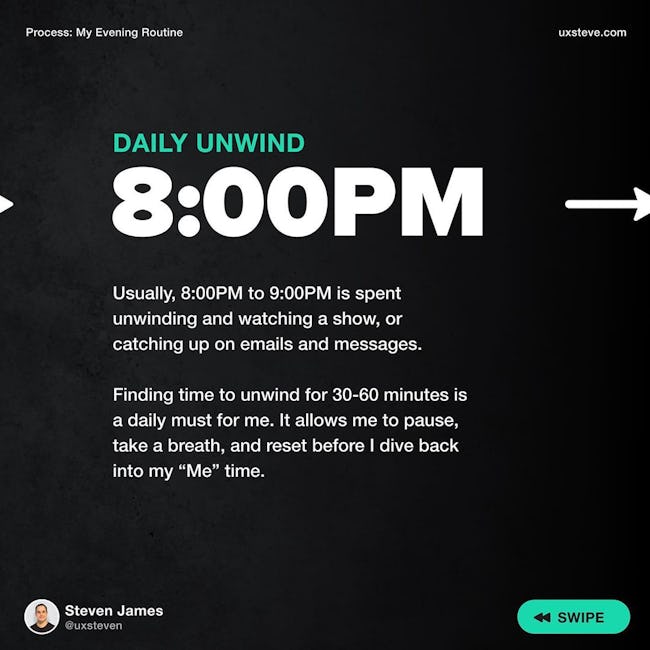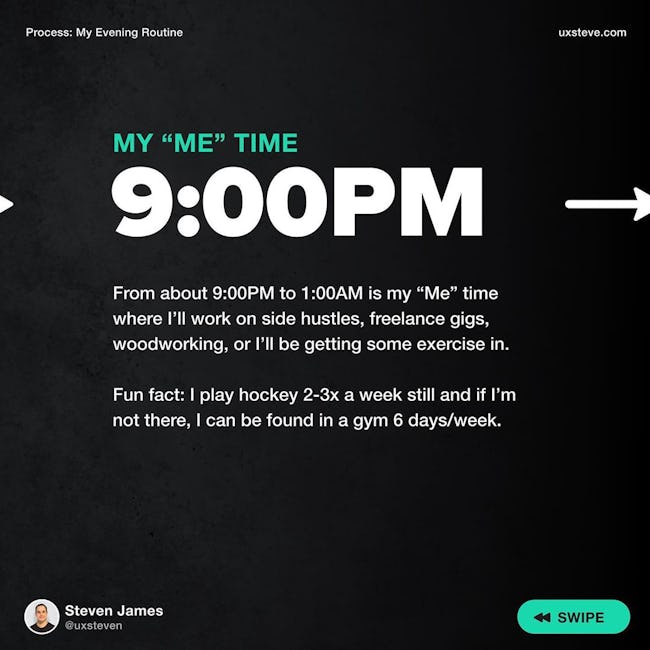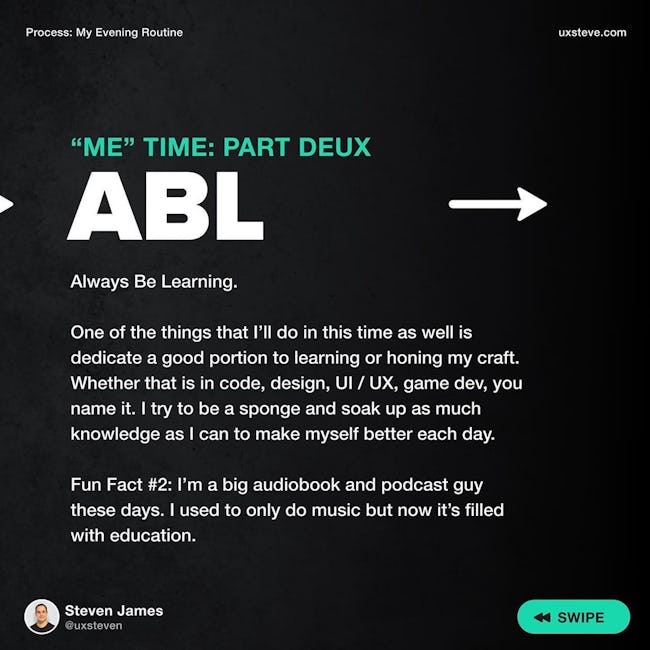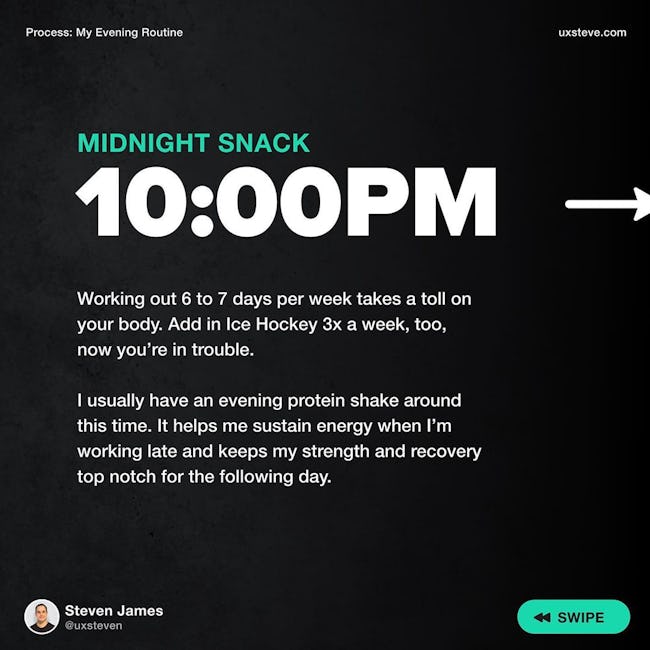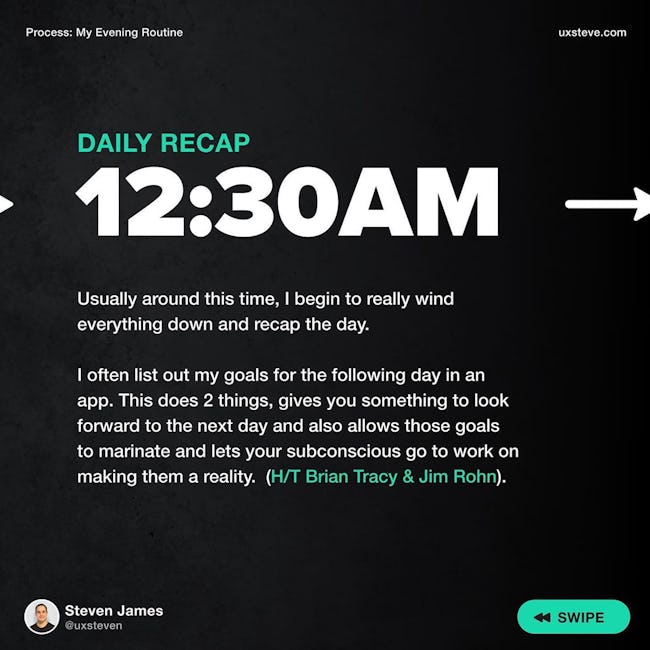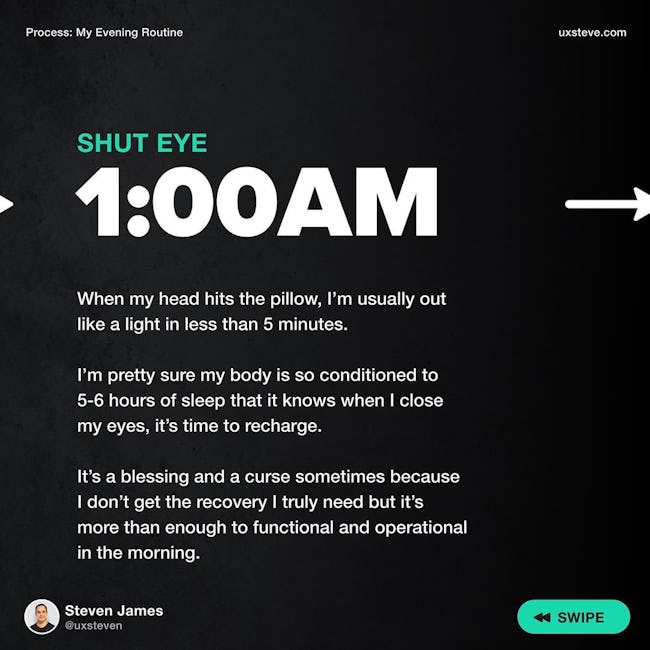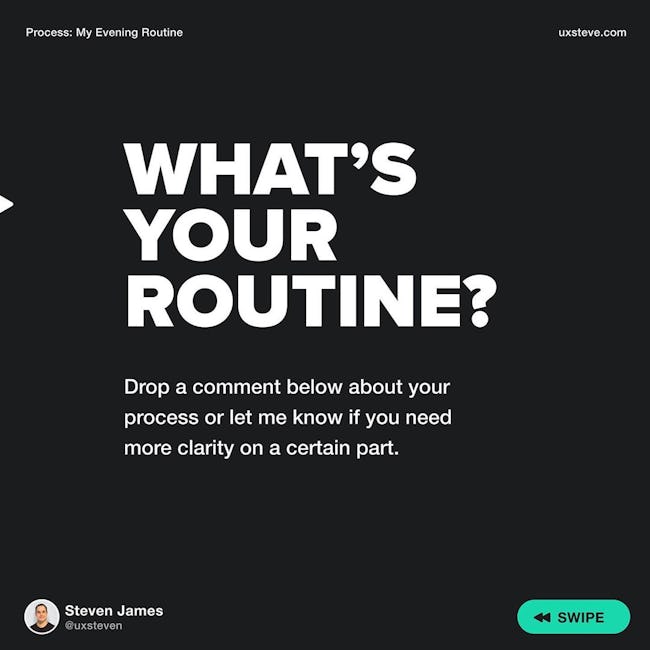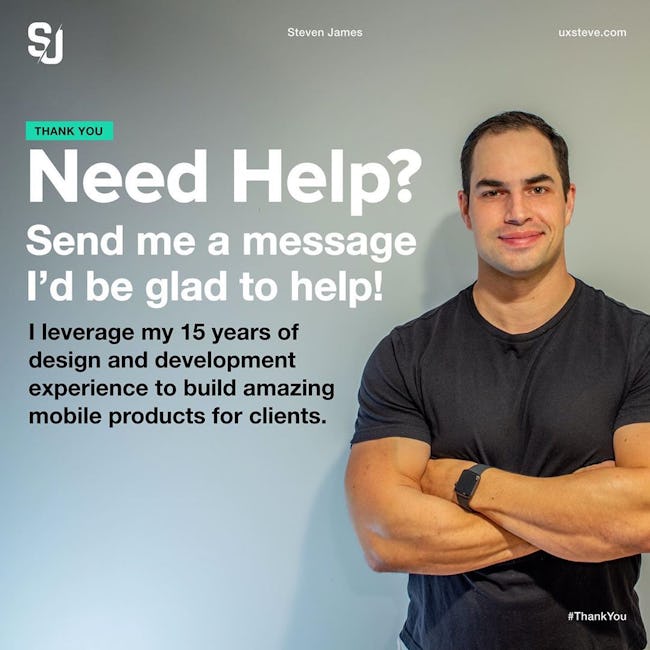 My Evening Routine
PLAY TIME AND DINNER 6:00PM
Family time is incredible important to me. I usually try stay off of screens and devices and have time outside with my son or in the 'man cave' from 5:00PM - 8:00PM
We usually end up driving power wheels, playing toys and climbing everything in sight.
Shoutout to the fellow #dadpreneurs out there.
DAILY UNWIND 8:00PM
Usually, 8:00PM to 9:00PM is spent unwinding and watching a show, or catching up on emails and messages.
Finding time to unwind for 30-60 minutes is a daily must for me. It allows me to pause, take breathe, and reset before I dive back into my 'Me' time.
MY 'ME' TIME 9:00PM
From about 9:00OM to 1:00AM is my 'Me' time where I'll work on side hustles, freelance gigs, woodworking, or I'll be getting some exercise in.
Fun fact: I play hockey 2-3x a week still and if I'm not there, I can be found in a gym 6 days/week
'Me' Time: Part Deux ABL
Always be Learning.
One of the things that I'll do in this time as well is dedicate a good portion to learn or honing my craft. Whether that is in code, design, UI / UX, game dev, you name it. I try to be a sponge and soak up as much knowledge as I can to make myself better each day.
Fun fact #2: I'm a big audiobook and podcast guy these days. I used to inly do music but now it's filled with education
MIDNIHGT SNACK 10:00PM
Working out 6 to 7 days per week takes a toll on your body. Add in Ice Hockey 3x a week, too, now you're in trouble
I usually have an evening protein shake around this time. It helps me sustain energy when I'm working late and keeps my strength and recovery top notch for the following day.
DAILY RECAP 12:30AM
Usually around this time, I begin to really wind everything down and recap the day.
I often list out my goals for the following day in an app. This does 2 things, give you something to look forward to the next day and also allows those goals to marinate and lets your subconscious go to work on making then a reality. (H/T Brian Tracy & Jim Rohn)
SHUT EYE 1:00AM
When my head hits the pillow, I'm usually oout like a light in less that 5 minutes.
I'm pretty sure my body is so conditioned to 5-6 hours of sleep that it knows when I close my eyes, it's time to recharge.
It's a blessing and a curse sometimes because I don't get the recovery I truly need but it's more that enough to functional and operational in the morning.
What's your routine?
Drop a comment below and about your process or let me knoe if you need more clarity on a certain part.
Need help?
Send me a message I'd be glad to help!
I leverage my 15 years of design and development experience to build amazing mobile products for clients.
More booklets by Steve Mellor
More Marketing booklets
Your recently viewed booklets
See all booklets