Booklet
Learn by Doing: Wordpress Theme Development 2020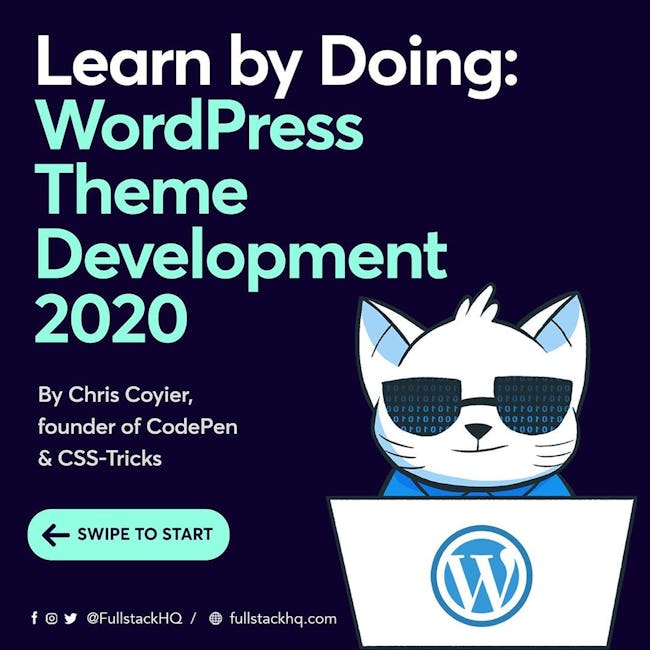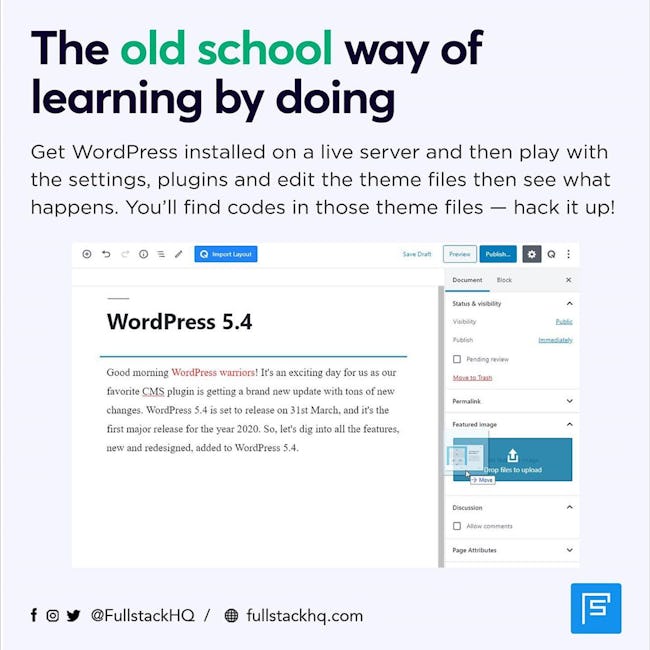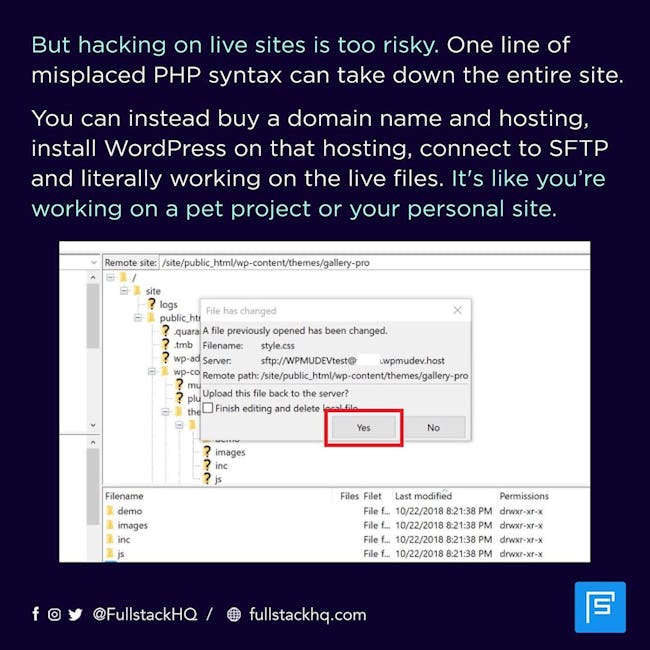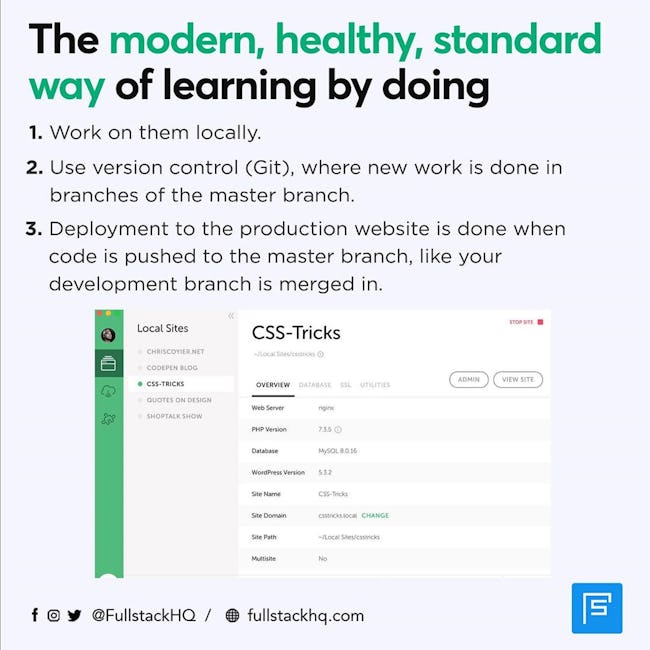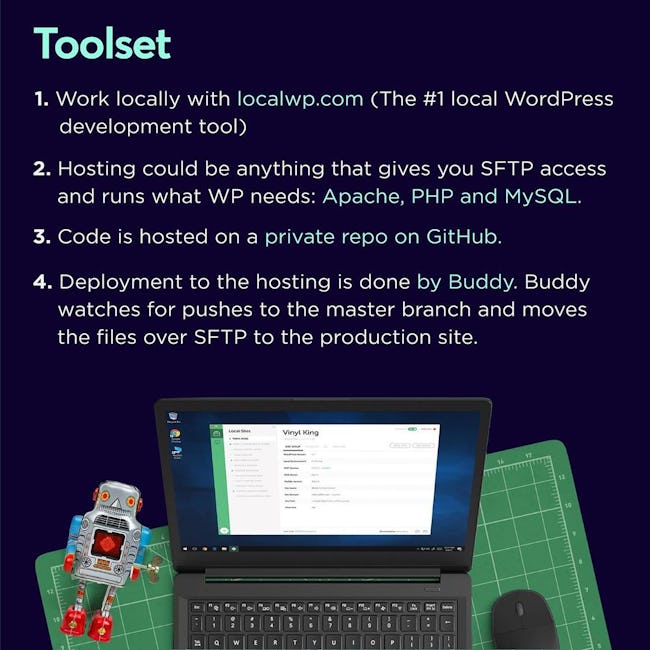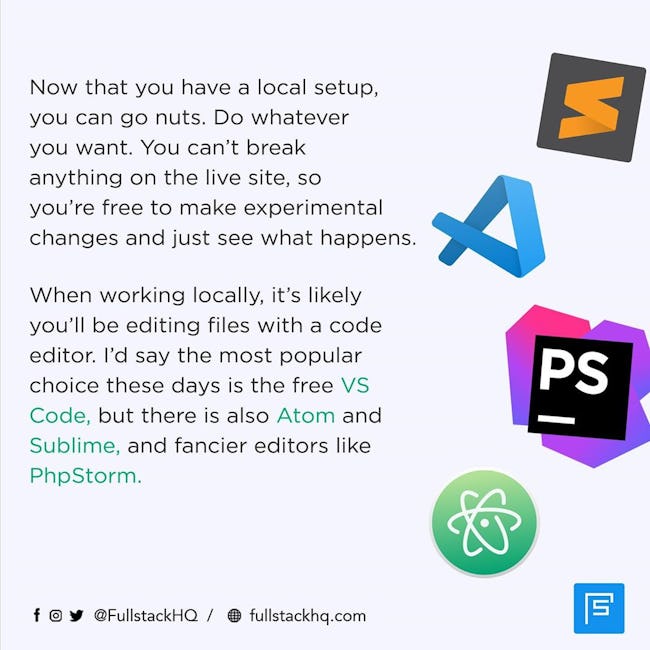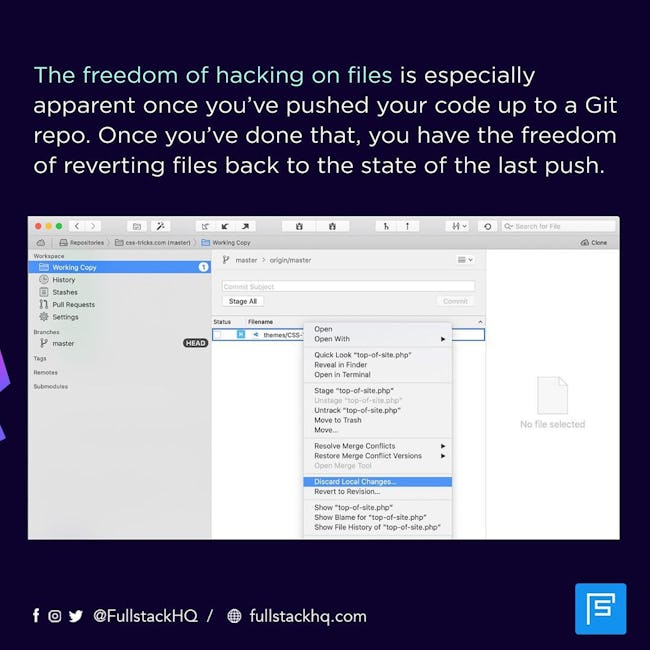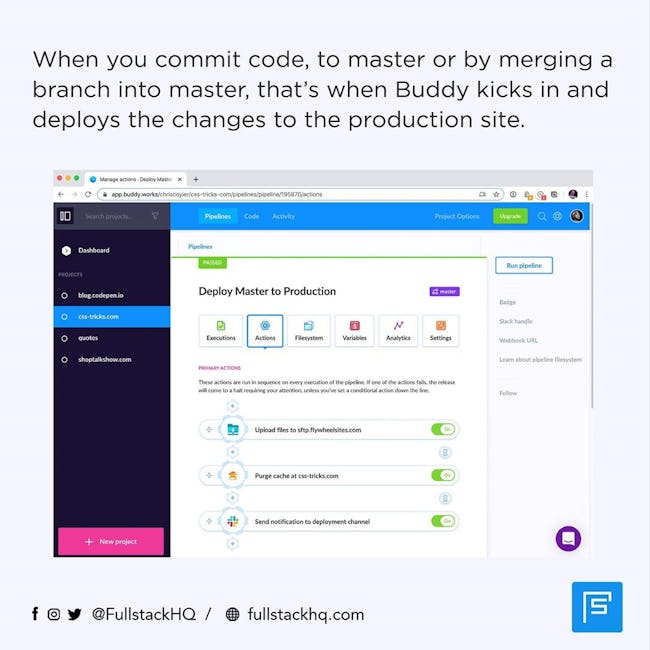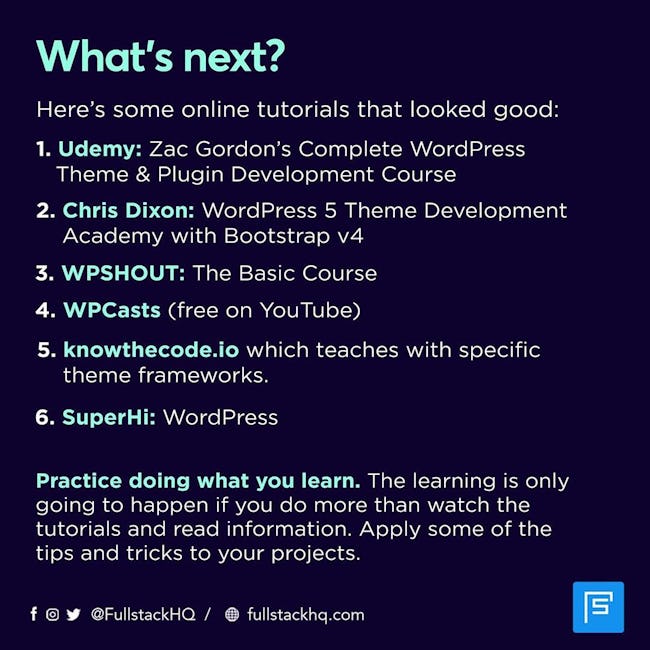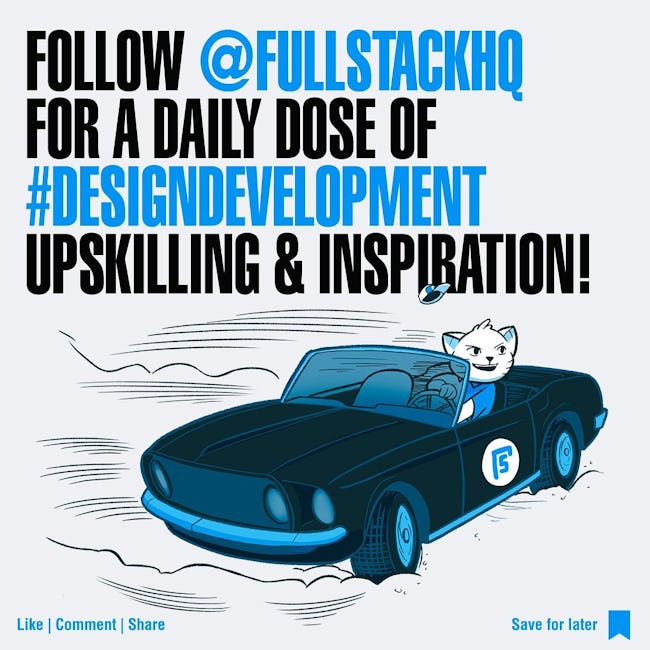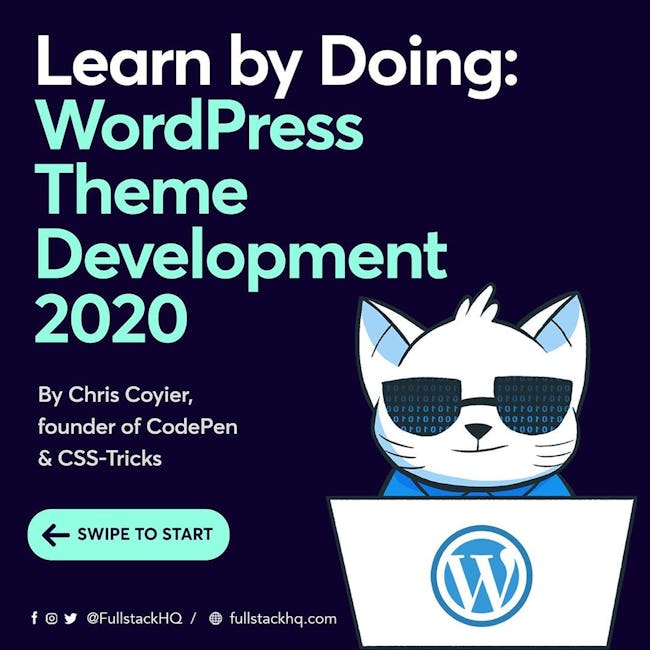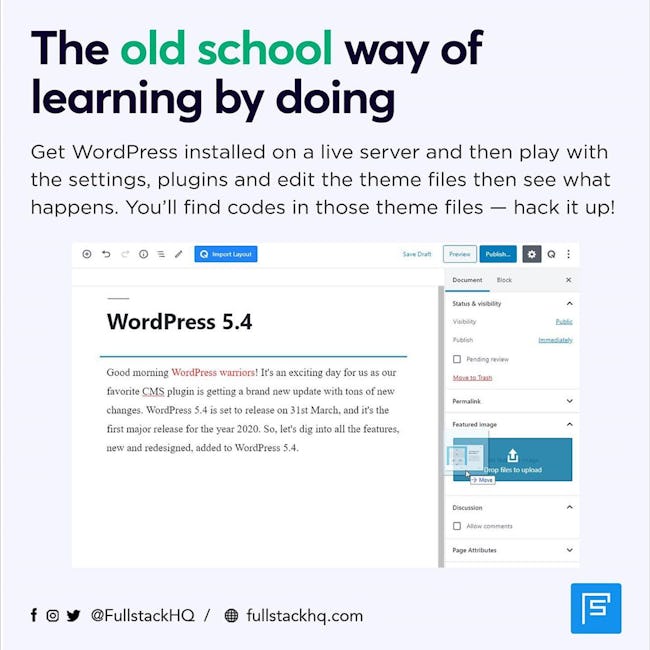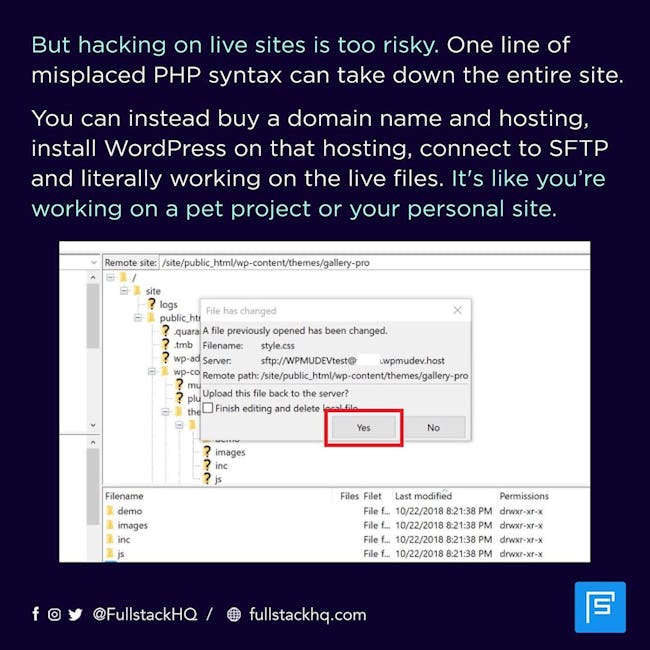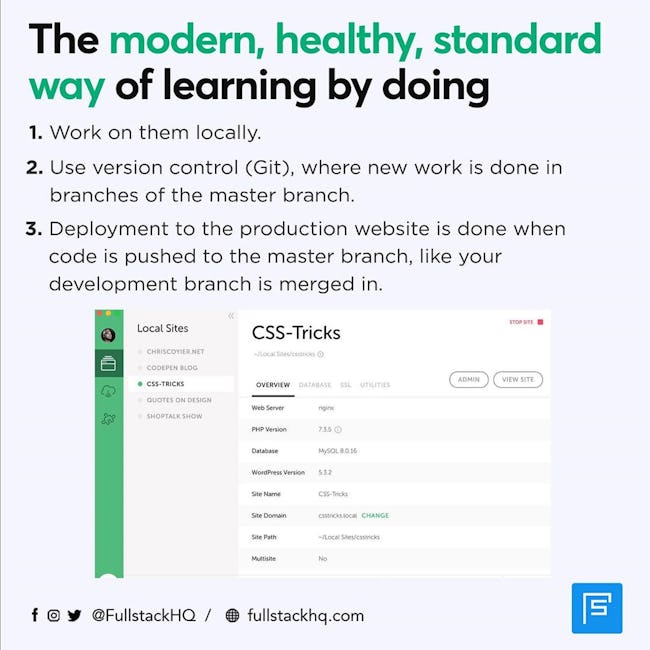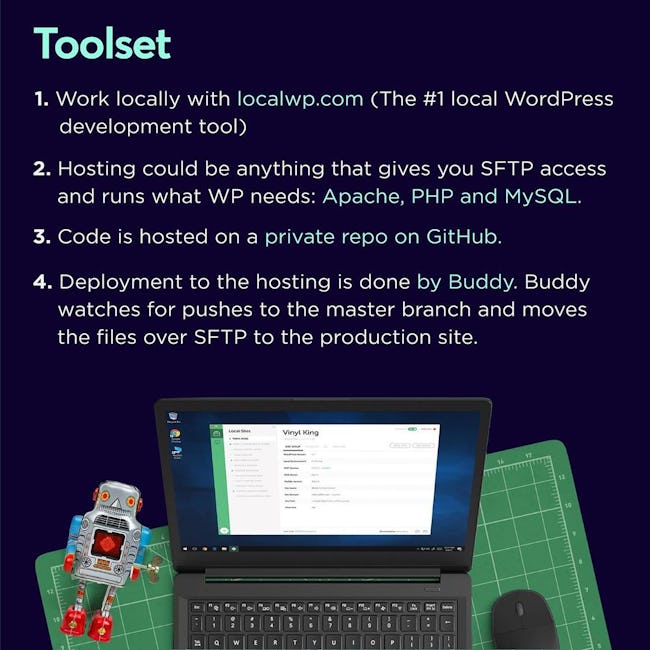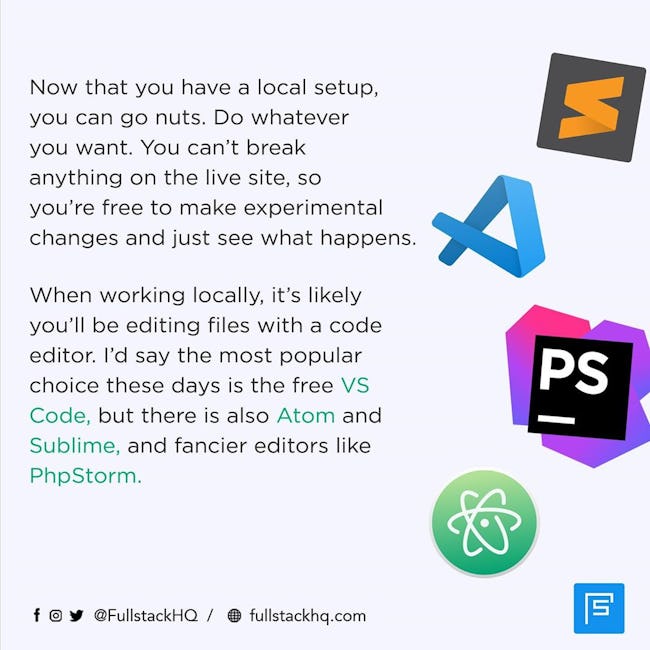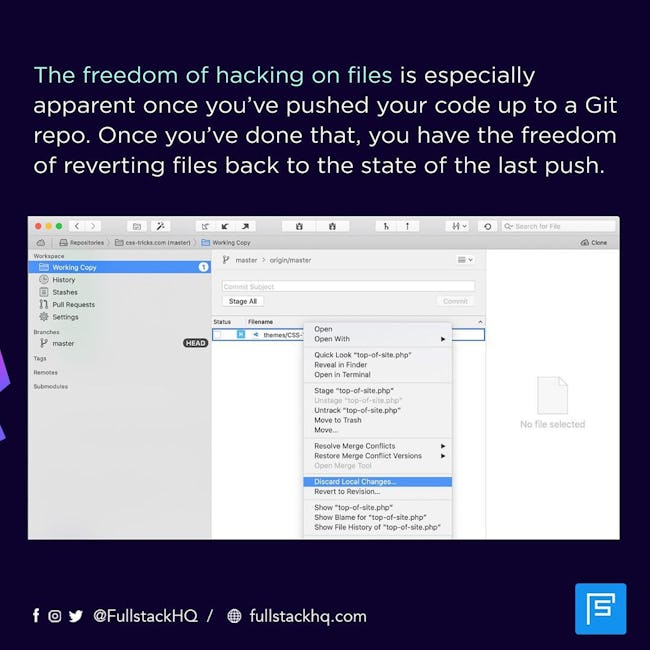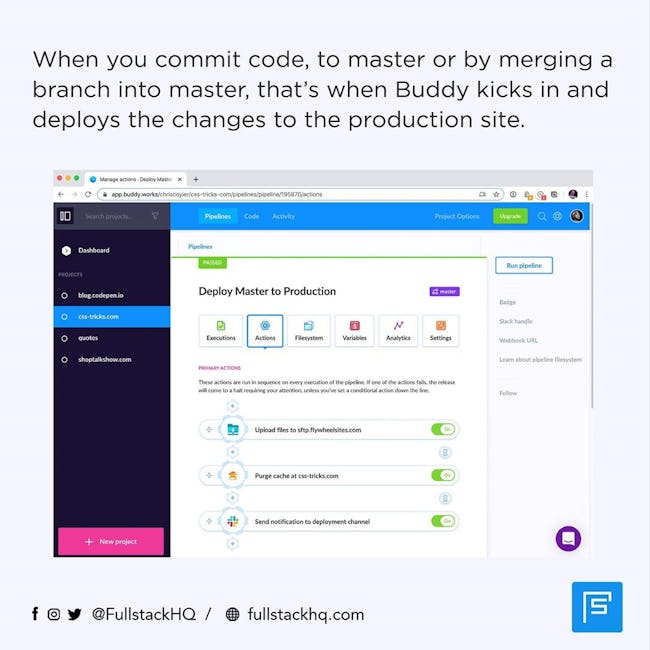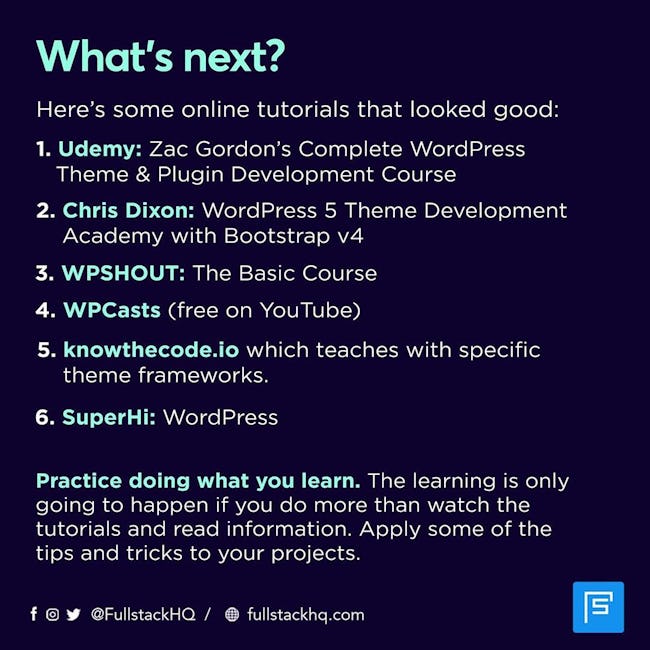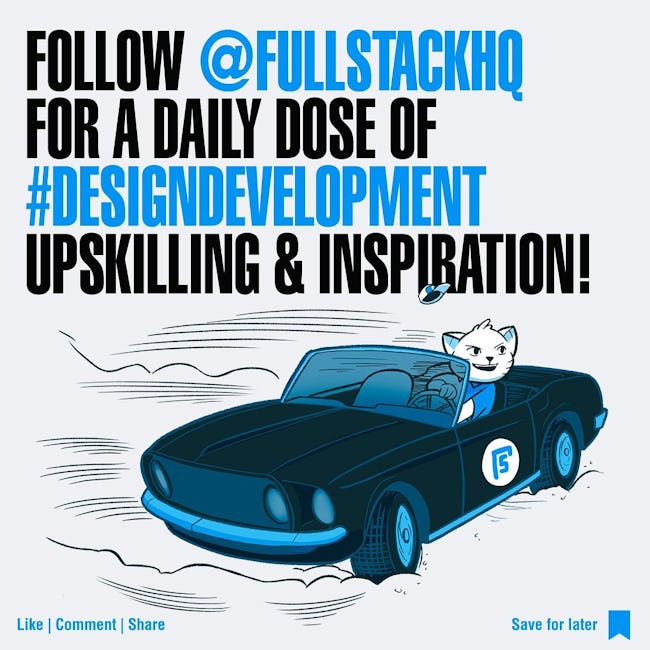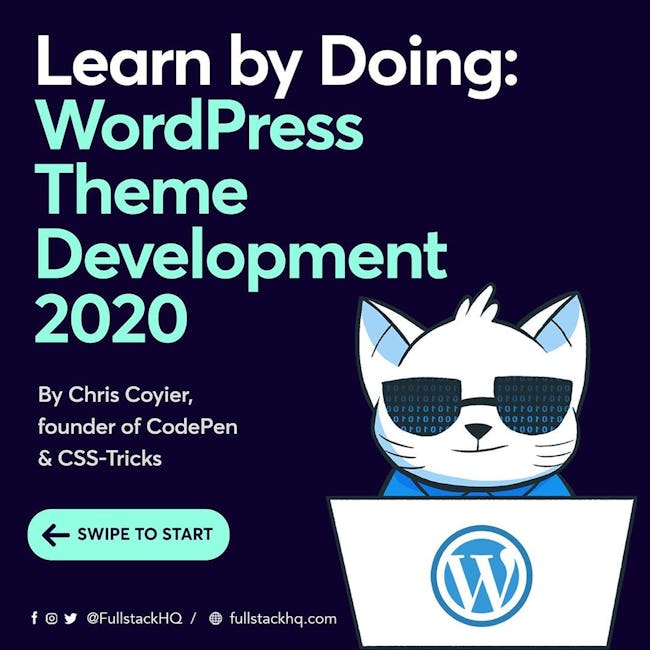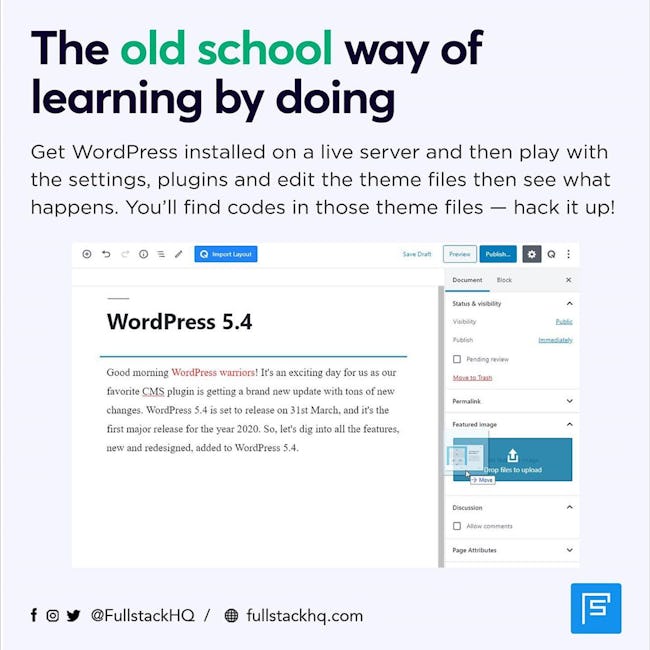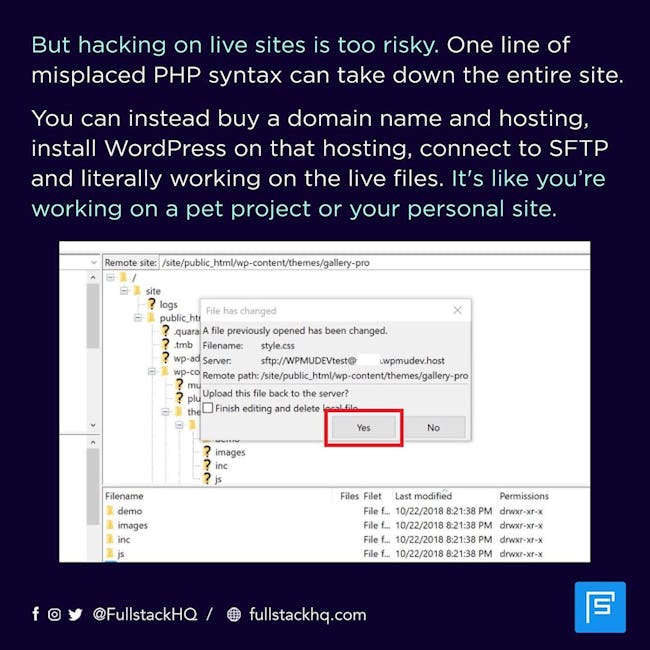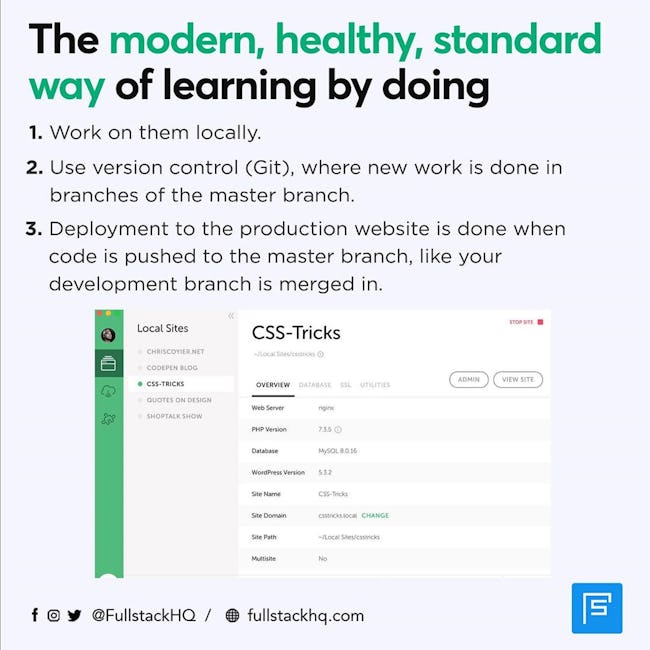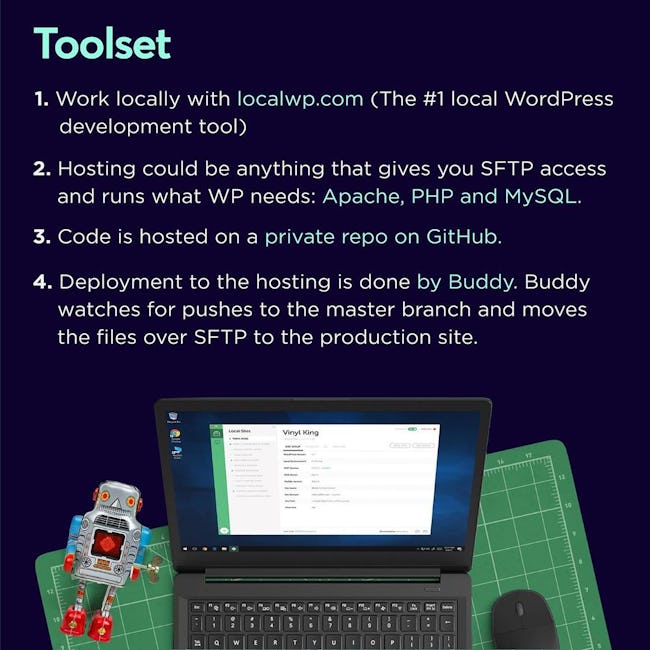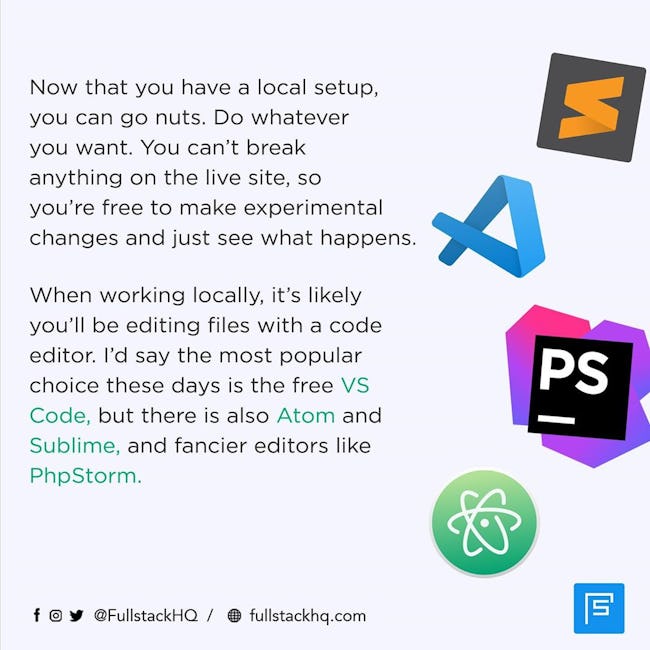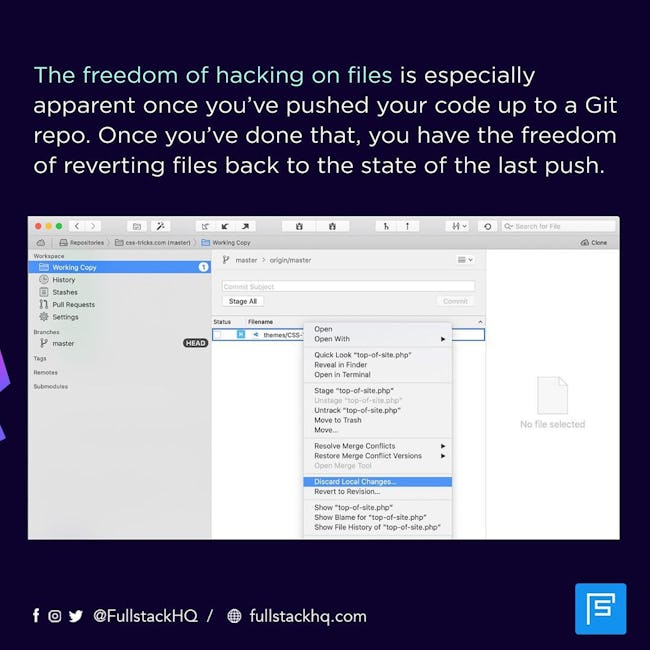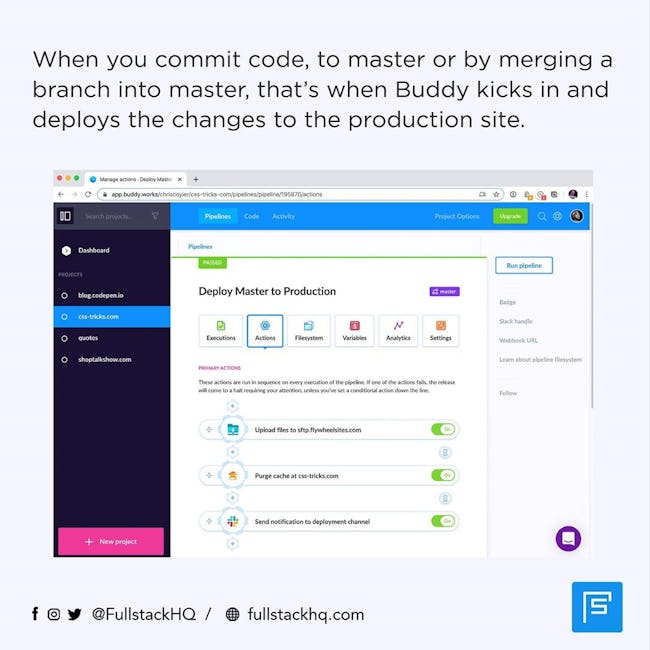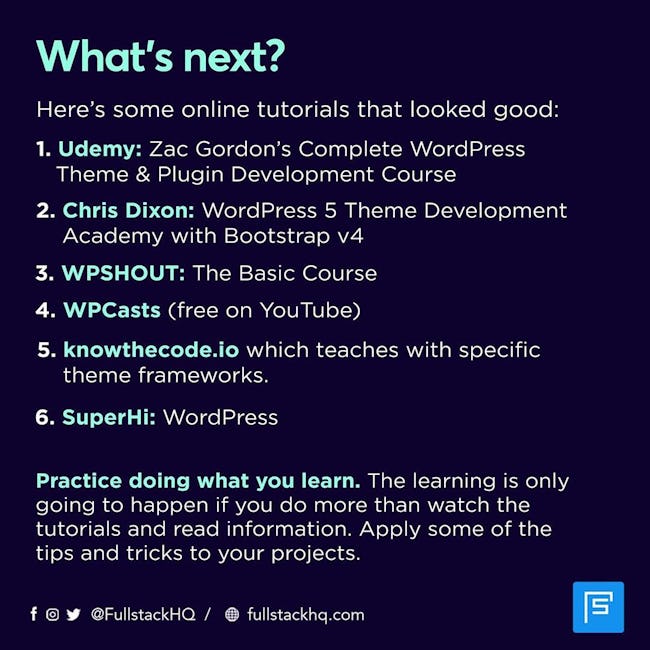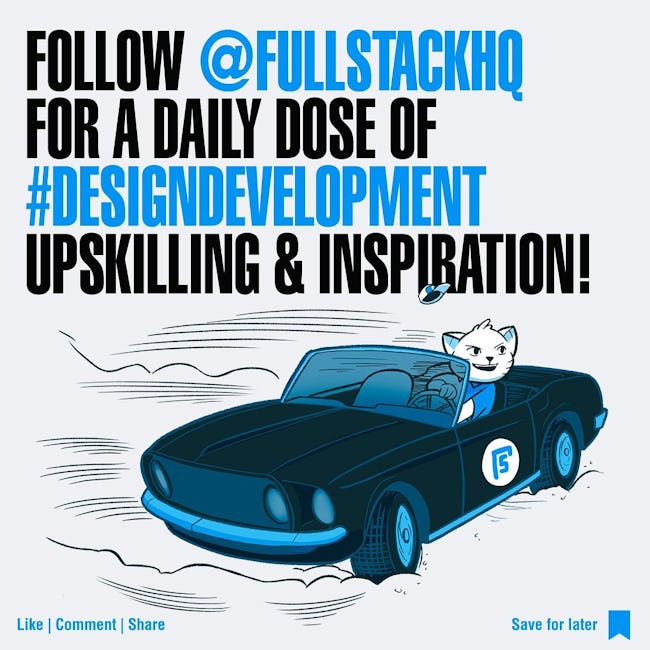 Learn by Doing: Wordpress Theme Development 2020
The old school way of learning by doing
Get WordPress installed on a live server and then play with the settings, plugins and edit the theme files then see what happens. You'll find codes in those theme files — hack it up!
But hacking on live sites is too risky. One line of misplaced PHP syntax can take down the entire site.
You can instead buy a domain name and hosting, install WordPress on that hosting, connect to SFTP and literally working on the live files. It's like you're working on a pet project or your personal site.
The modern, healthy, standard way of learning by doing
1. Work on them locally.
2. Use version control (Git), where new work is done in branches of the master branch.
3. Deployment to the production website is done when code is pushed to the master branch, like your development branch is merged in.
Toolset
1. Work locally with localwp.com (The #1 local WordPress development tool)
2. Hosting could be anything that gives you SFTP access and runs what WP needs: Apache, PHP and MySQL.
3. Code is hosted on a private repo on GitHub.
4. Deployment to the hosting is done by Buddy. Buddy watches for pushes to the master branch and moves the files over SFTP to the production site.
Now that you have a local setup, you can go nuts. Do whatever you want. You can't break anything on the live site, so you're free to make experimental changes and just see what happens,

When working locally, it's likely you'll be editing files with a code editor. I'd say the most popular choice these days is the free VS Code, but there is also Atom and Sublime, and fancier editors like PhpStorm.
The freedom of hacking on files is especially apparent once you've pushed your code up to a Git repo. Once you've done that, you have the freedom of reverting files back to the state of the last push.
When you commit code, to master or by merging a branch into master, that's when Buddy kicks in and deploys the changes to the production site.
What's next?
Here's some online tutorials that looked good:
1. Udemy: Zac Gordon's Complete WordPress Theme & Plugin Development Course
2. Chris Dixon: WordPress 5 Theme Development Academy with Bootstrap v4
3. WPSHOUT: The Basic Course
4. WPCasts (free on YouTube)
5. knowthecode.io which teaches with specific theme frameworks.
6. SuperHi: WordPress
Practice doing what you learn. The learning is only going to happen if you do more than watch the tutorials and read information. Apply some of the tips and tricks to your projects.
More booklets by Fullstack HQ
More Development booklets
Your recently viewed booklets
See all booklets