Booklet
Fun Ways To Celebrate Valentine's Day If You're Single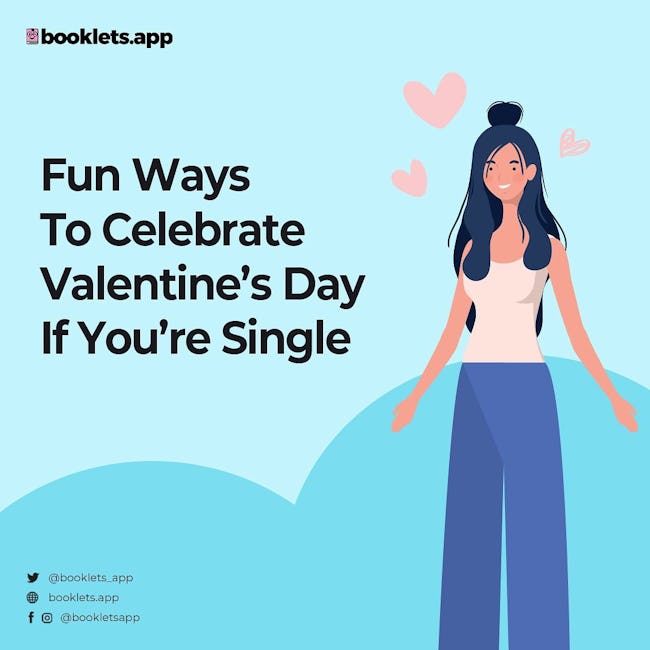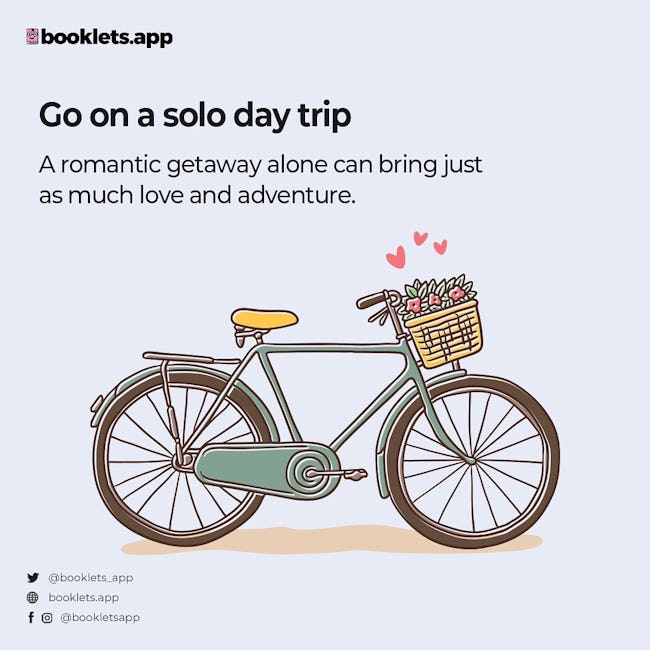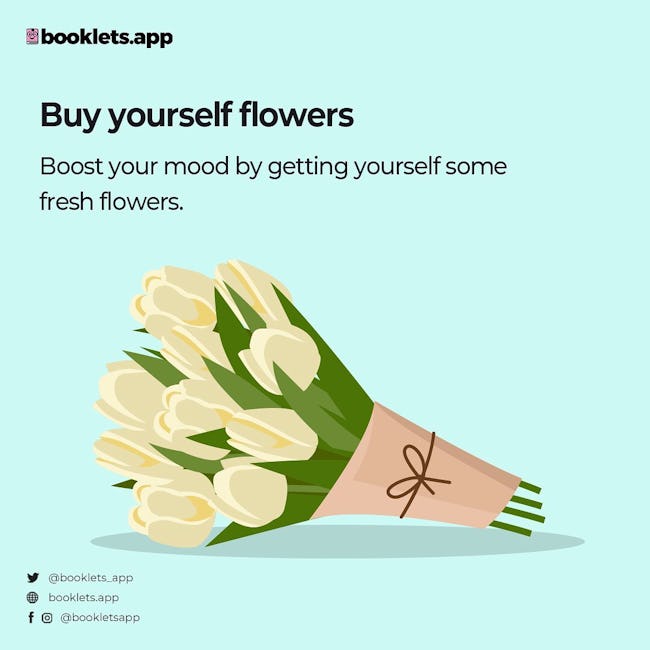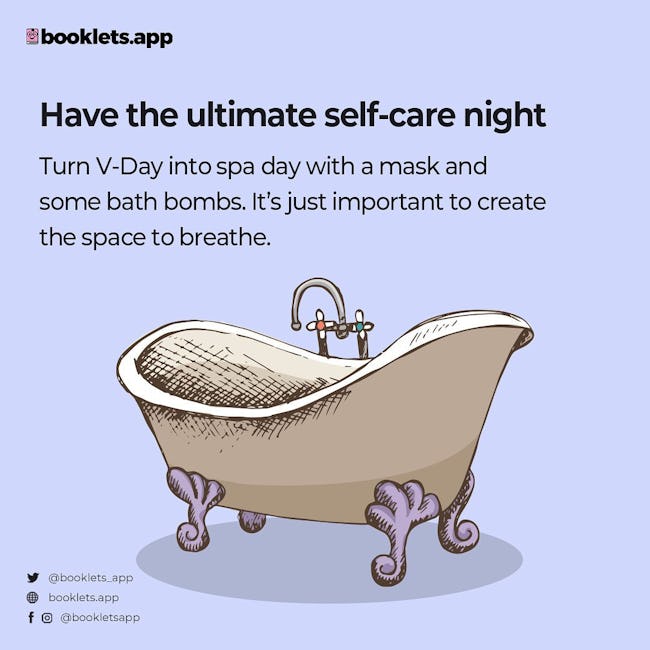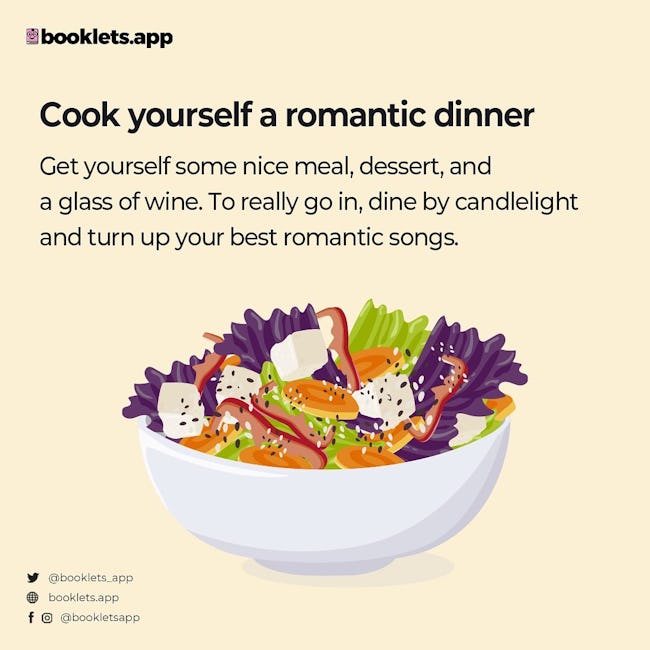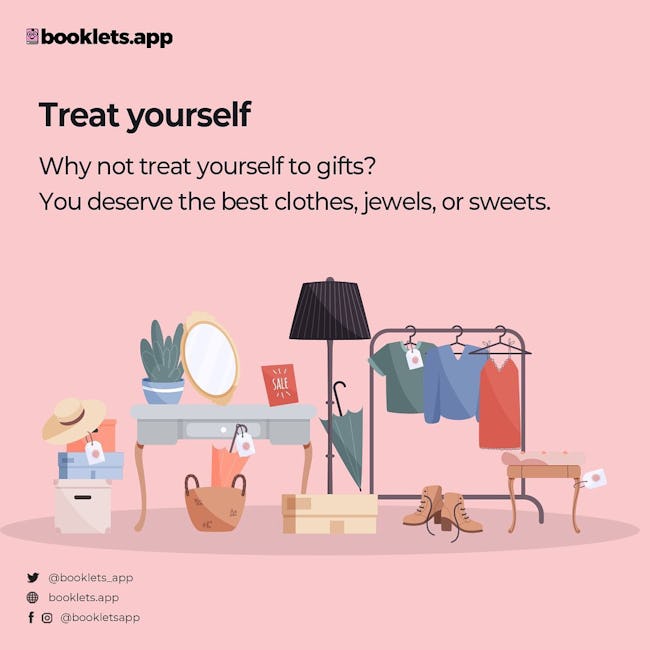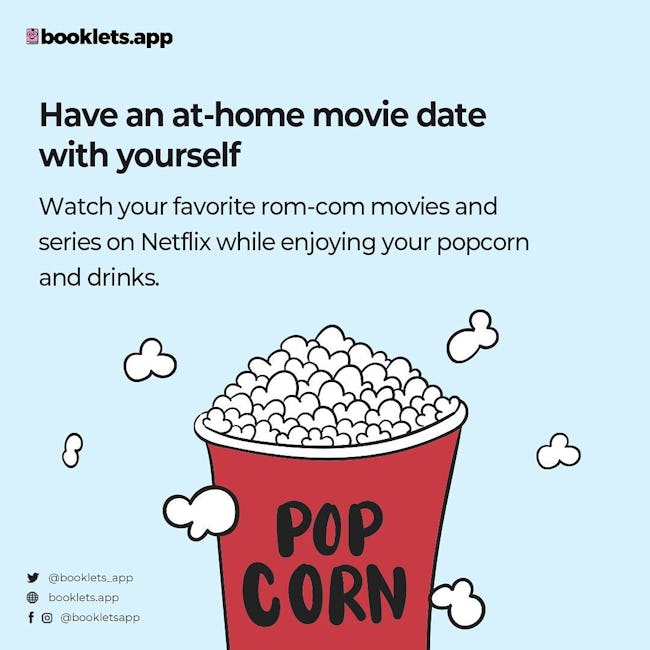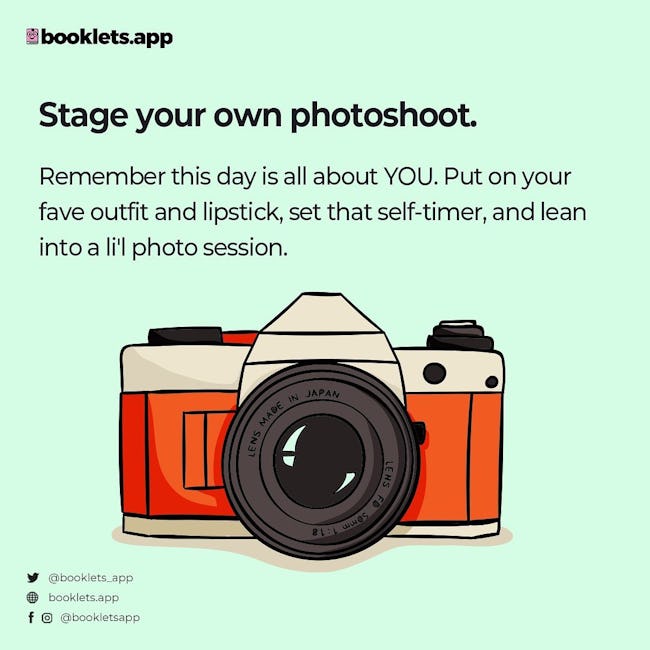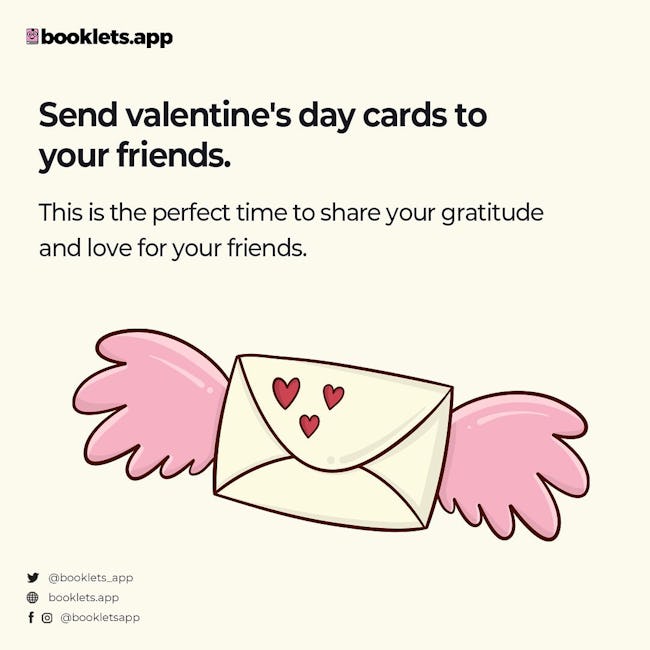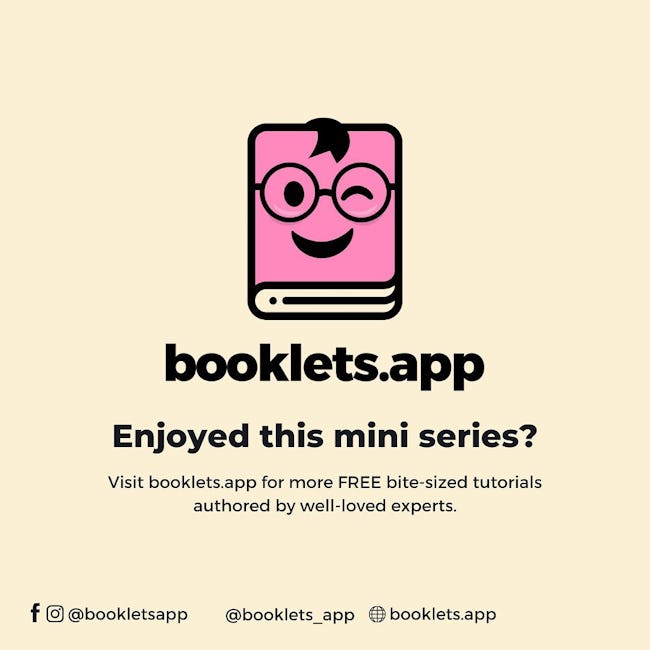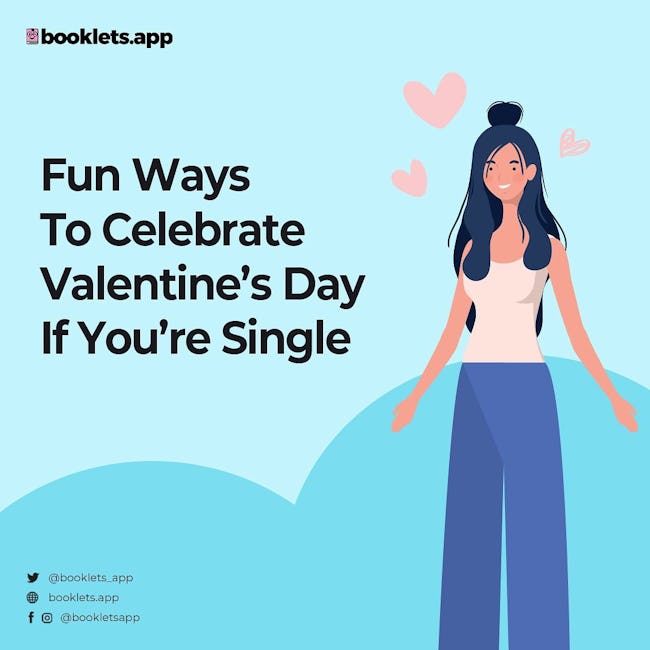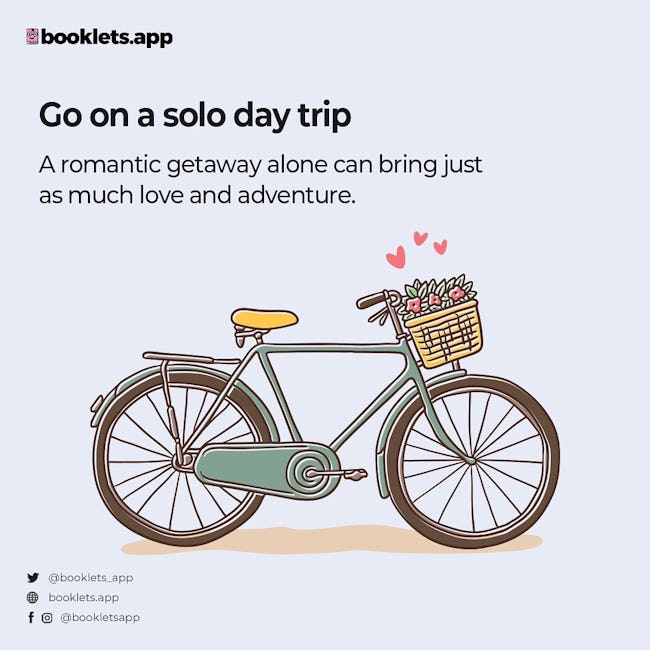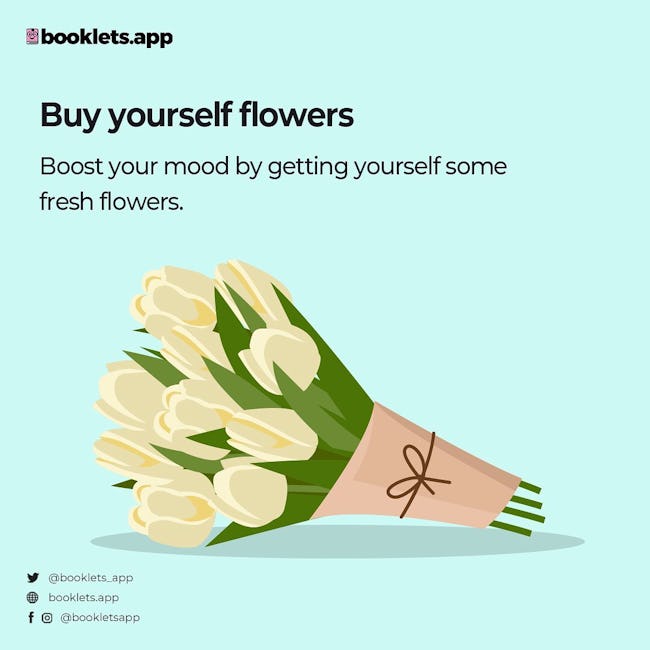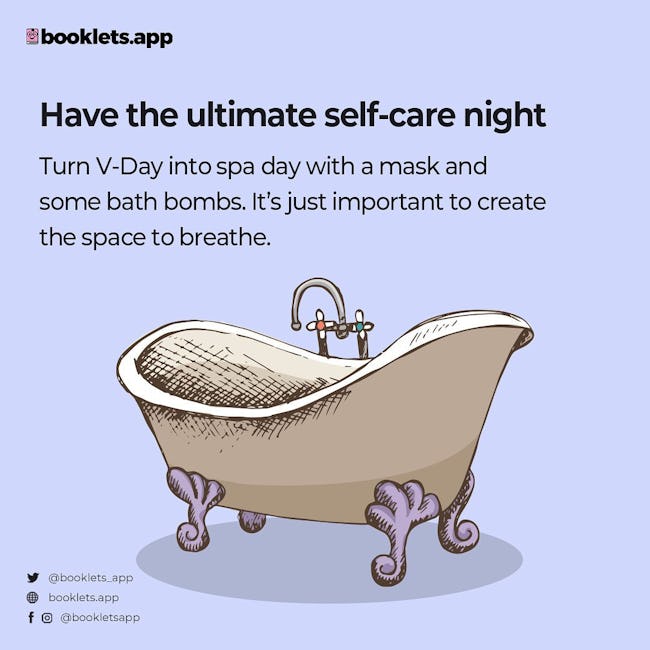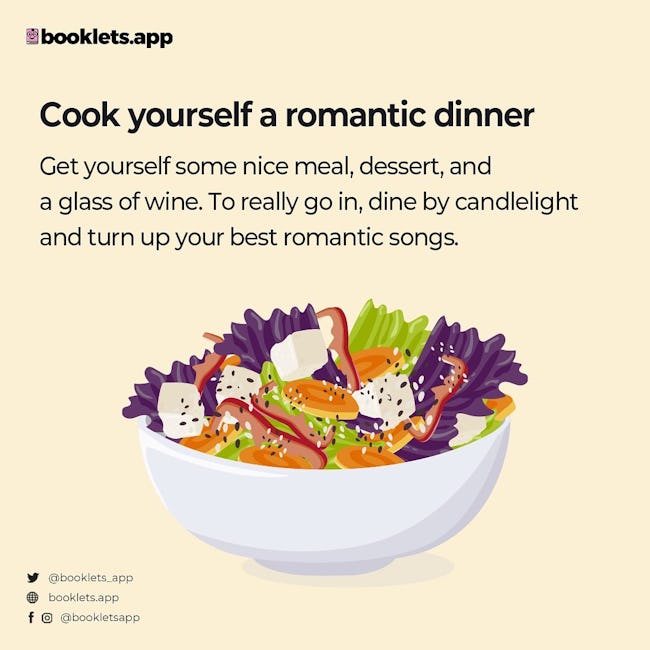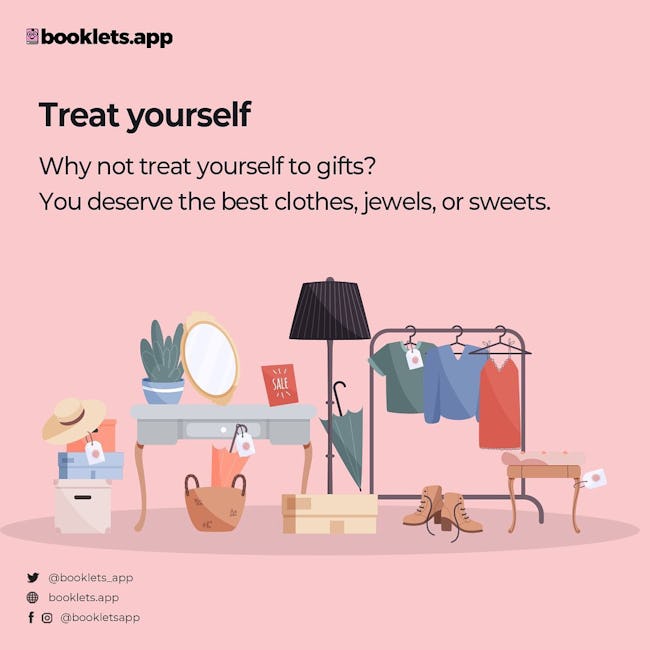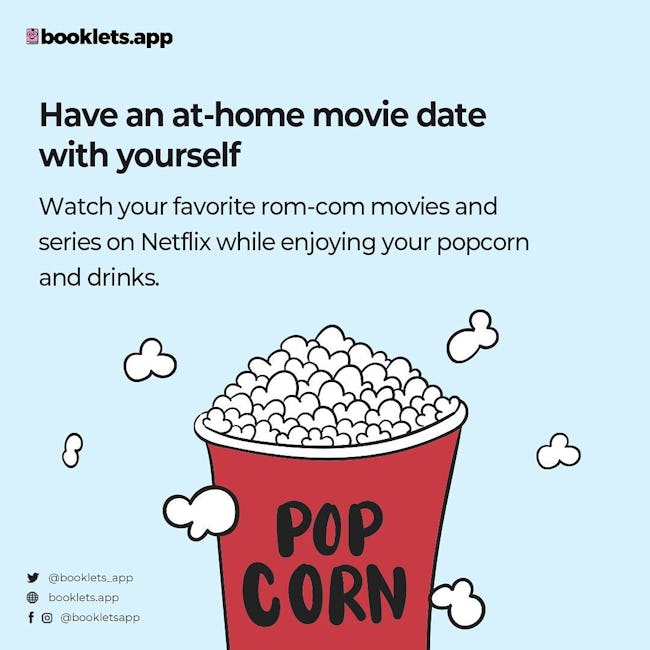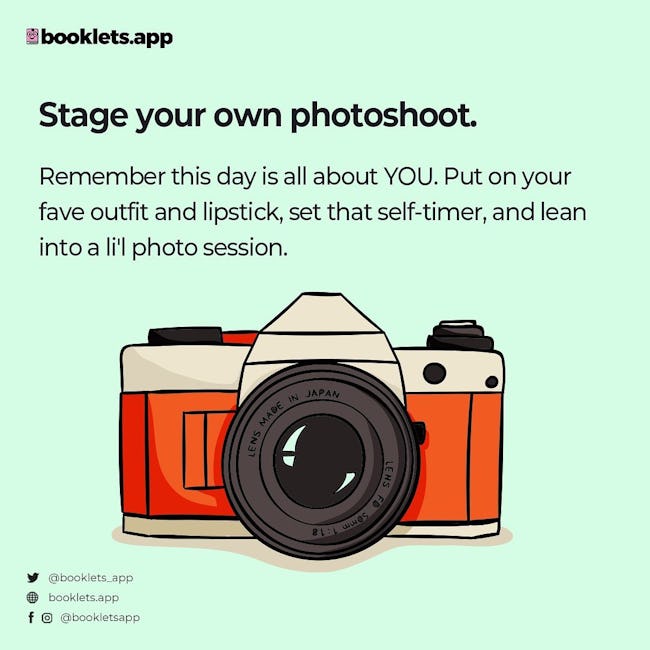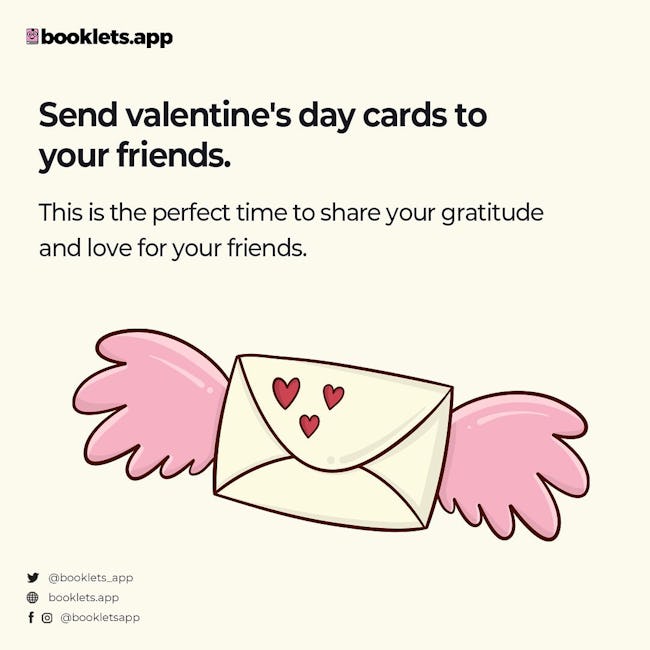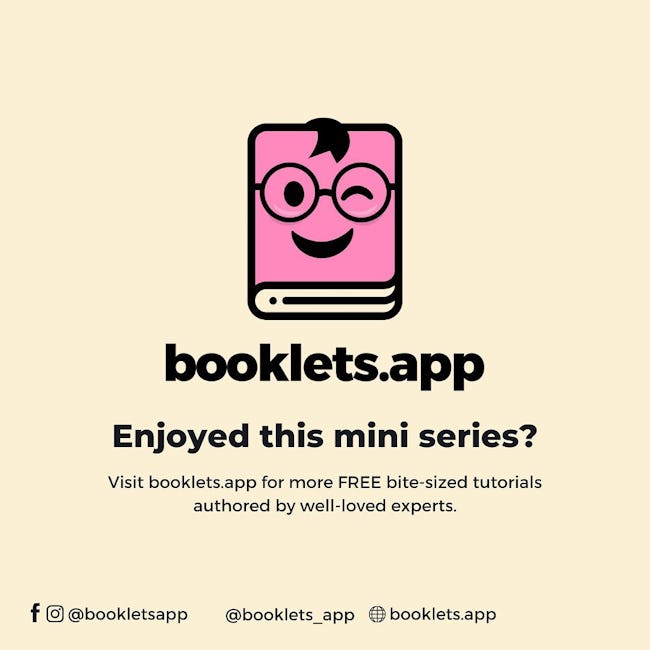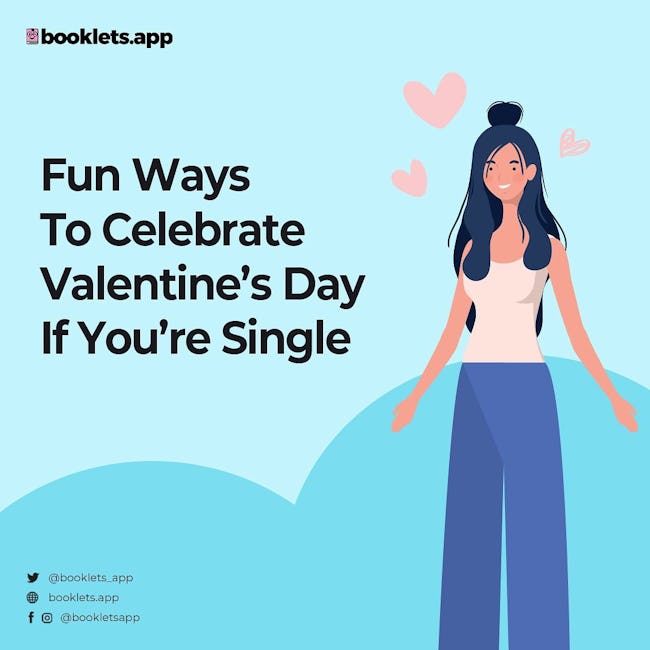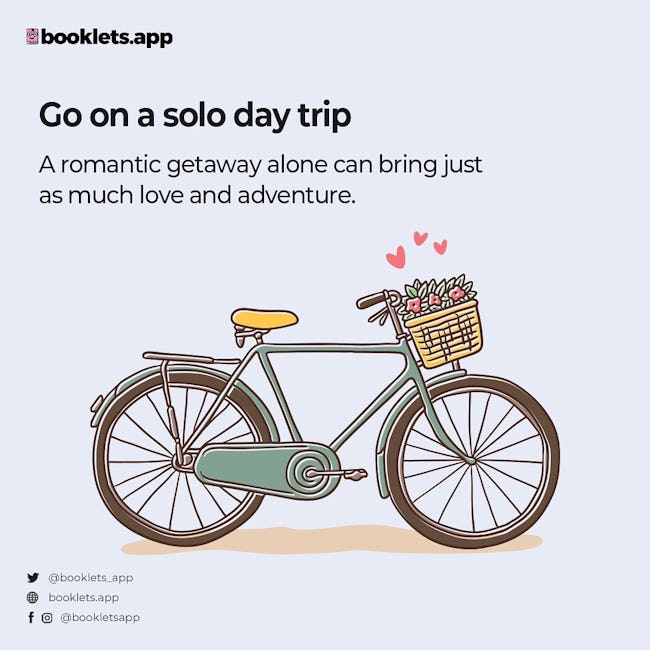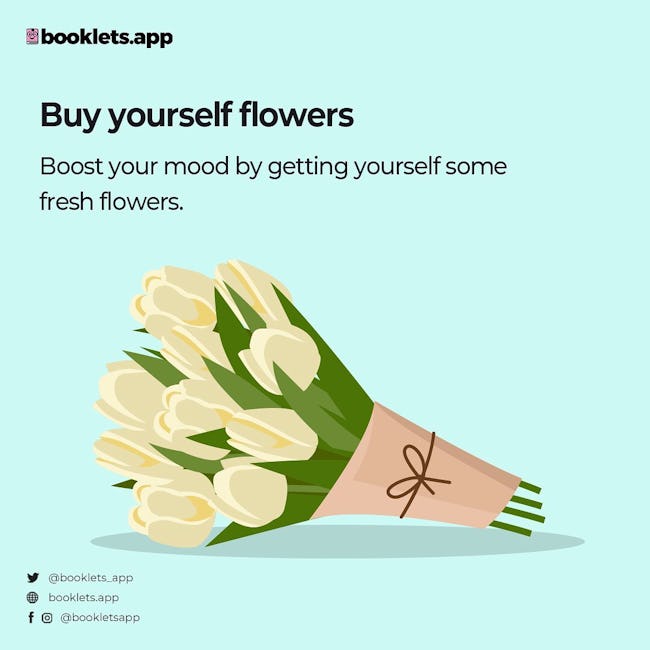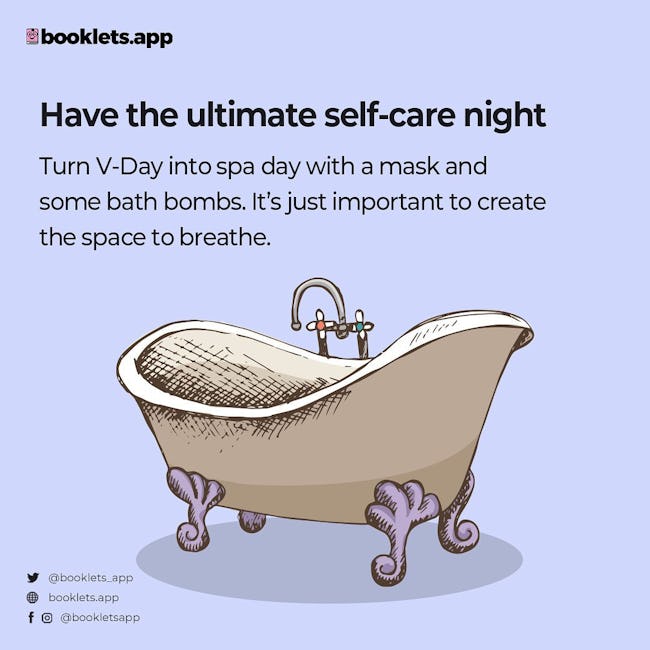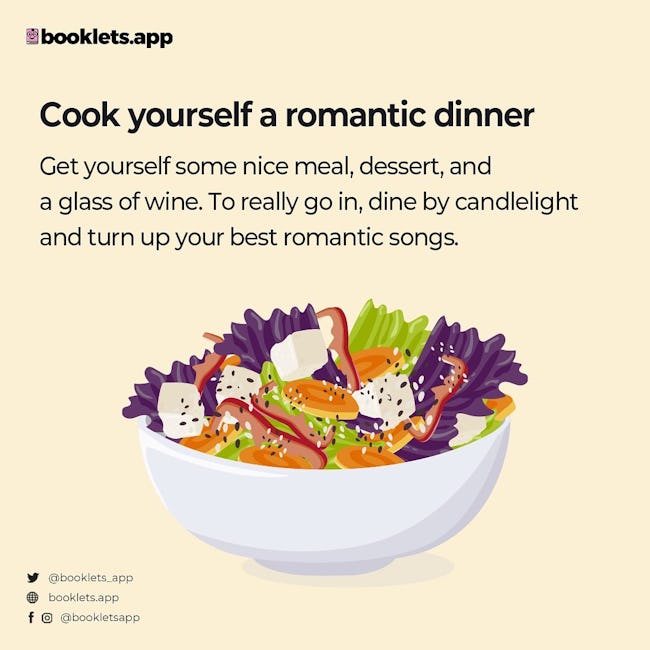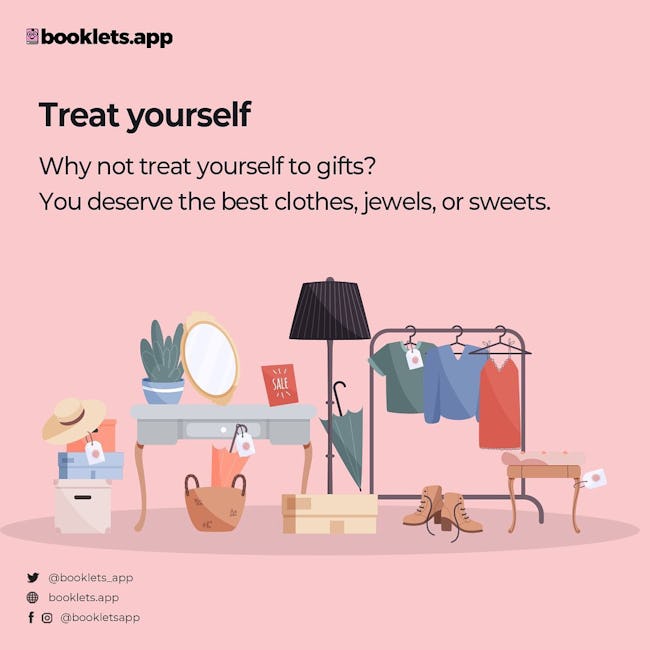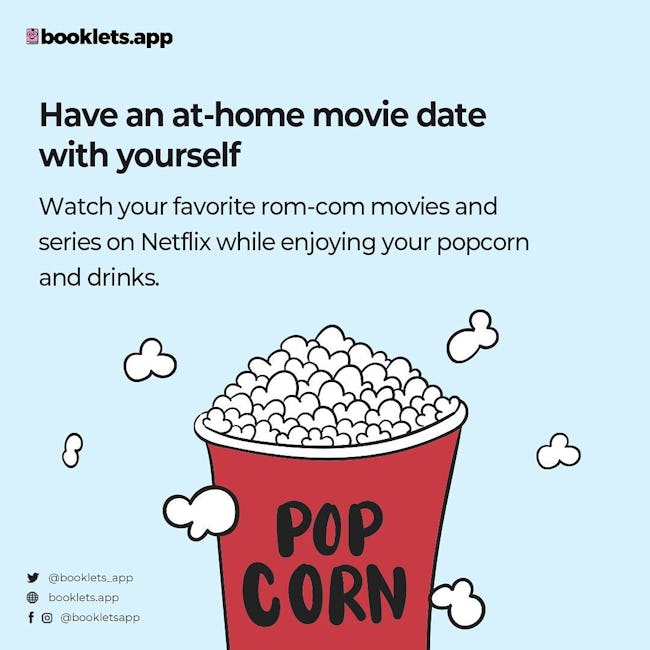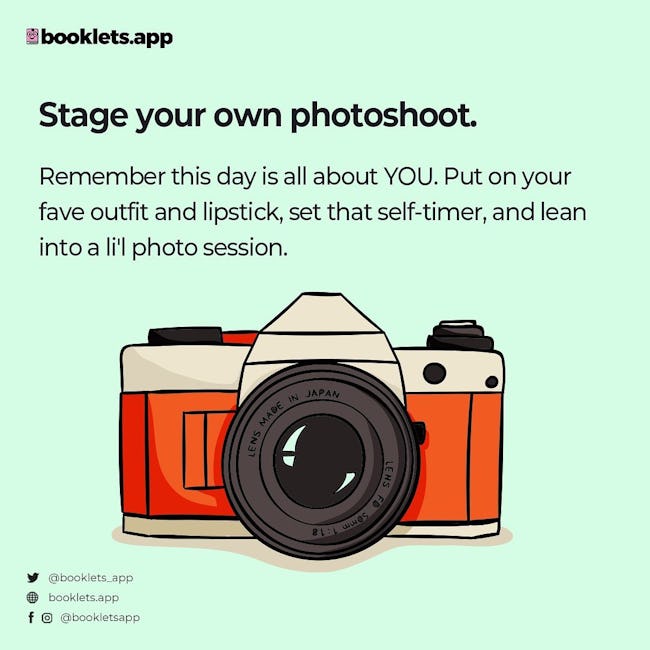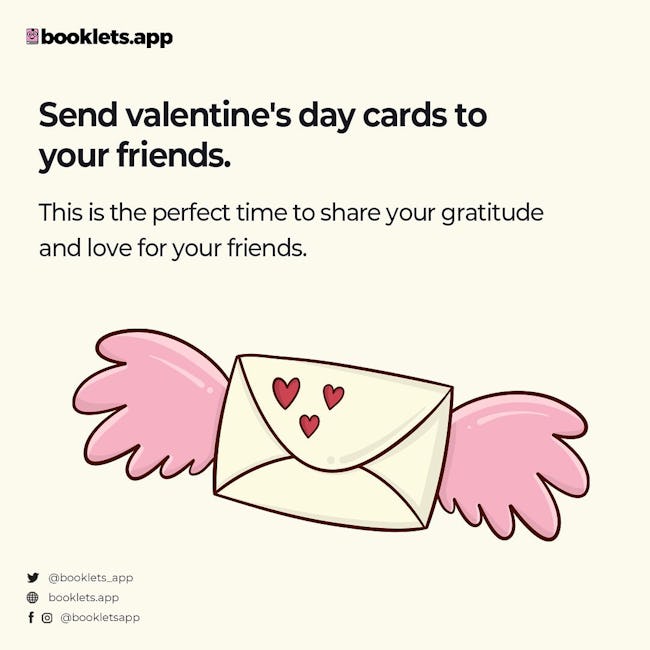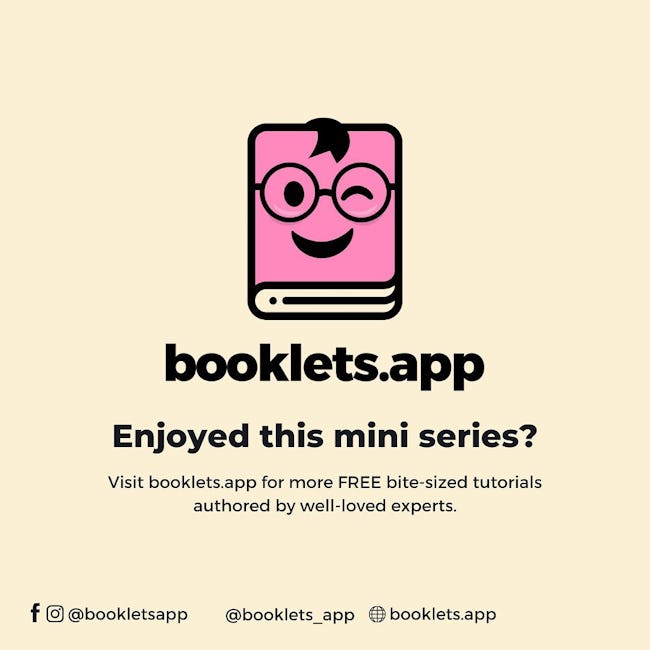 Fun Ways To Celebrate Valentine's Day If You're Single
𝗚𝗼 𝗼𝗻 𝘀𝗼𝗹𝗼 𝗱𝗮𝘆 𝘁𝗿𝗶𝗽
A romantic getaway alone can bring just as much love and adventure.
𝗕𝘂𝘆 𝘆𝗼𝘂𝗿𝘀𝗲𝗹𝗳 𝗳𝗹𝗼𝘄𝗲𝗿𝘀
Boost your mood by getting yourself some fresh flowers.
𝗛𝗮𝘃𝗲 𝘁𝗵𝗲 𝘂𝗹𝘁𝗶𝗺𝗮𝘁𝗲 𝘀𝗲𝗹𝗳-𝗰𝗮𝗿𝗲 𝗻𝗶𝗴𝗵𝘁
Turn V-Day into spa day with a mask and some bath bombs. It's just important to create the space to breathe.
𝗖𝗼𝗼𝗸 𝘆𝗼𝘂𝗿𝘀𝗲𝗹𝗳 𝗮 𝗿𝗼𝗺𝗮𝗻𝘁𝗶𝗰 𝗱𝗶𝗻𝗻𝗲𝗿
Get yourself some nice meal, dessert, and a glass of wine. To really go in, dine by candlelight and turn up your best romantic songs.
𝗧𝗿𝗲𝗮𝘁 𝘆𝗼𝘂𝗿𝘀𝗲𝗹𝗳
Why not treat yourself to gifts? You deserve the best clothes, jewels, or sweets.
𝗛𝗮𝘃𝗲 𝗮𝗻 𝗮𝘁-𝗵𝗼𝗺𝗲 𝗺𝗼𝘃𝗶𝗲 𝗱𝗮𝘁𝗲 𝘄𝗶𝘁𝗵 𝘆𝗼𝘂𝗿𝘀𝗲𝗹𝗳
Watch your favorite rom-com movies and series on Netflix while enjoying your popcorn and drinks.
𝗦𝘁𝗮𝗴𝗲 𝘆𝗼𝘂𝗿 𝗼𝘄𝗻 𝗽𝗵𝗼𝘁𝗼𝘀𝗵𝗼𝗼𝘁.
Remember this day is all about YOU. Put on your fave outfit and lipstick, set that self-timer, and lean into a li'l photo session.
𝗦𝗲𝗻𝗱 𝘃𝗮𝗹𝗲𝗻𝘁𝗶𝗻𝗲'𝘀 𝗱𝗮𝘆 𝗰𝗮𝗿𝗱𝘀 𝘁𝗼 𝘆𝗼𝘂𝗿 𝗳𝗿𝗶𝗲𝗻𝗱𝘀
This is the perfect time to share your gratitude and love for your friends.
More booklets by Booklets.app Originals
More Lifestyle booklets
Your recently viewed booklets
See all booklets