Booklet
7 Small UX Details From Google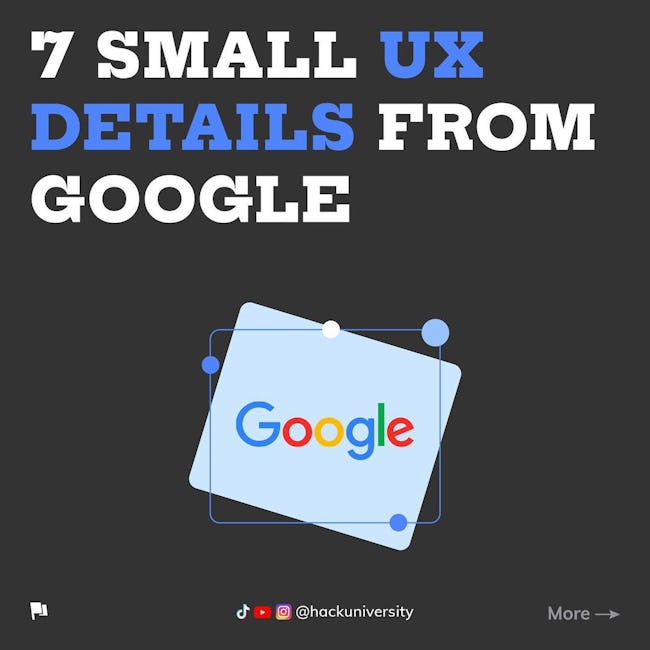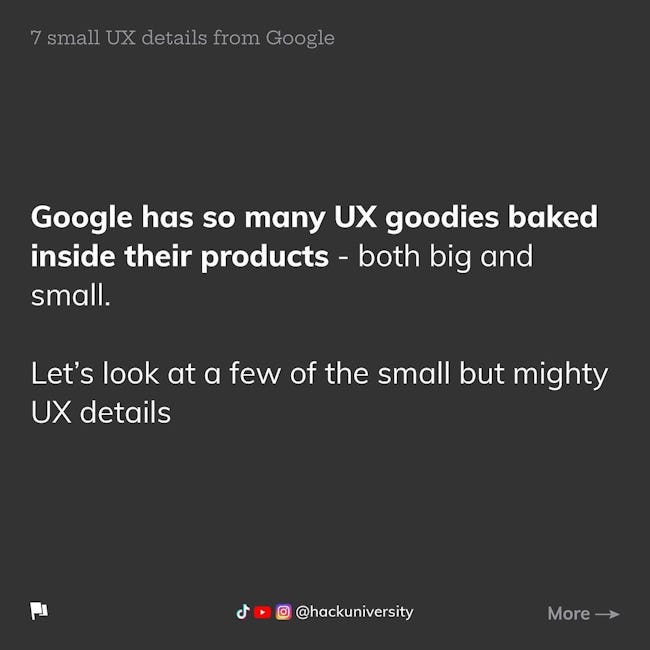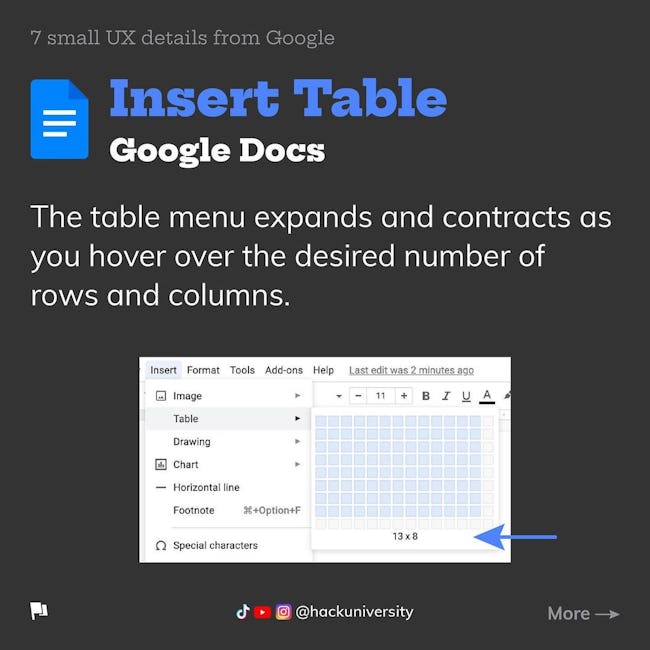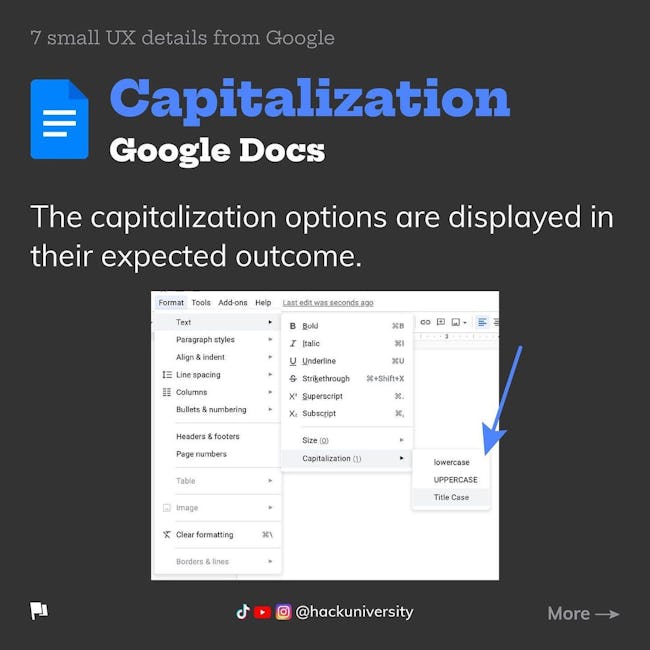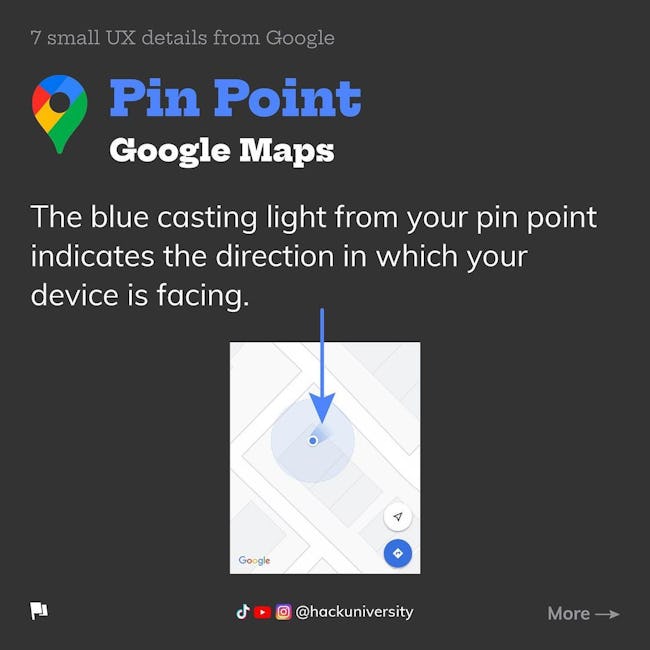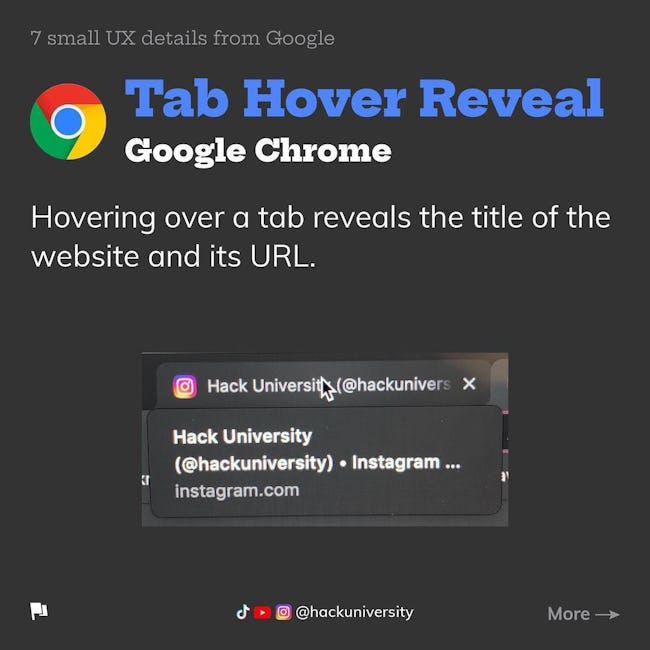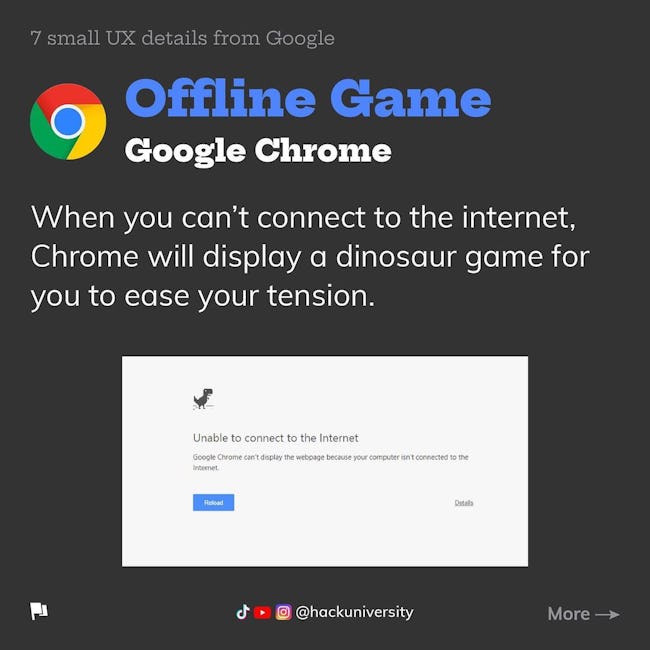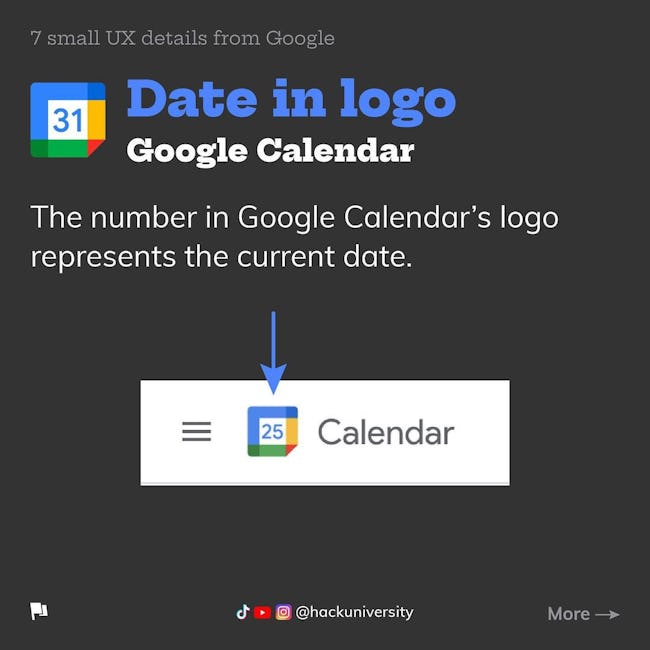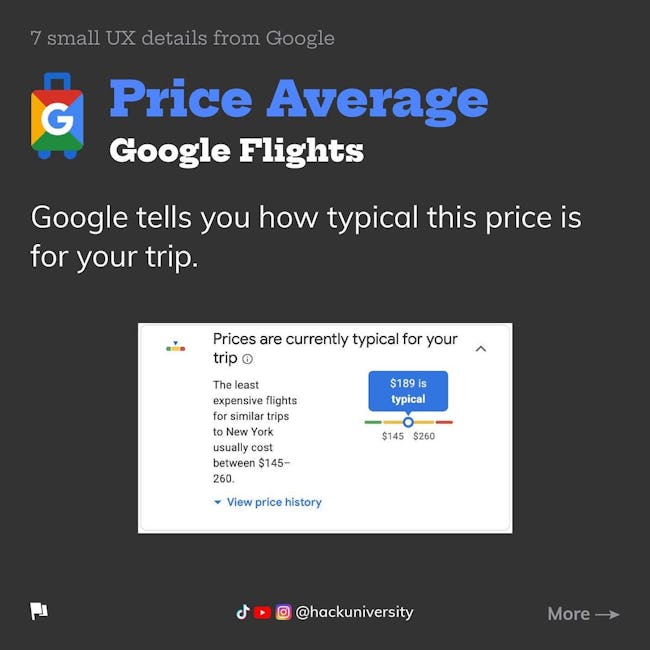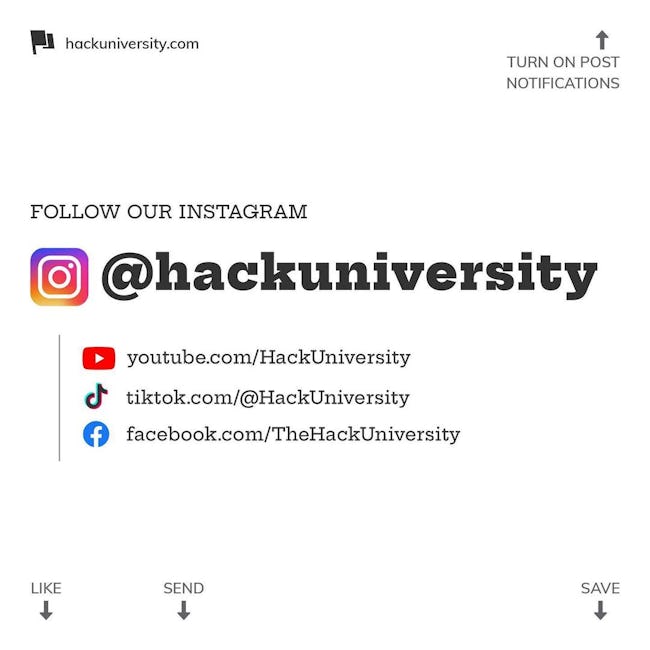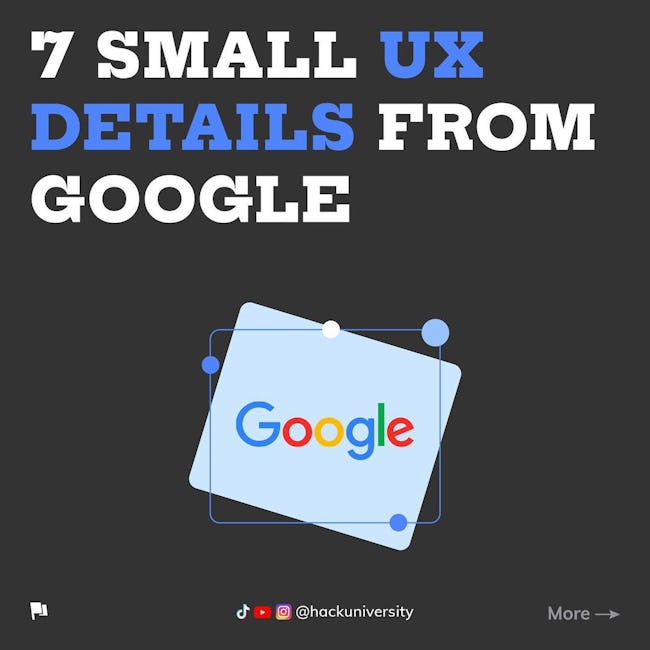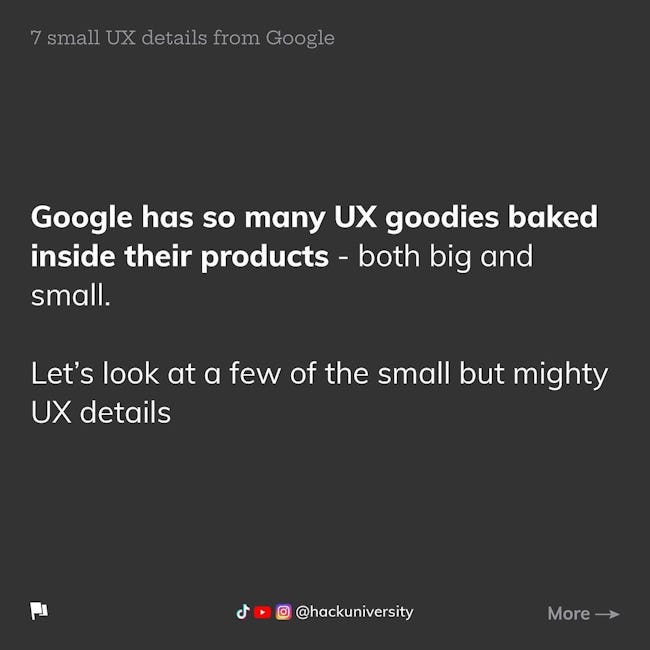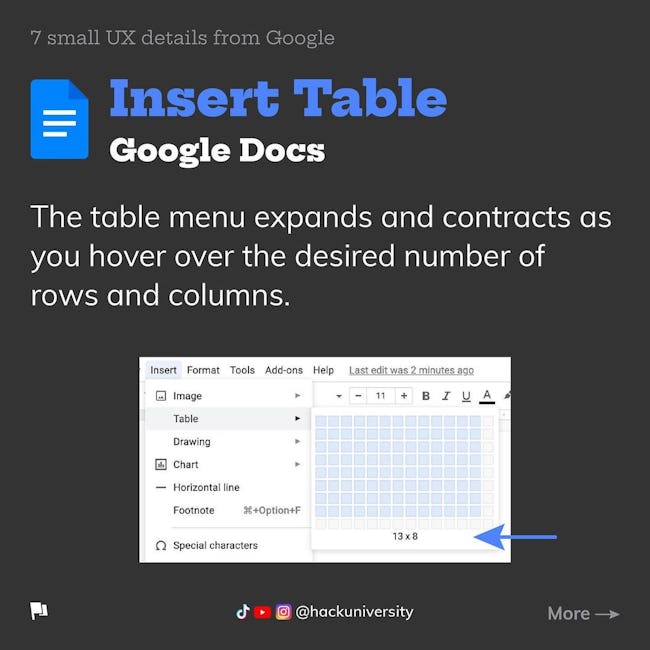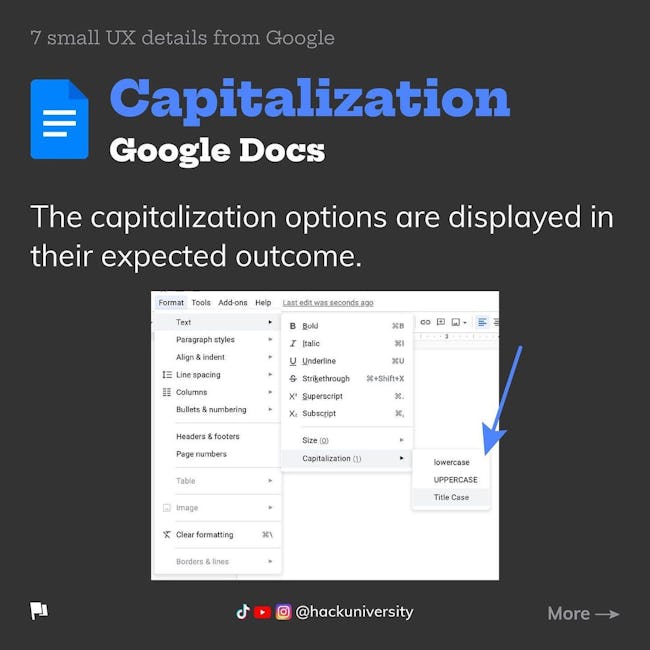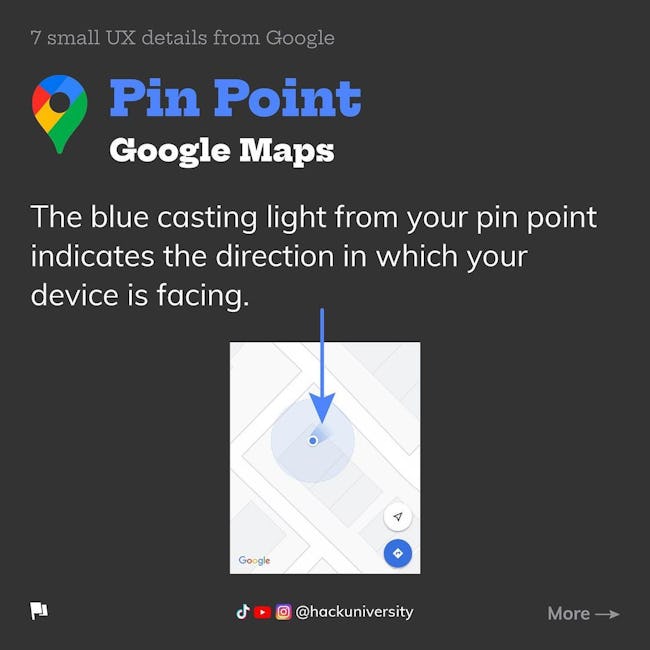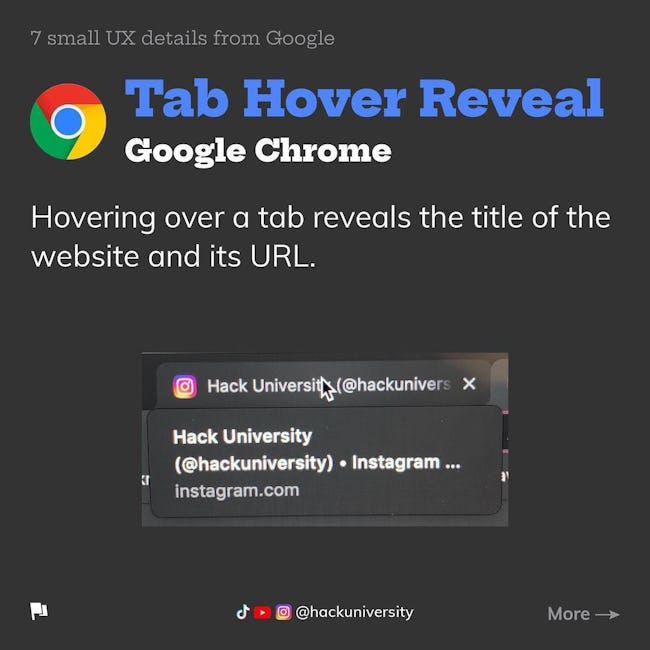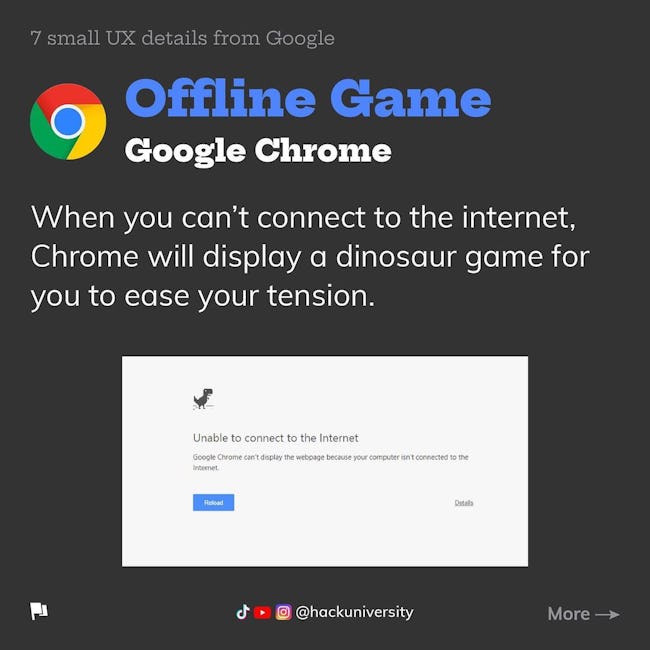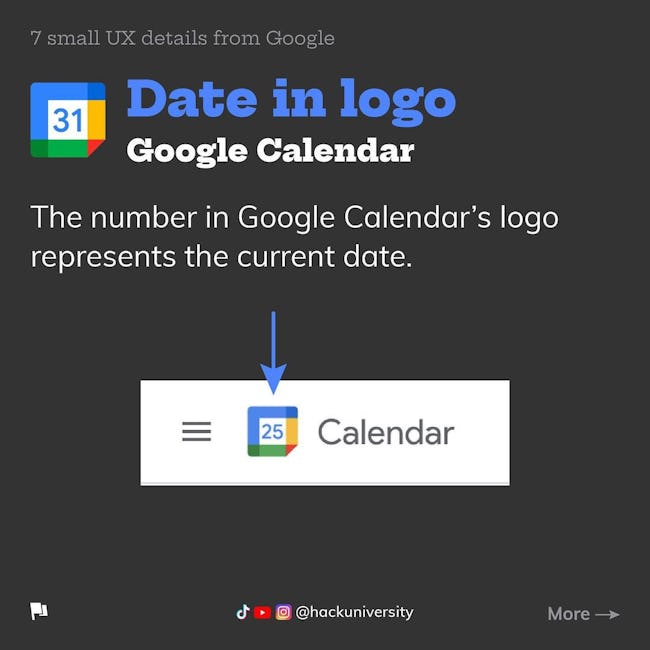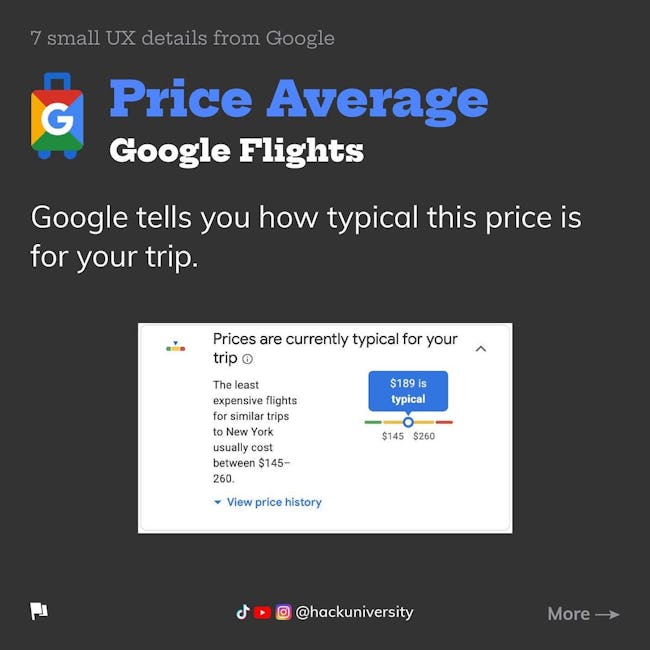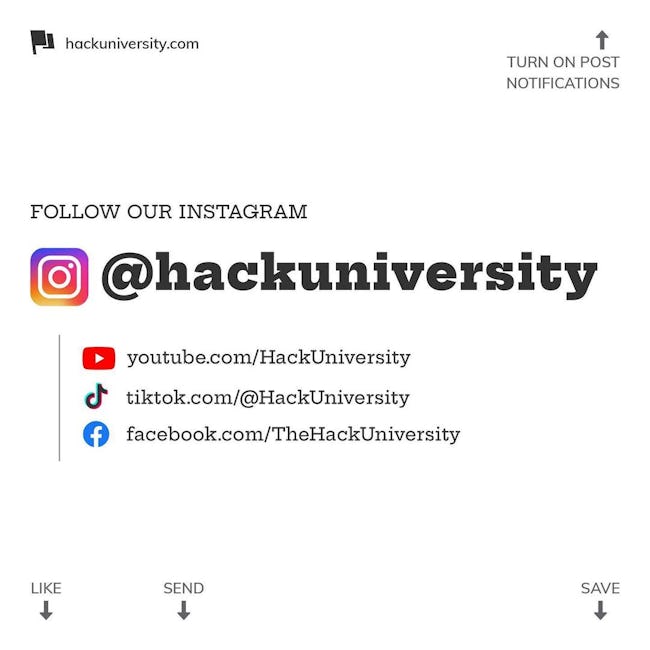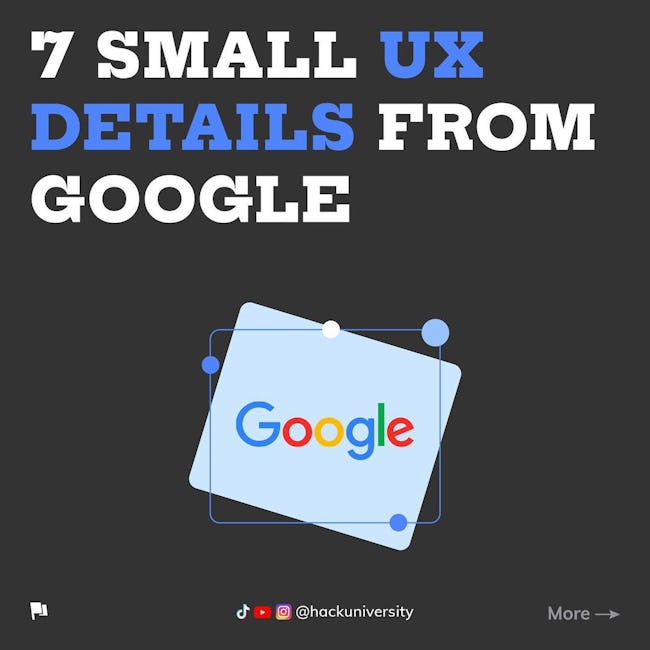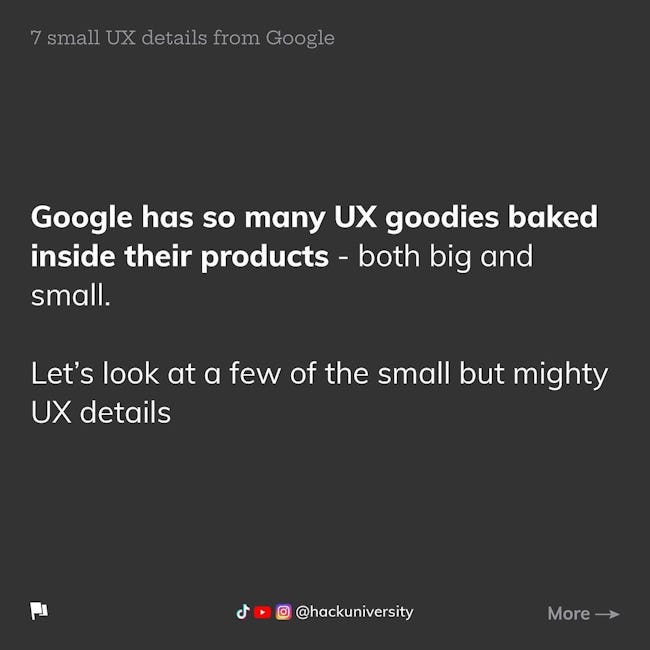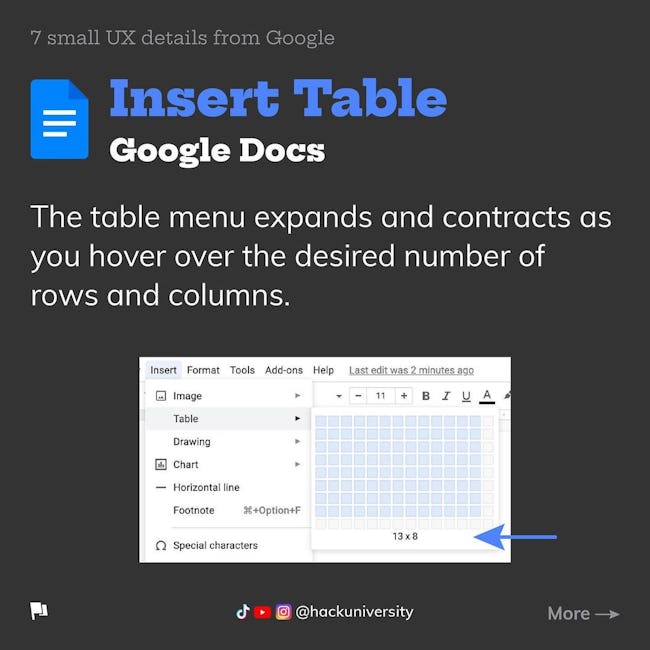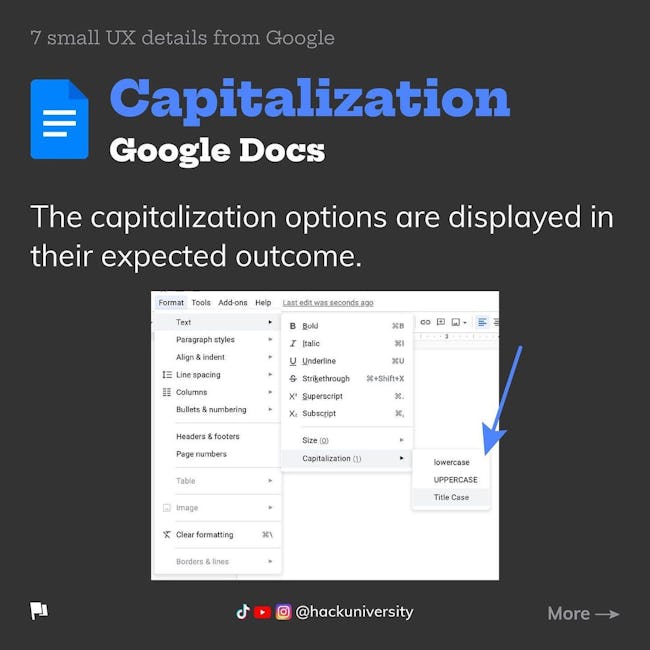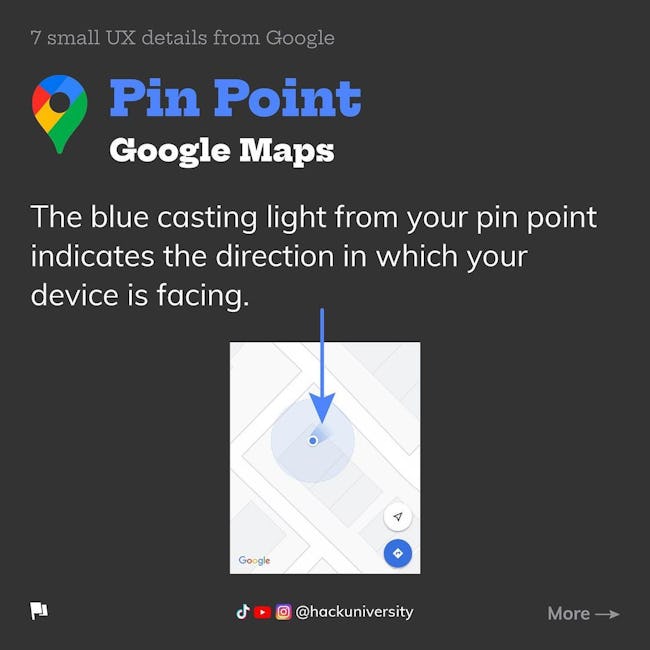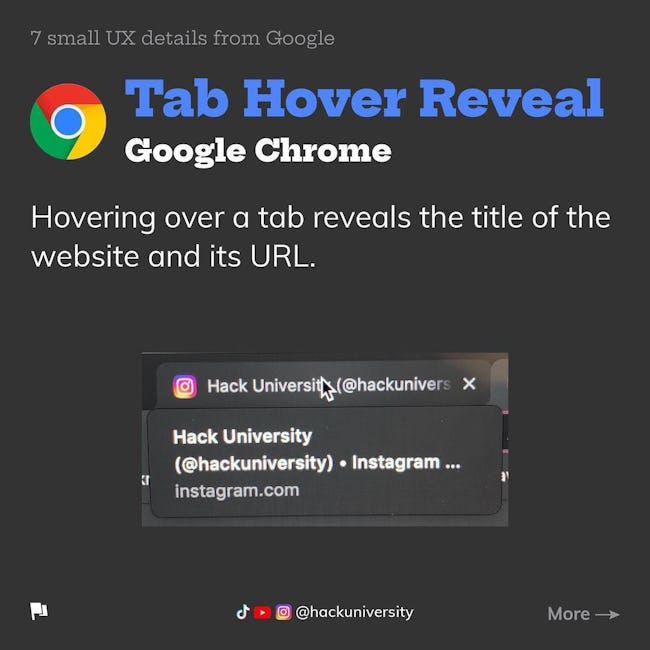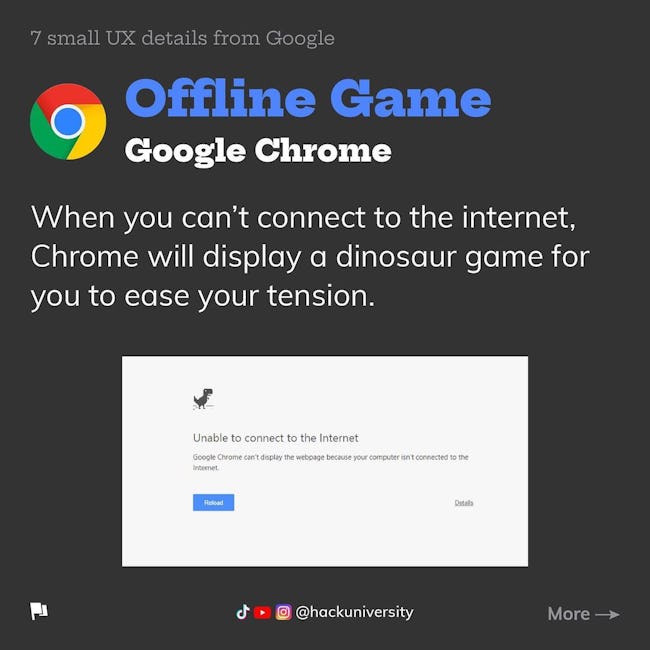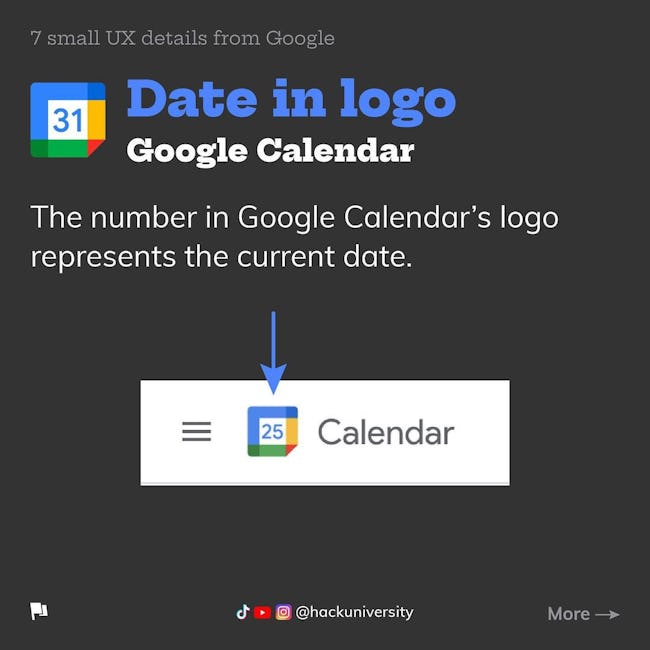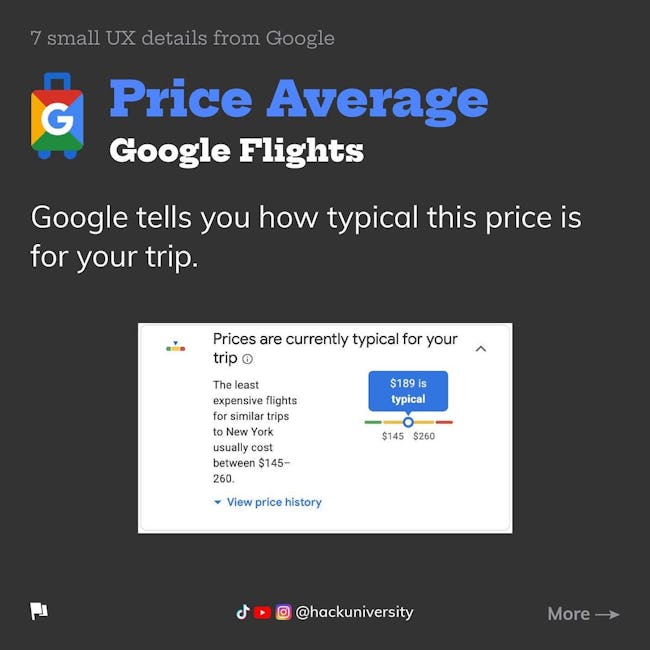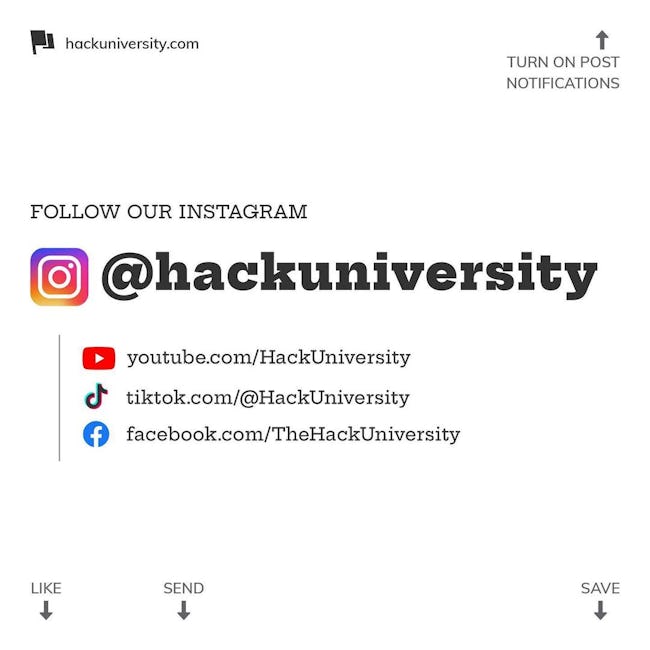 7 SMALL UX DETAILS FROM GOOGLE
𝗚𝗼𝗼𝗴𝗹𝗲 𝗵𝗮𝘀 𝘀𝗼 𝗺𝗮𝗻𝘆 𝗨𝗫 𝗴𝗼𝗼𝗱𝗶𝗲𝘀 𝗯𝗮𝗸𝗲𝗱 𝗶𝗻𝘀𝗶𝗱𝗲 𝘁𝗵𝗲𝗶𝗿 𝗽𝗿𝗼𝗱𝘂𝗰𝘁𝘀 - both big and small.
Let's look at a few of the small but mighty UX details
𝗜𝗻𝘀𝗲𝗿𝘁 𝗧𝗮𝗯𝗹𝗲
The table menu expands and contacts as you hover over the desired number of rows and columns.
𝗖𝗮𝗽𝗶𝘁𝗮𝗹𝗶𝘇𝗮𝘁𝗶𝗼𝗻
The capitalization options are displayed in their expected outcome.
𝗣𝗶𝗻 𝗣𝗼𝗶𝗻𝘁
The blue casting light from your pin point indicates the direction in which your device is facing.
𝗧𝗮𝗯 𝗛𝗼𝘃𝗲𝗿 𝗥𝗲𝘃𝗲𝗮𝗹
Hovering over a tab reveals the title of the website and its URL.
𝗢𝗳𝗳𝗹𝗶𝗻𝗲 𝗚𝗮𝗺𝗲
When you can't connect to the internet, Chrome will display a dinosaur game for you to ease your tension.
𝗗𝗮𝘁𝗲 𝗶𝗻 𝗹𝗼𝗴𝗼
The number in Google Calendar's logo represents the current date.
𝗣𝗿𝗶𝗰𝗲 𝗔𝘃𝗲𝗿𝗮𝗴𝗲
Google tells you how typical this price is for your trip.
More booklets by Hack University
More IT & Software booklets
Your recently viewed booklets
See all booklets