Booklet
6 Signs Of Financial Abuse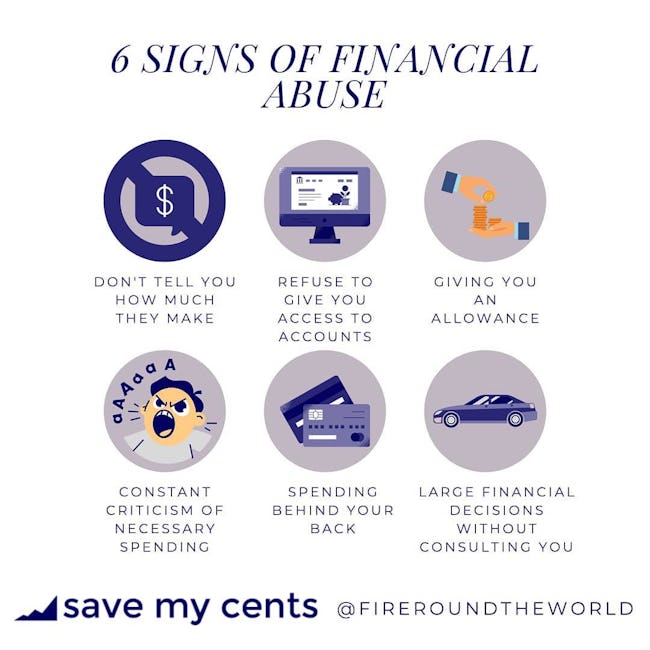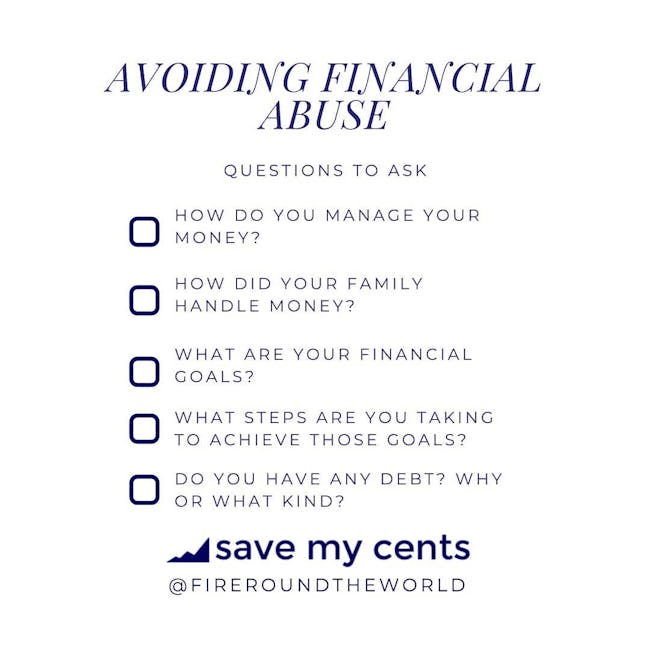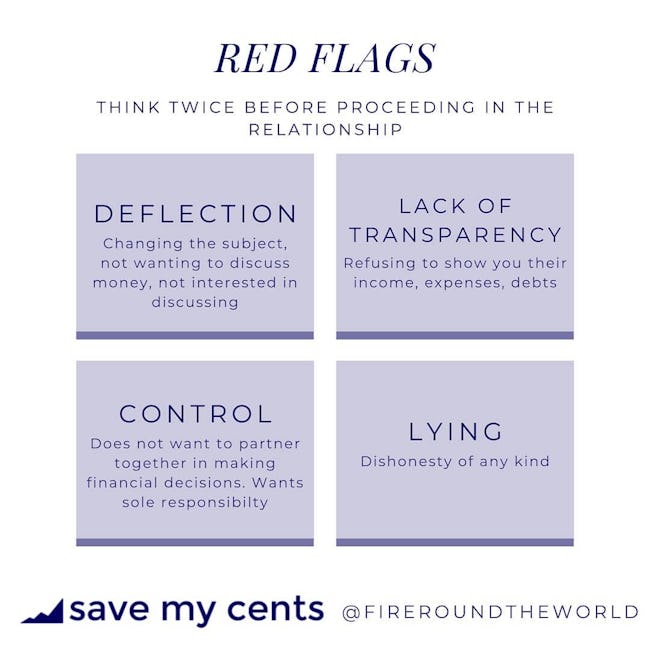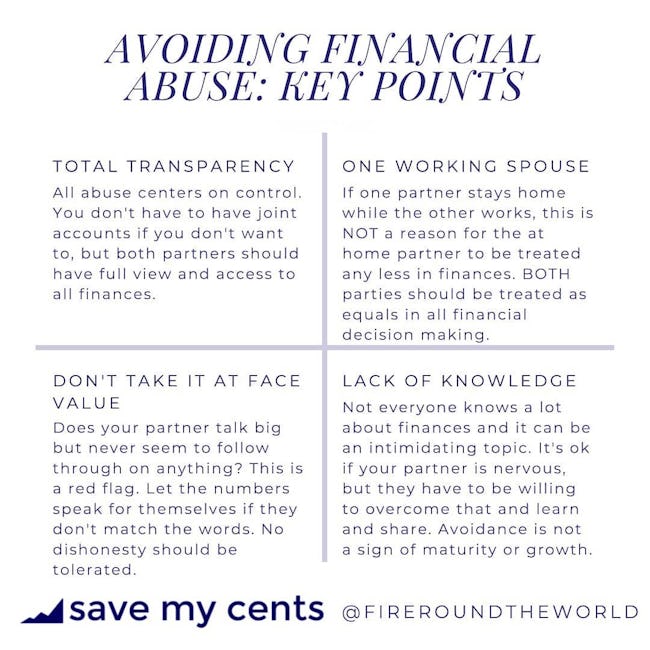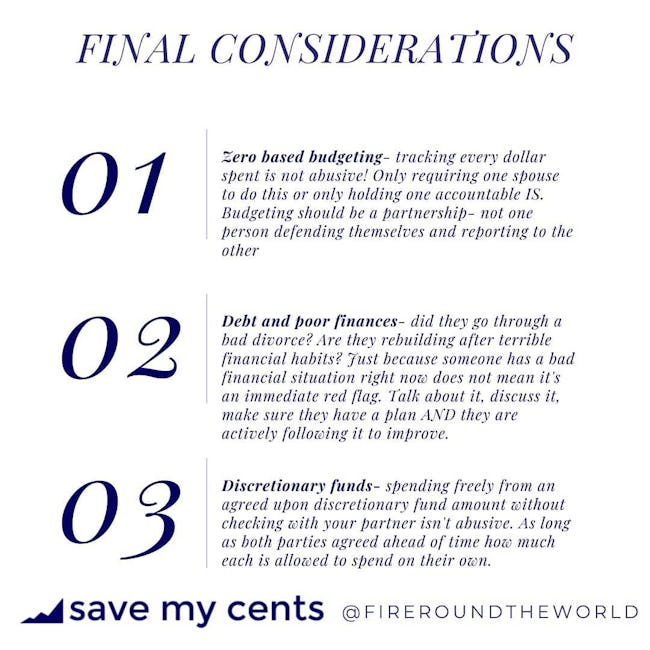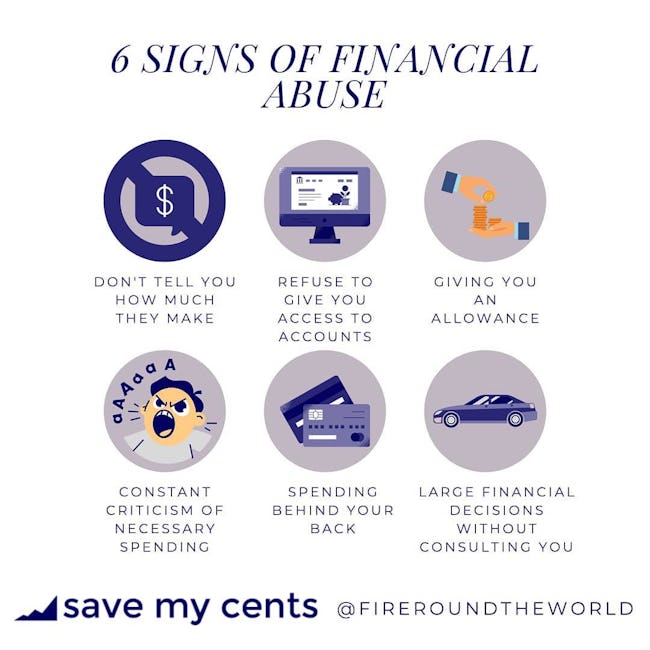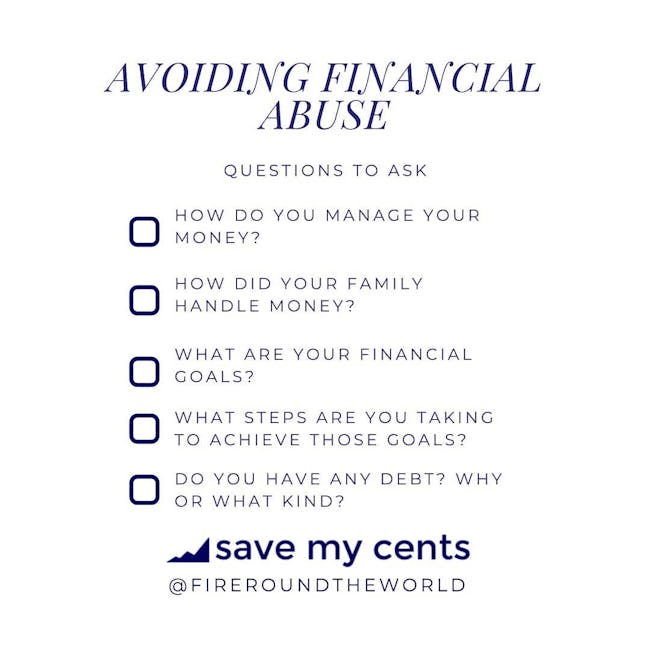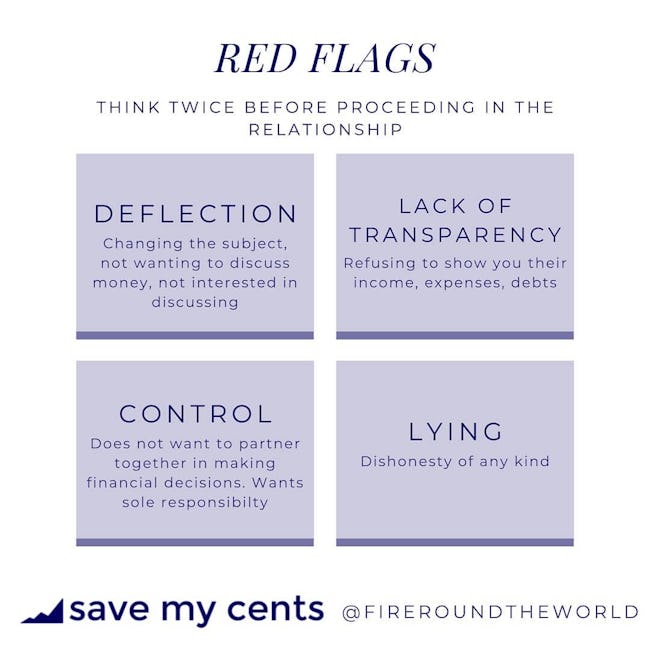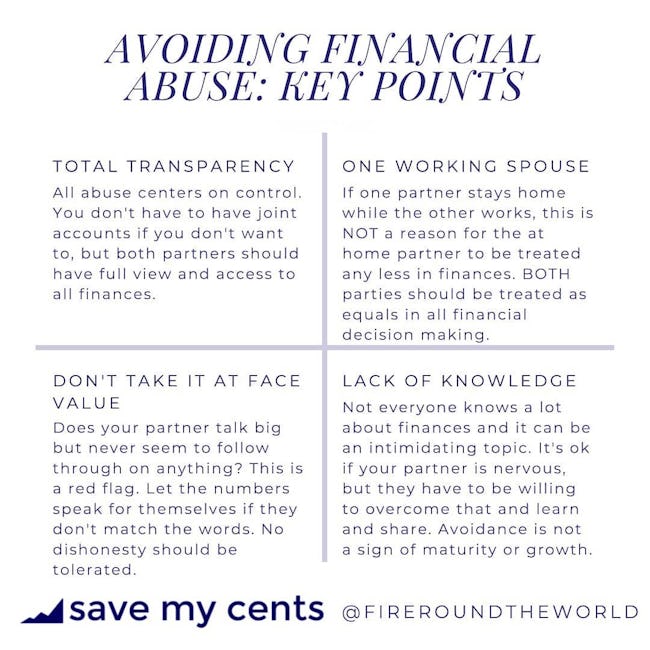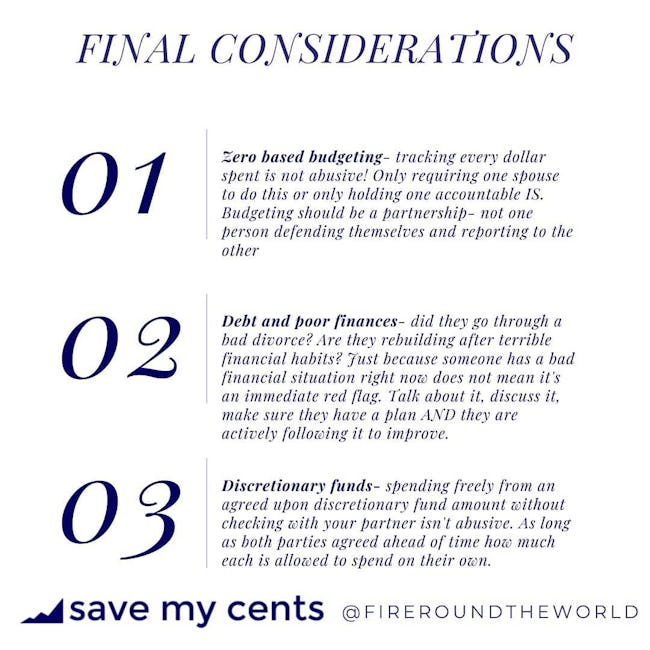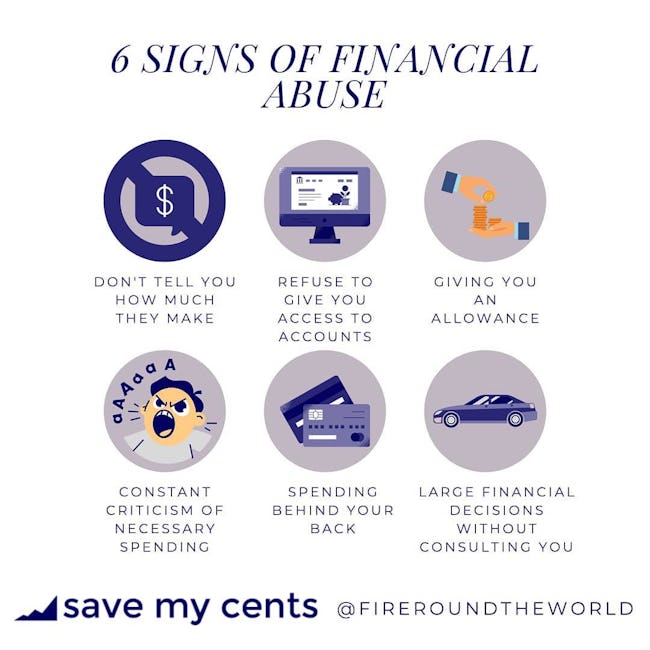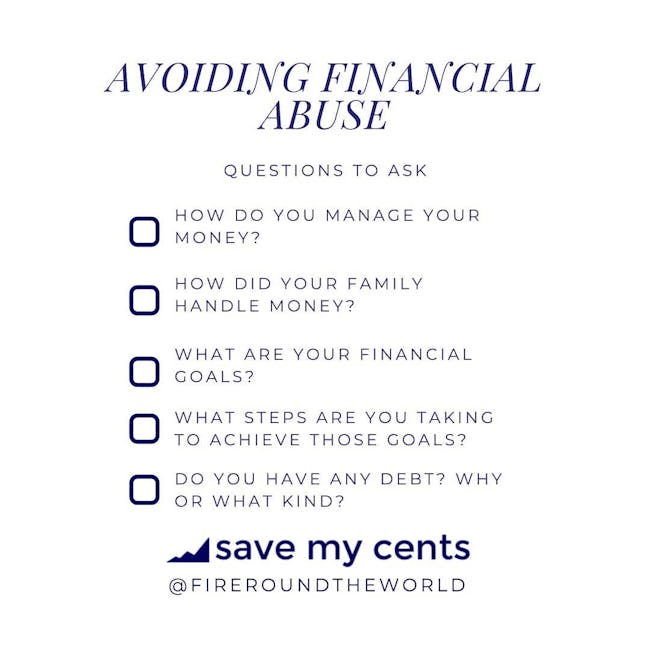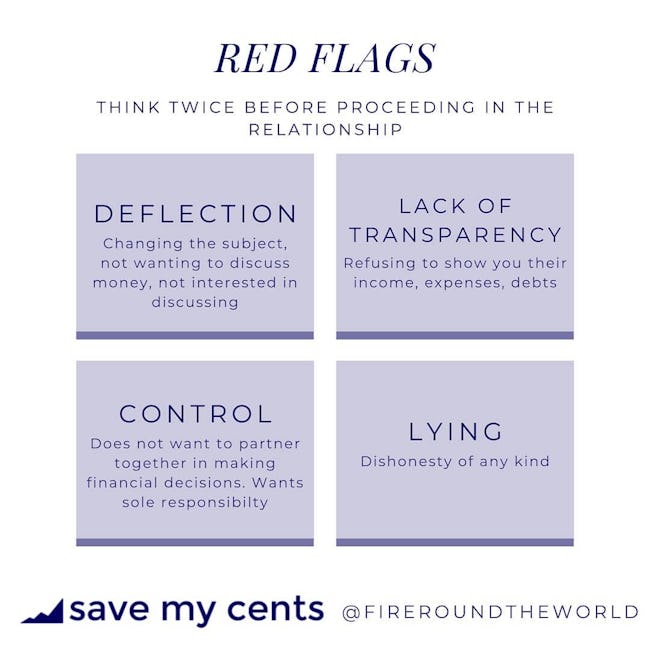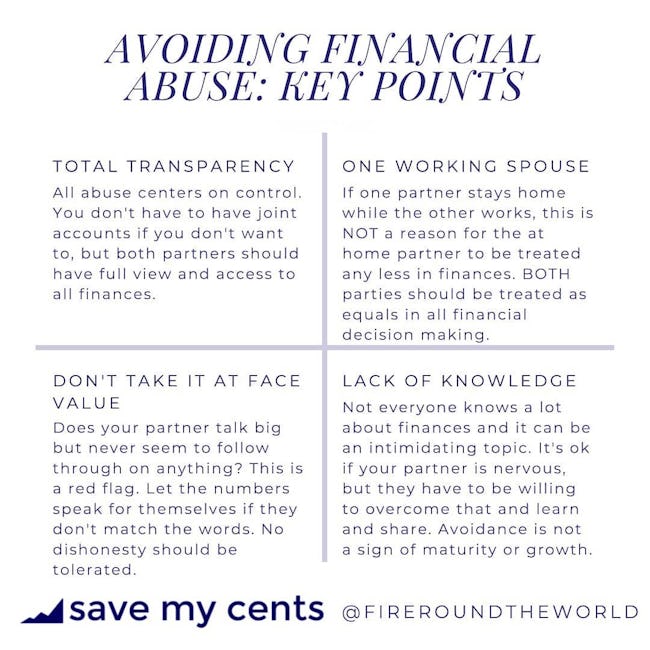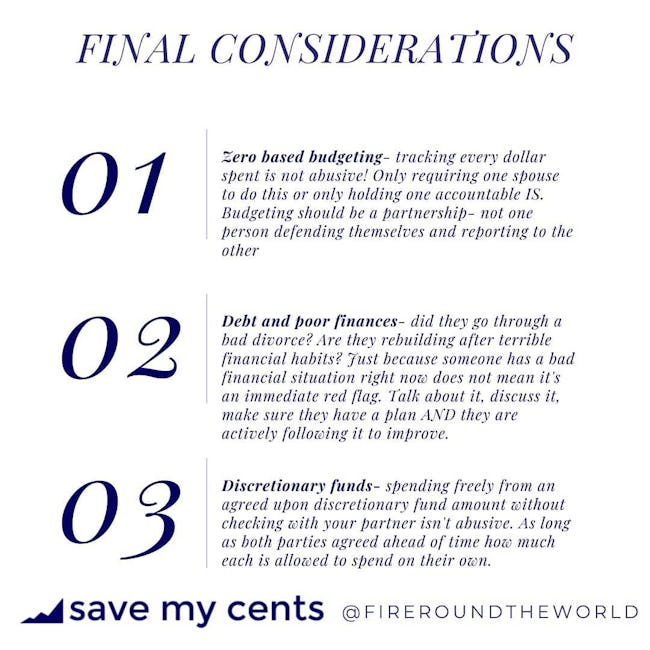 6 SIGNS OF FINANCIAL ABUSE
DON'T TELL YOU HOW MUCH THEY MAKE
REFUSE TO GIVE YOU ACCESS TO ACCOUNTS
GIVING YOU AN ALLOWANCE
CONSTANT CRITICISM OF NECESSARY SPENDING
SPENDING BEHIND YOUR BACK
LARGE FINANCIAL DECISIONS WITHOUT CONSULTING YOU
AVOIDING FINANCIAL ABUSE
QUESTIONS TO ASK
HOW DO YOU MANAGE YOUR MONEY?
HOW DID YOUR FAMILY HANDLE MONEY?
WHAT ARE YOUR FINANCIAL GOALS?
WHAT STEPS ARE YOU TAKING TO ACHIEVE THOSE GOALS?
DO YOU HAVE ANY DEBT? WHY OR WHAT KIND?
RED FLAGS
THINK TWICE BEFORE PROCEEDING IN THE RELATIONSHIP
DEFLECTION
Changing the subject, not wanting to discuss money, not interested in discussing
LACK OF TRANSPARENCY
Refusing to show you their income, expenses, debts
CONTROL
Does not want to partner together in making financial decisions. Wants sole responsibility
LYING
Dishonesty of any kind
AVOIDING FINANCIAL ABUSE: KEY POINTS
TOTAL TRANSPARENCY
All abuse centers on control. You don't have to have joint accounts if you don't want to, but both partners should have full view and access to all finances.
ONE WORKING SPOUSE
If one partner stays home while the other works, this is NOT a reason for the at home partner to be treated any less in finances. BOTH parties should be treated as equals in all financial decision making.
DON'T TAKE IT AT FACE VALUE
Does your partner talk big but never seem to follow through on anything? This is a red flag. Let the numbers speak for themselves if they don't match the words. No dishonesty should be tolerated.
LACK OF KNOWLEDGE
Not everyone knows a lot about finances and it can be an intimidating topic. It's ok if your partner is nervous, but they have to be willing to overcome that and learn and share. Avoidance is not a sign of maturity or growth.
FINANCIAL CONSIDERATIONS
01 Zero based budgeting - tracking every dollar spent is not abusive|! Only requiring one spouse to do this or only holding one accountable IS. Budgeting should be a partnership - not one person defending themselves and reporting to the other
02 Debt and poor finances - did they go through a bad divorce? Are they rebuilding after terrible financial habits? Just because someone has a bad financial situation right now does not mean it's an immediate red flag. Talk about it, discuss it, make sure they have a plan AND they are actively following it to improve.
03 Discretionary funds - spending freely from an agreed upon discretionary fund amount without checking with your partner isn't abusive, as long as both parties agreed ahead of time how much is allowed to spend on their own.
More booklets by Shang
More Finance & Accounting booklets
Your recently viewed booklets
See all booklets