Booklet
18 Most Useful Websites for Students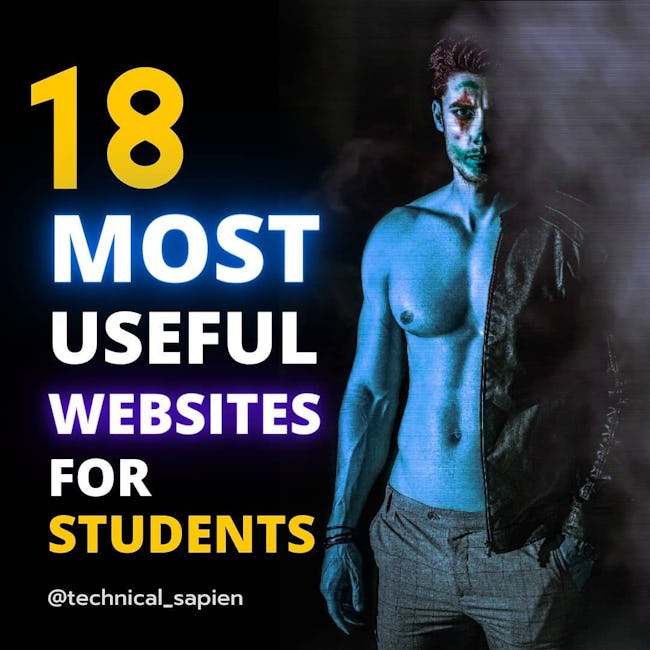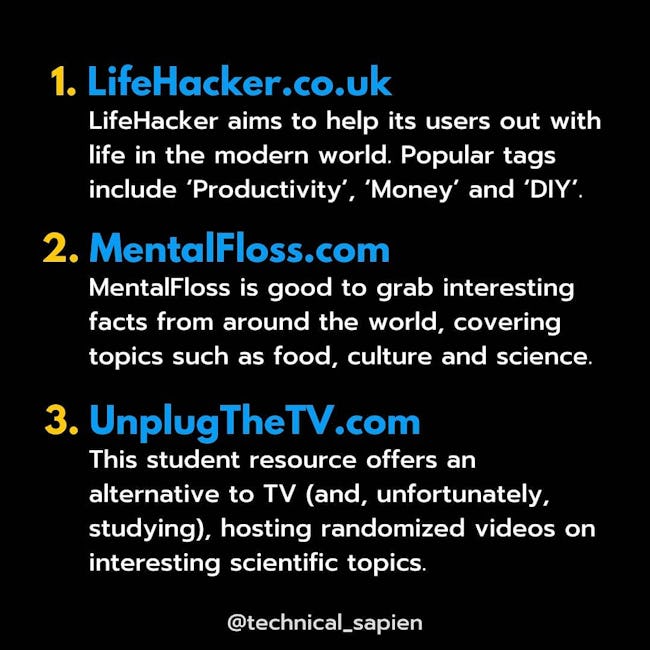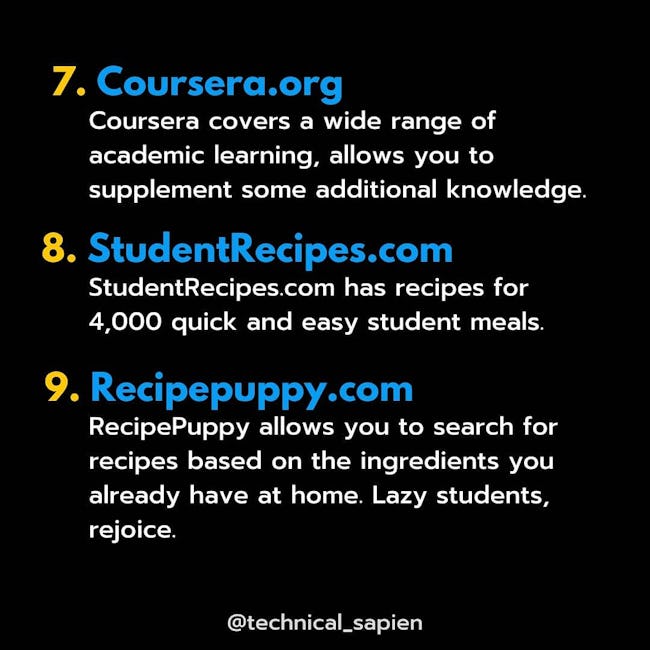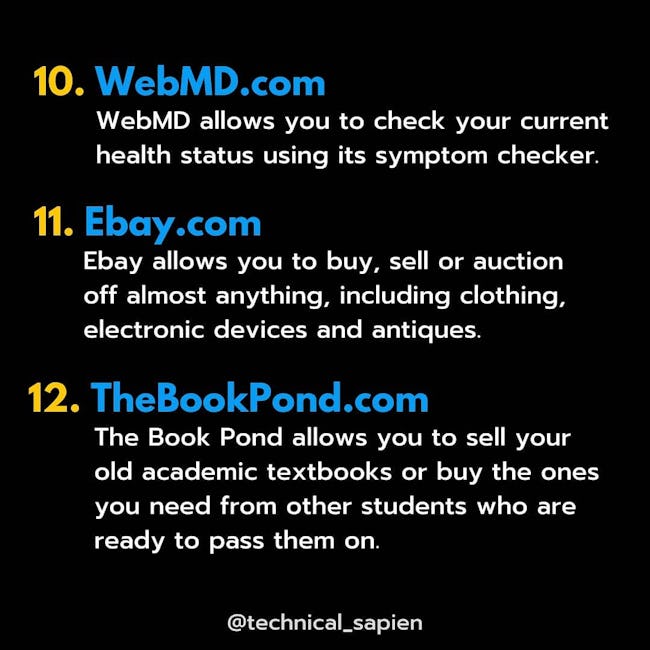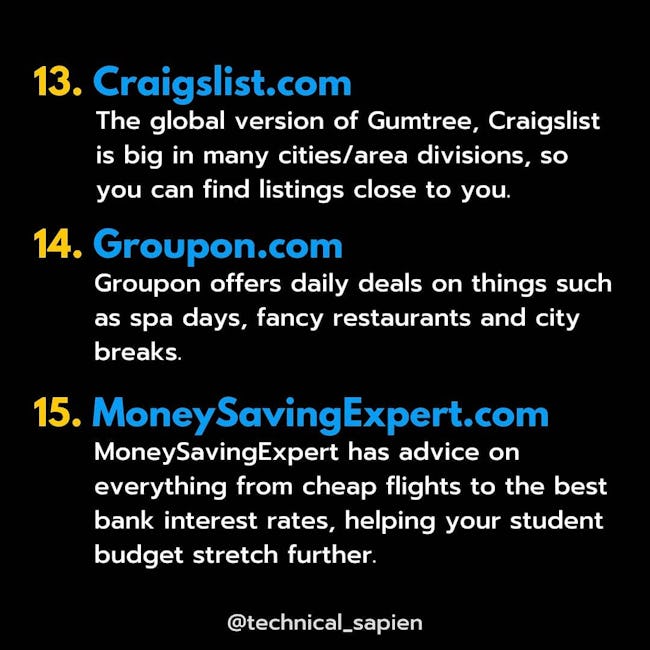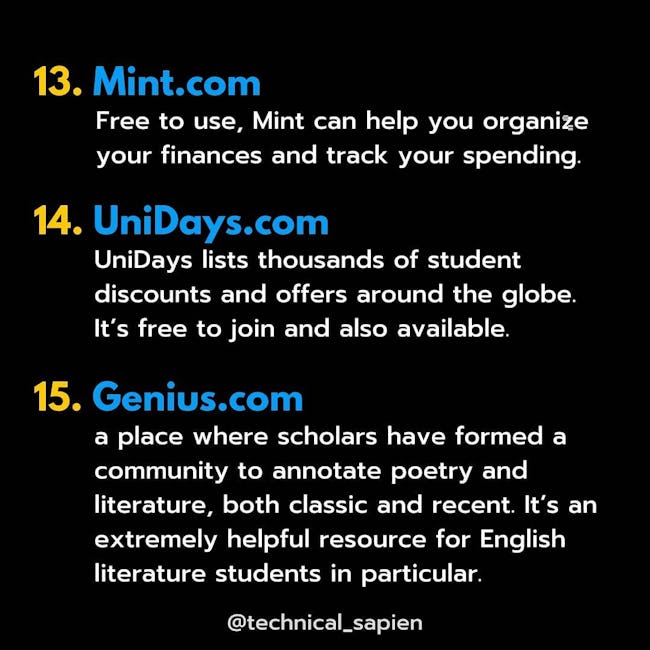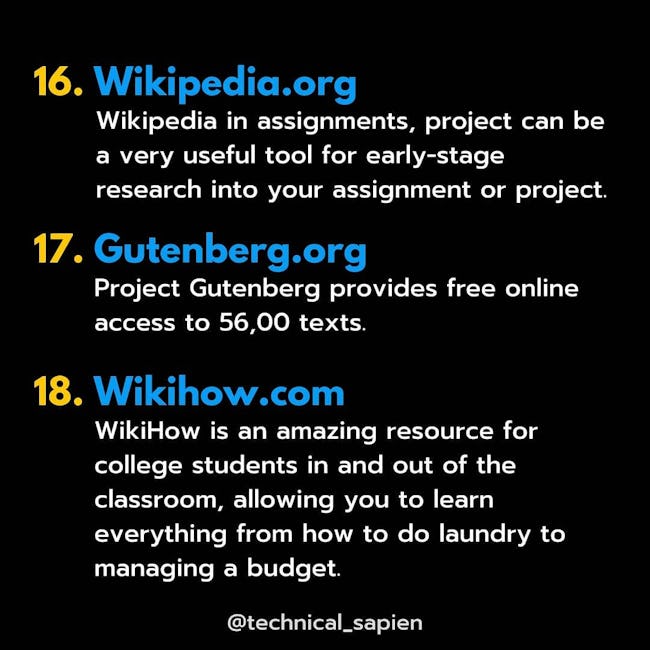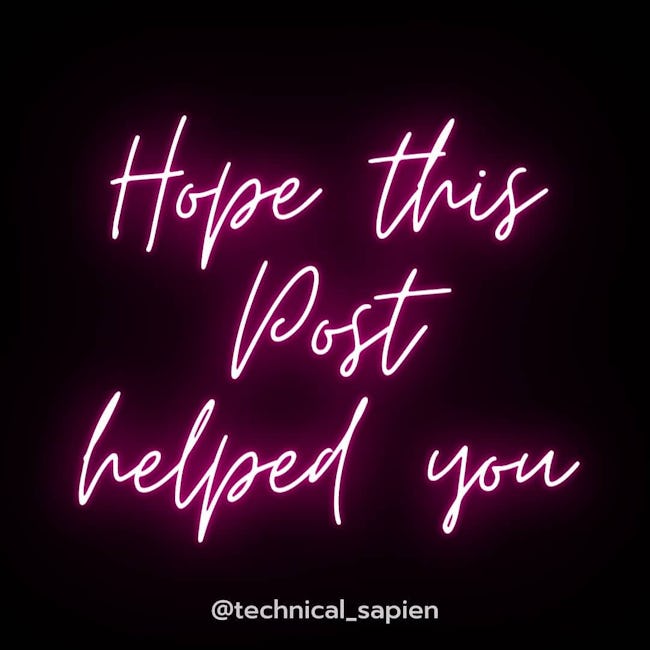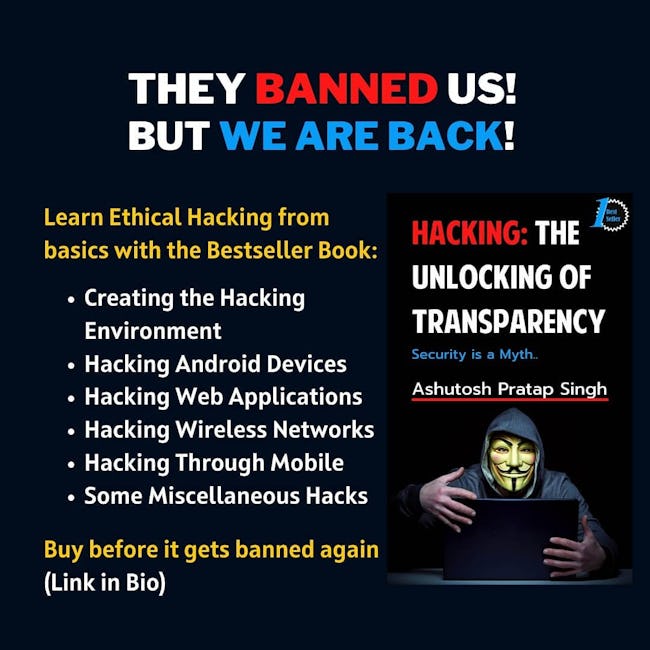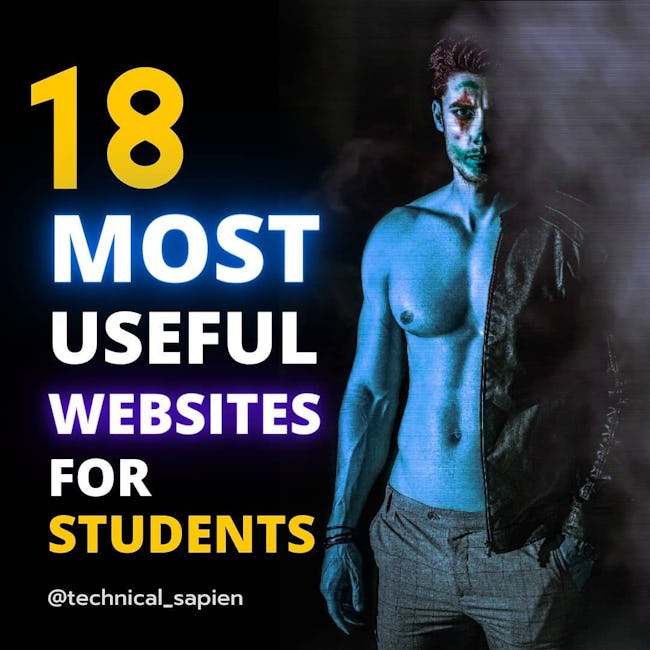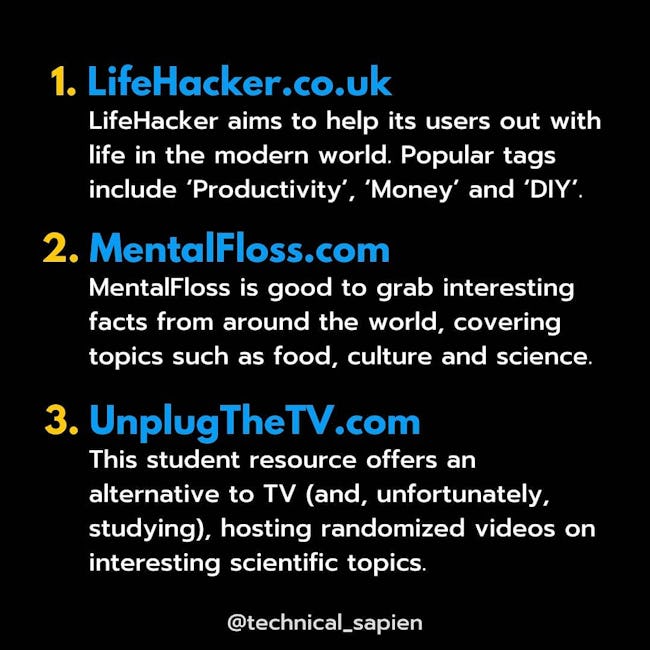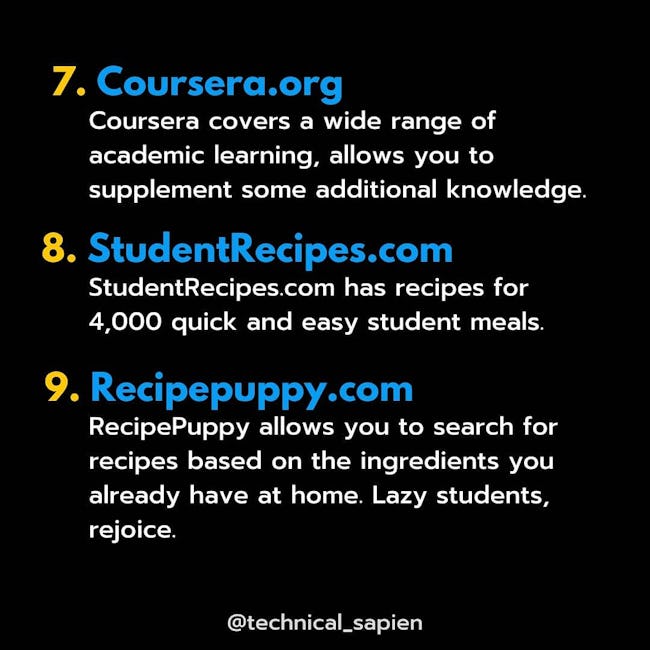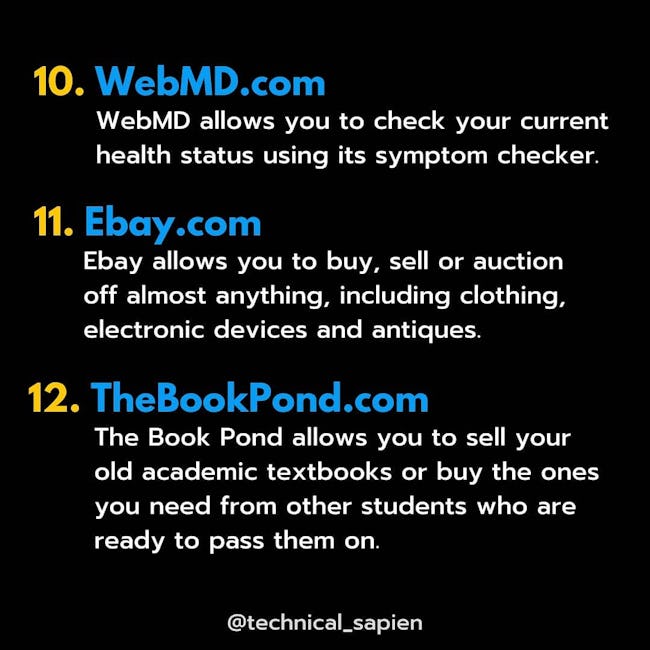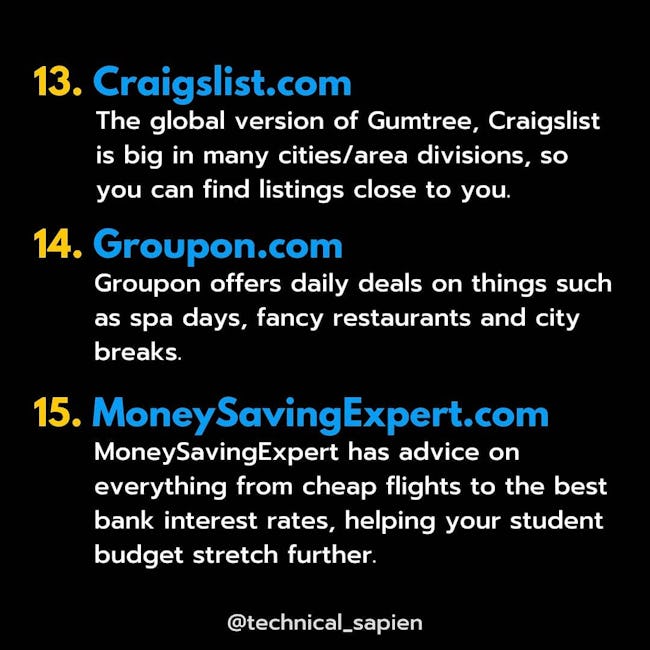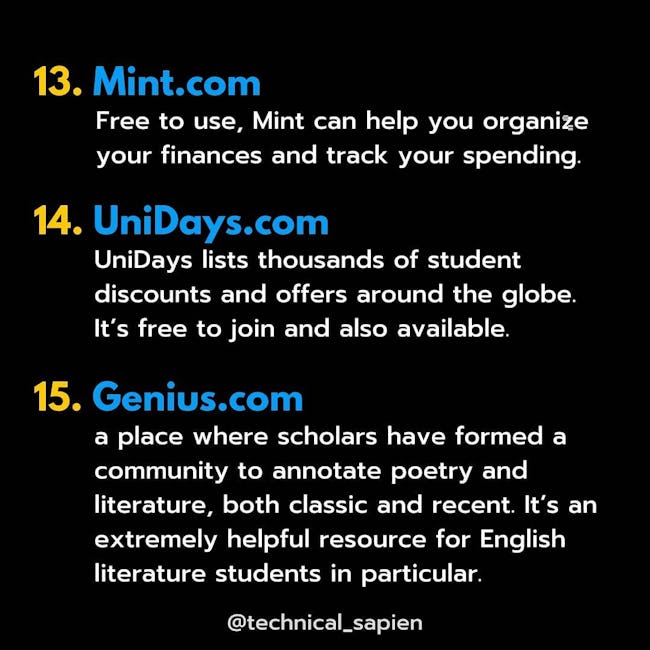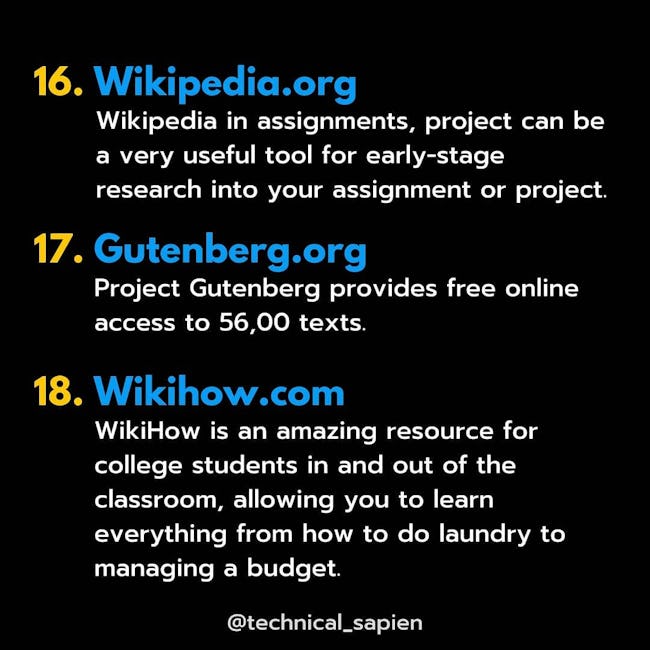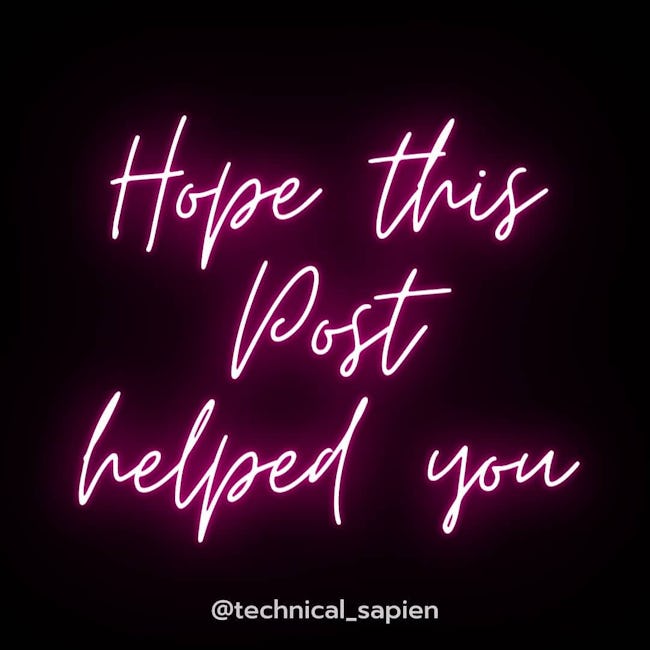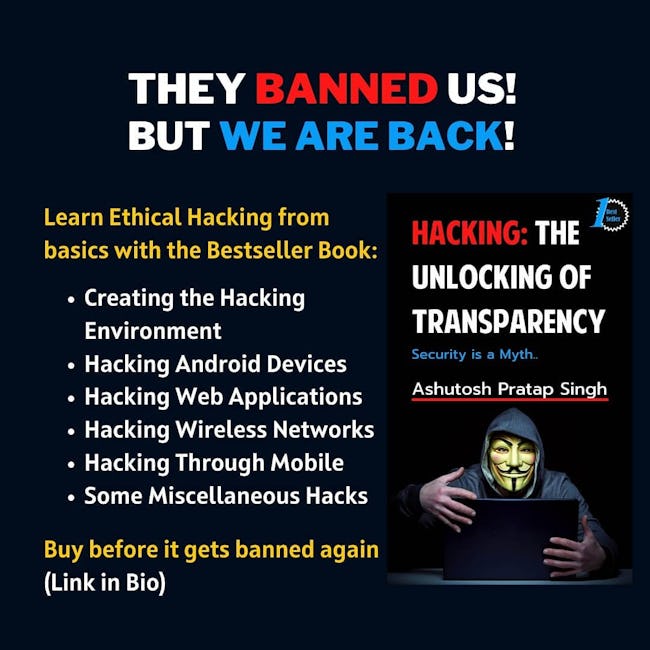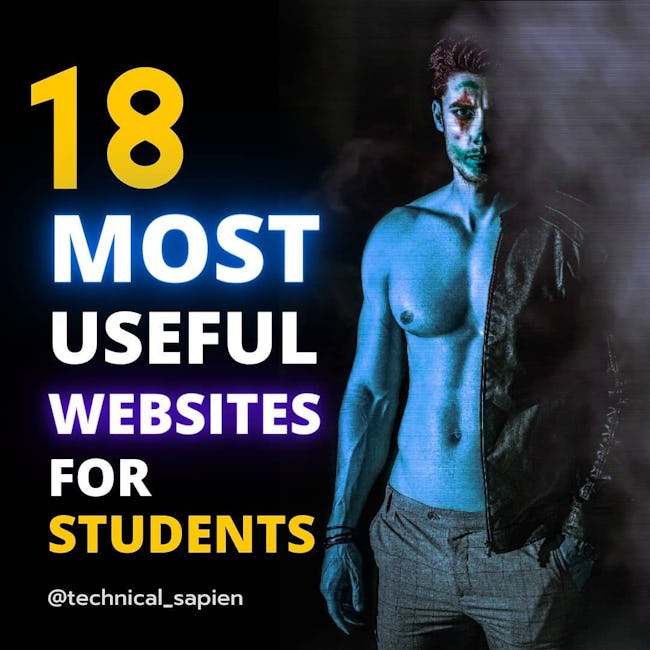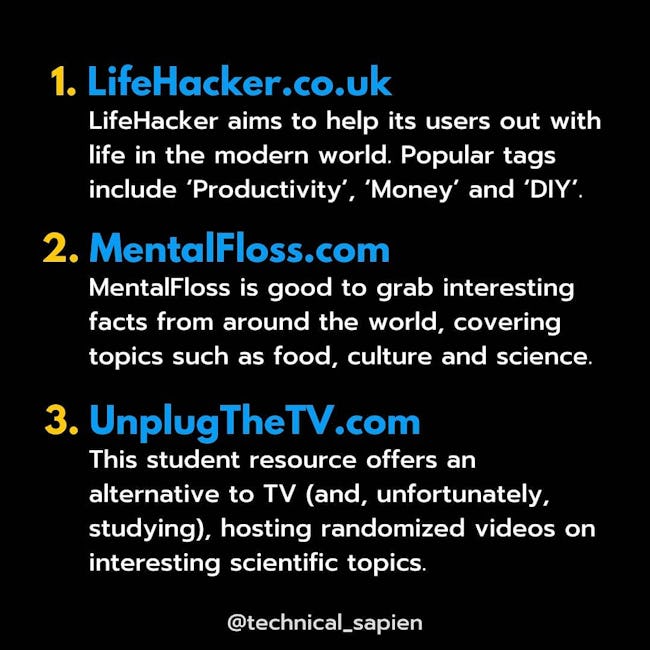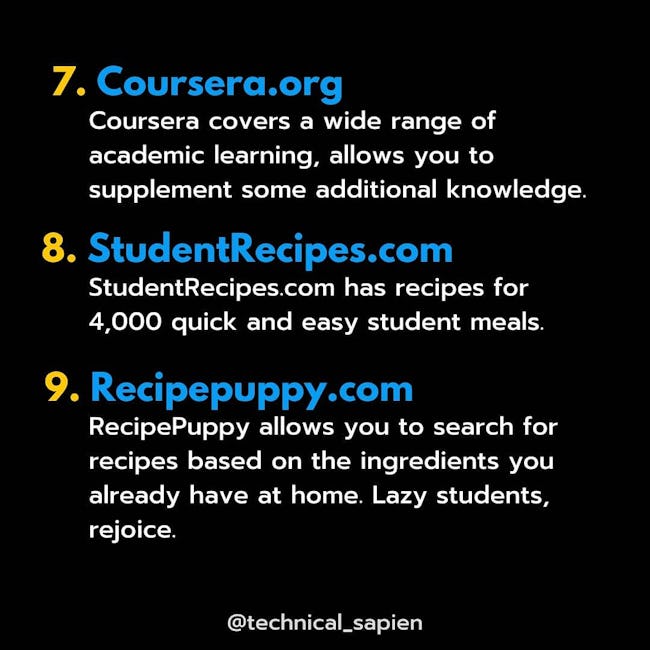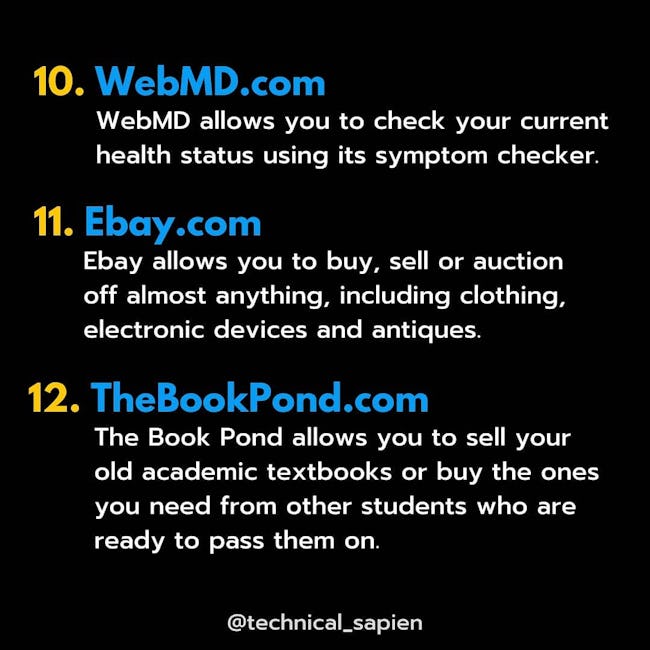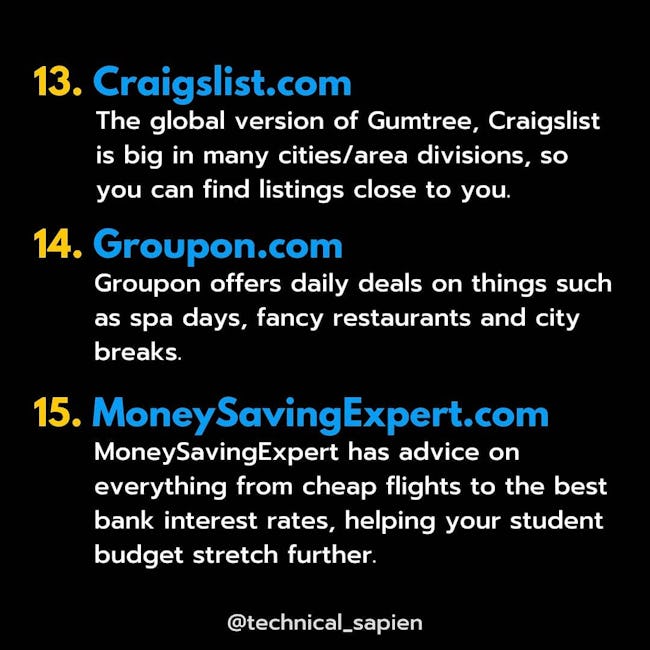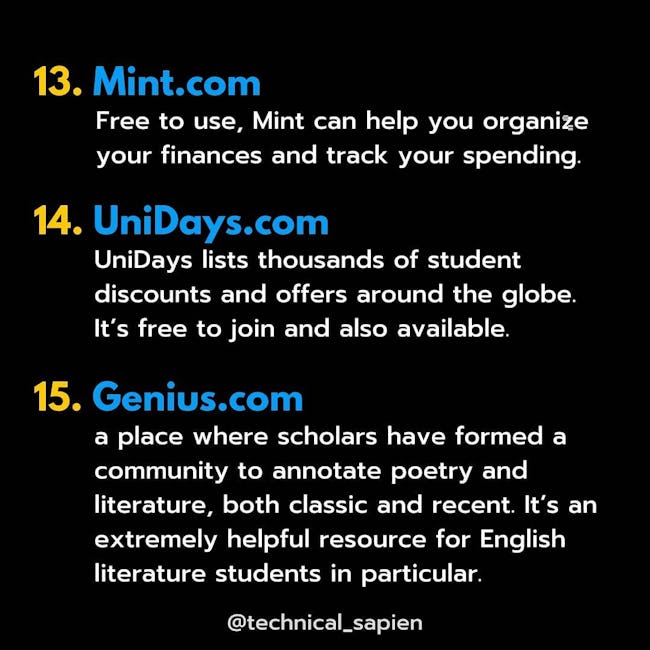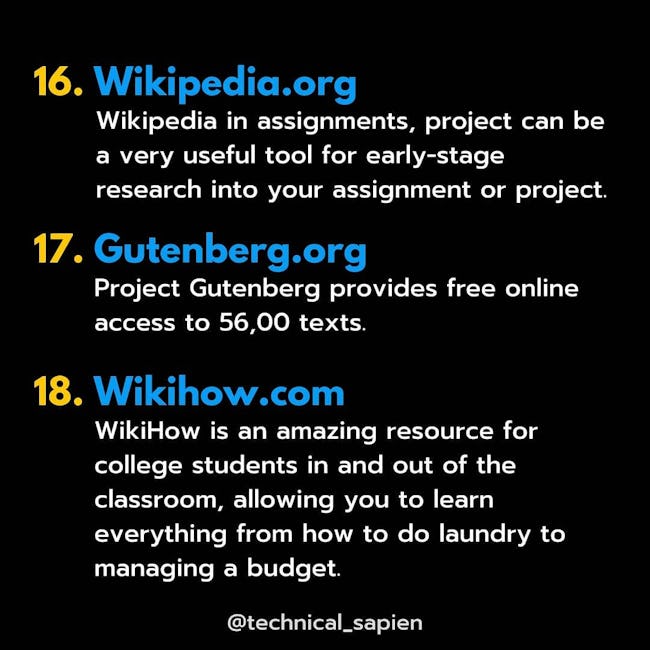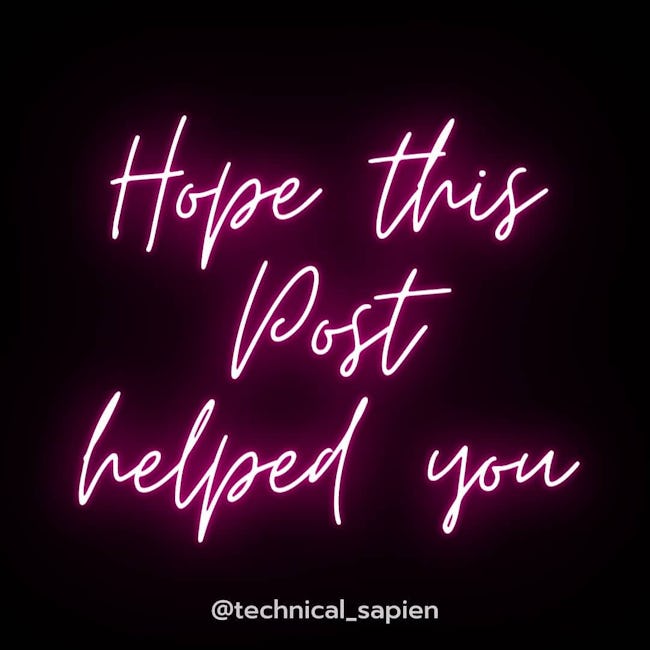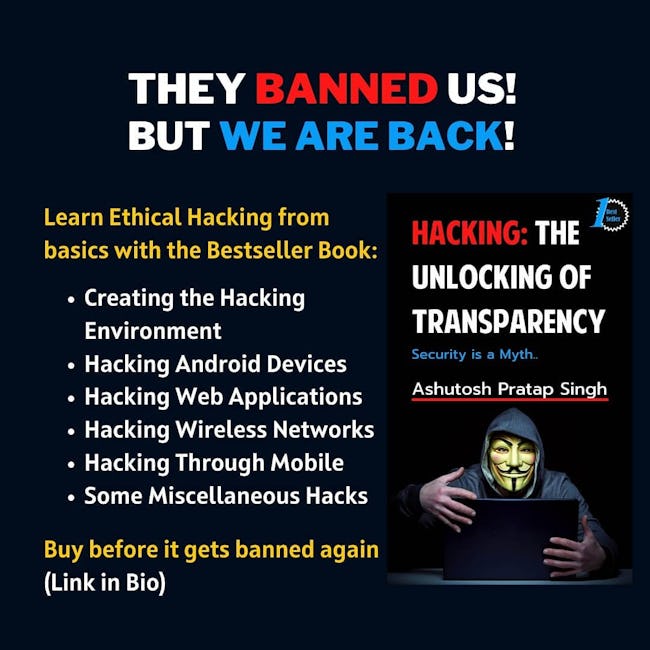 18 Most Useful Websites for Students
LifeHacker.co.uk
LifeHacker aims to help its users out with life in the modern world. Popular tags include 'Productivity', 'Money' and 'DIY'.
MentalFIoss.com
MentalFloss is good to grab interesting facts from around the world, covering topics such as food, culture and science.
UnplugTheTV.com
This student resource offers an alternative to TV (and, unfortunately, studying), hosting randomized videos on interesting scientific topics.
Sleepyti.me
This site tells you the best times to go to bed if you have to be up at a certain hour — a very useful tool for student life.
KeepMeOut.com
If you struggle to stay away from social media, this tool is for you students! Edx is one of the world's leading MOOC platforms. MOOCs are offered for free to anyone wishing to learn. Other major MOOC providers include Udacity.com.
Coursera.org
Coursera covers a wide range of academic learning, allows you to supplement some additional knowledge.
StudentRecipes.com
StudentRecipes.com has recipes for 4,000 quick and easy student meals.
Recipepuppy.com
RecipePuppy allows you to search for recipes based on the ingredients you already have at home. Lazy students, rejoice.
WebMD.com
WebMD allows you to check your current health status using its symptom checker.
Ebay.com
Ebay allows you to buy, sell or auction off almost anything, including clothing, electronic devices and antiques.
TheBookPond.com
The Book Pond allows you to sell your old academic textbooks or buy the ones you need from other students who are ready to pass them on.
Craigslist.com
The global version of Gumtree, Craigslist is big in many cities/area divisions, so you can find listings close to you.
Groupon.com
Groupon offers daily deals on things such as spa days, fancy restaurants and city breaks.
MoneySavingExpert.com
MoneySavingExpert has advice on everything from cheap flights to the best bank interest rates, helping your student budget stretch further.
Mint.com
Free to use, Mint can help you organize your finances and track your spending.
UniDays.com
UniDays lists thousands of student discounts and offers around the globe. It's free to join and also available.
Genius.com
a place where scholars have formed a community to annotate poetry and literature, both classic and recent. It's an extremely helpful resource for English literature students in particular.
Wikipedia.org
Wikipedia in assignments, project can be a very useful tool for early-stage research into your assignment or project.
Gutenberg.org
Project Gutenberg provides free online access to 56,00 texts.
Wikihow.com
WikiHow is an amazing resource for college students in and out of the classroom, allowing you to learn everything from how to do laundry to managing a budget.
More booklets by Technical Sapien
More IT & Software booklets
Your recently viewed booklets
See all booklets